Feel free to visit the various pages that link from this page. You can see photos of all of our dogs on their pages that link from Australian Cattle Dogs (AKA Blue Heelers, Red Heelers, Queensland Heelers), our Puppies For Sale, New Family Photos and information about purchasing a puppy on our FYI and Guarantee pages (Guarantee is a link from FYI). The photos on this page are random photos of our dogs taken through the years. We hope you enjoy visiting our family at home with us.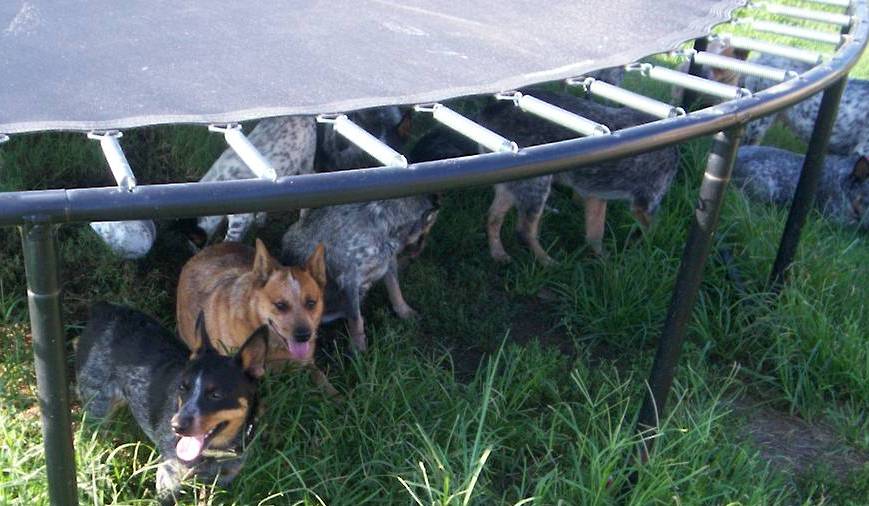 Trampolines make the best shade!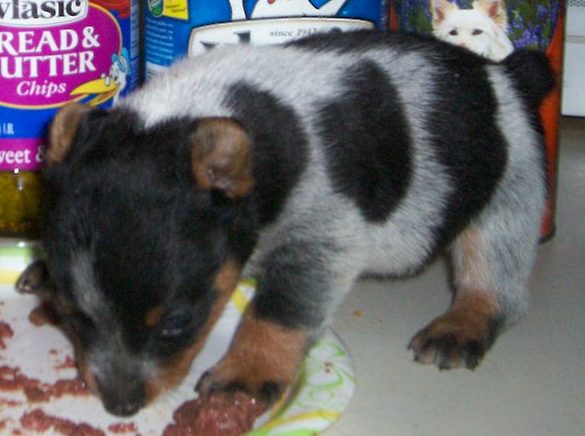 Josie (mini)- doesn't every puppy eat on the kitchen counter? Notice that the can of dog food behind her is taller than she is! 6 weeks old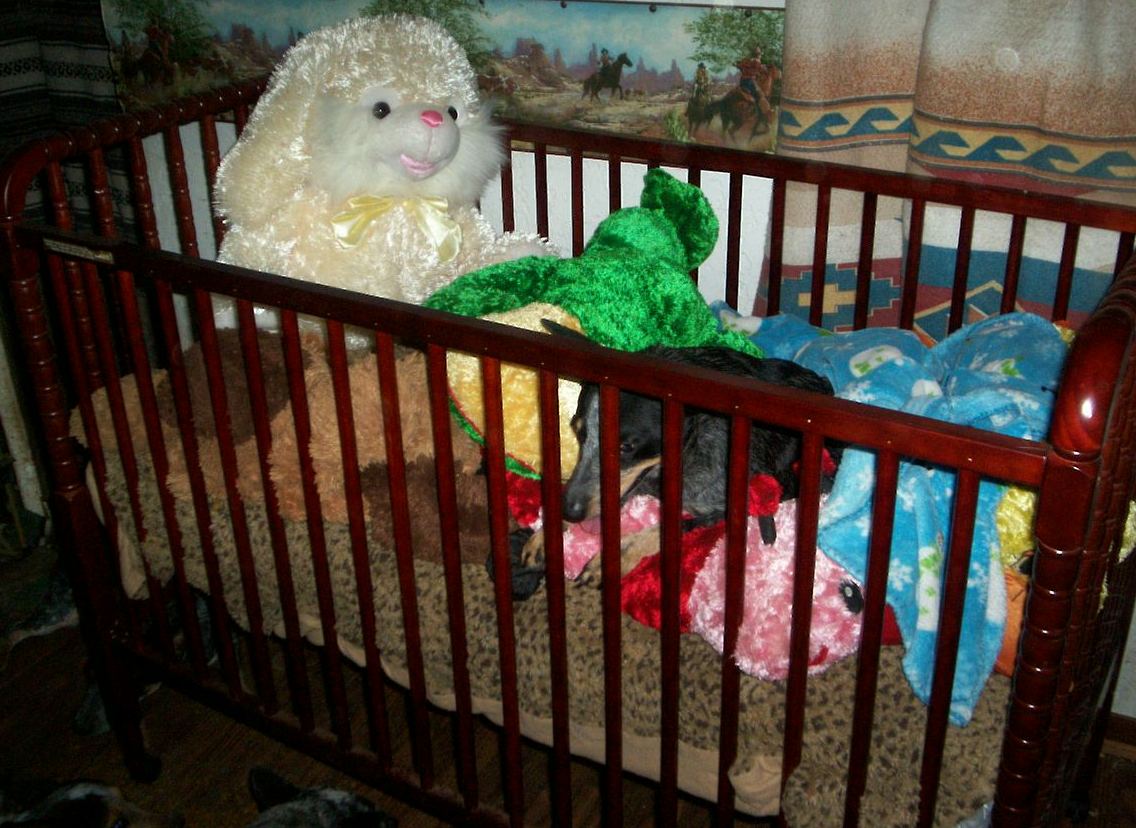 Poncho's new bed, now he has a bed big enough for him and all of his favorite stuffed animals!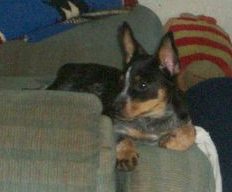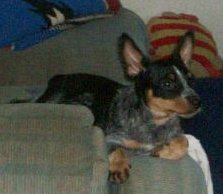 Josie - 3 months old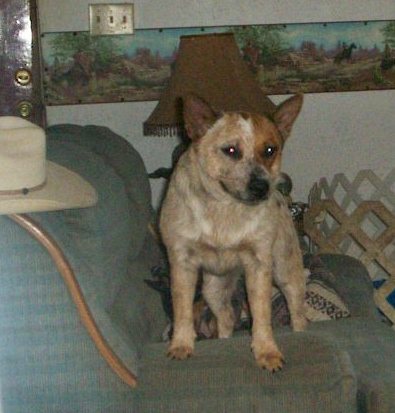 Bailey, the guardian of the couch! (Adult Mini)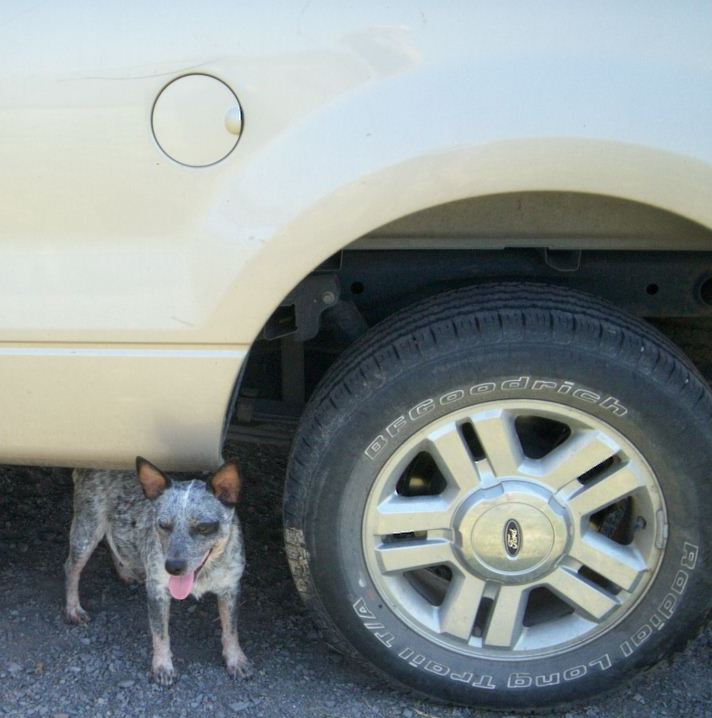 Jenny, our smallest mature mini mom.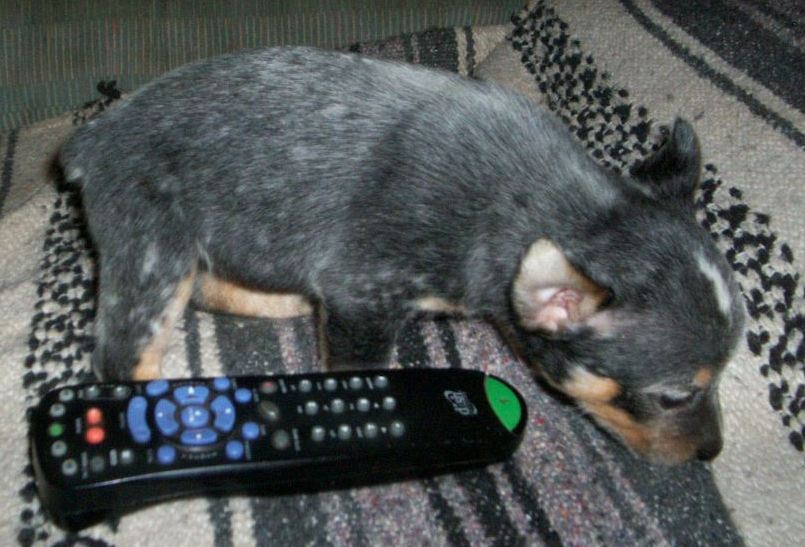 Mini girl at 6 weeks old... TINY and ADORABLE!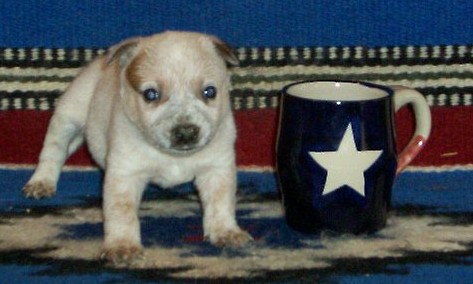 Mini Red Heeler at 6 weeks old... TOO CUTE! (coffee mug 4 1/2 inches tall)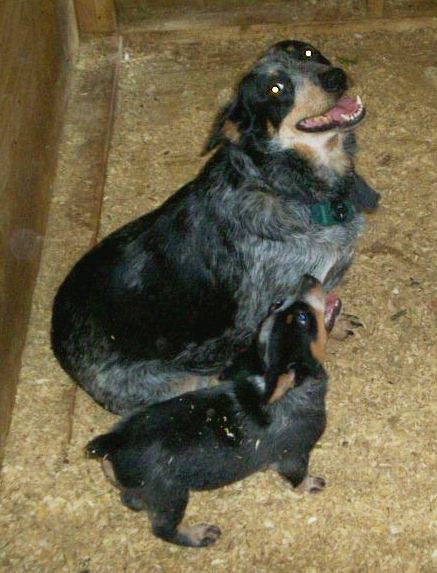 Precious and one of her puppies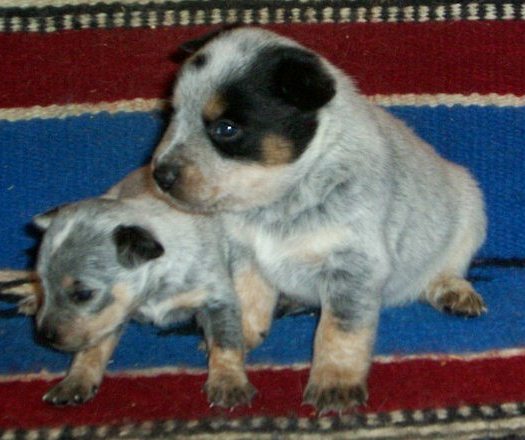 Mini and Standard size puppies together for size comparison, same age.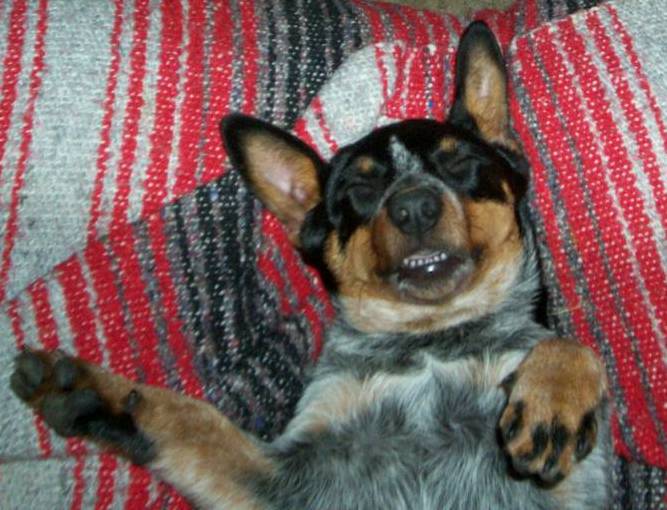 Josie, asleep on her back with her mouth open.... looks pretty comfortable!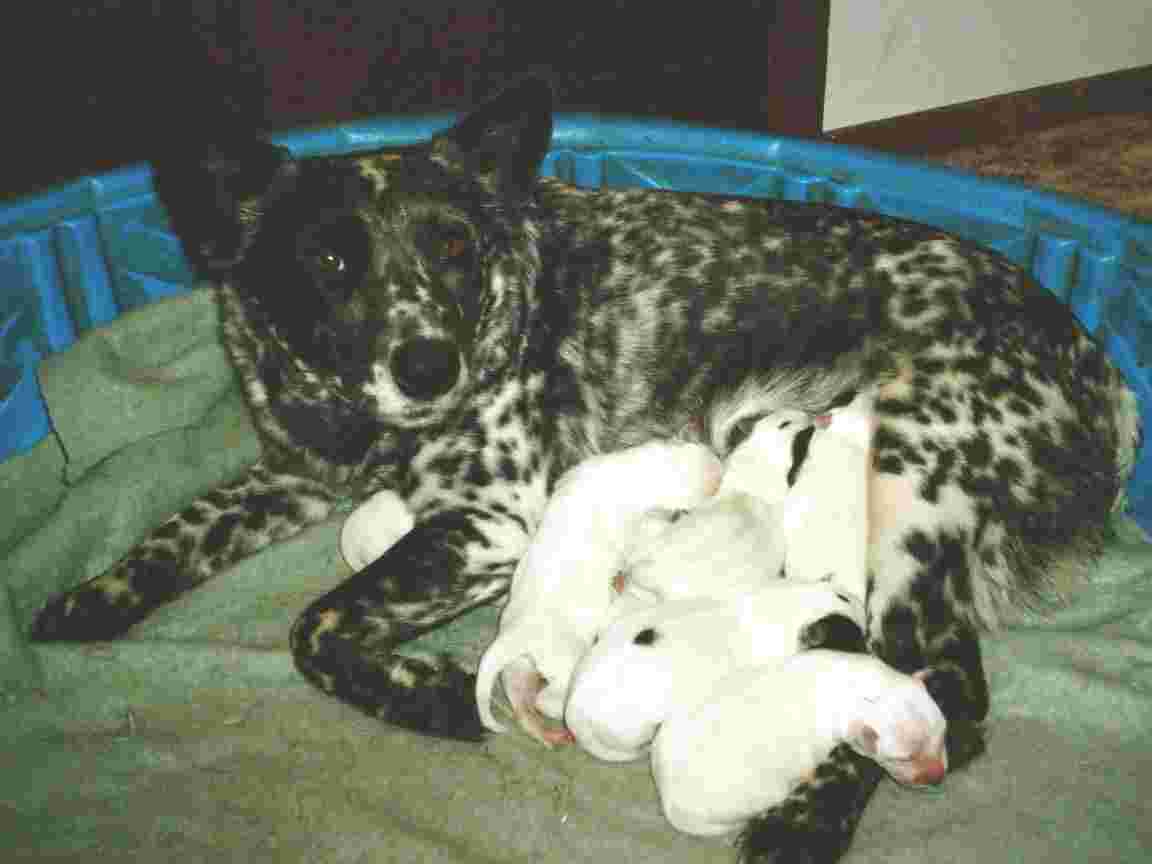 All of our mom's have their puppies in our house. This is Blue and her babies.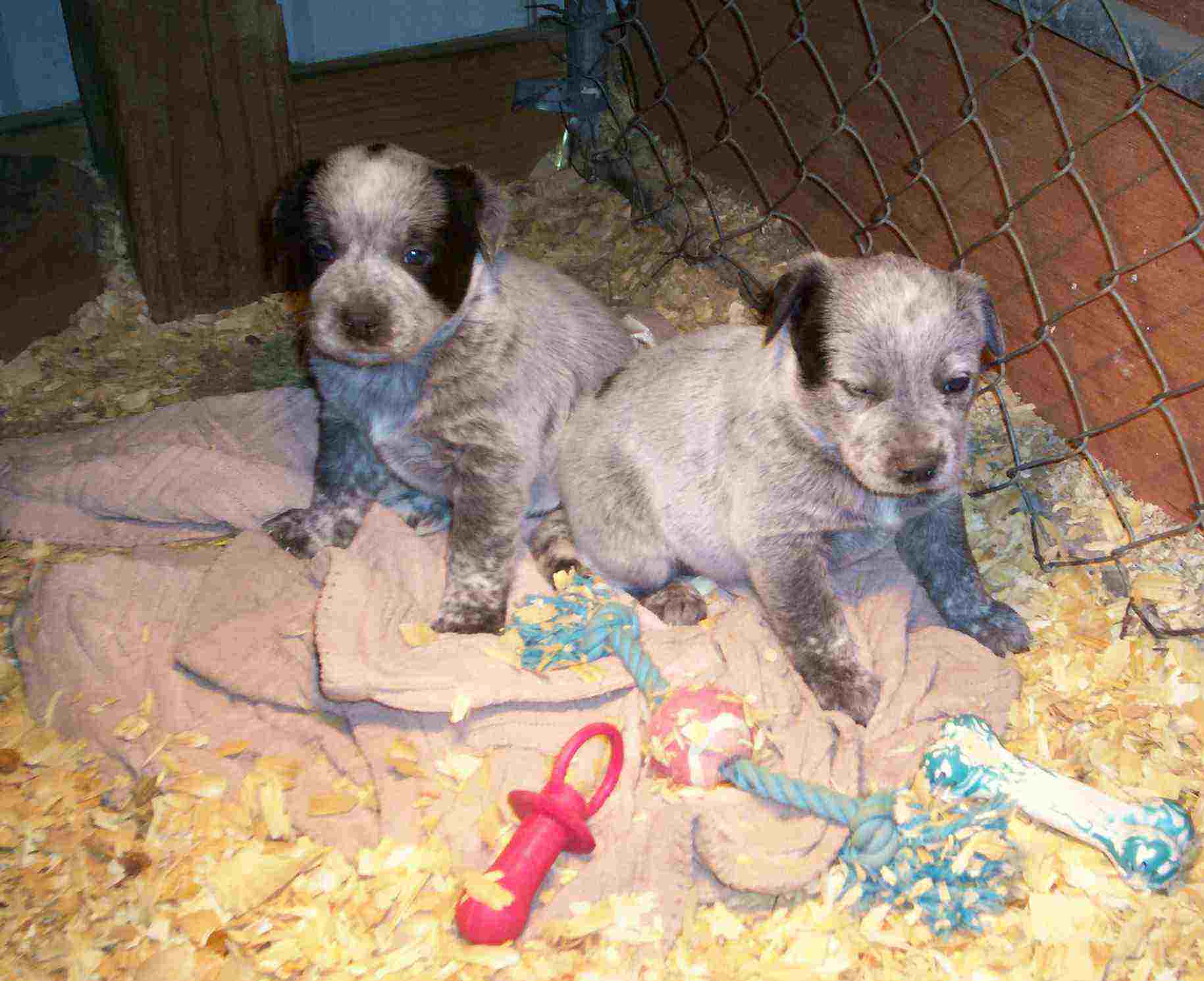 Many people send blankets and gifts for their puppies.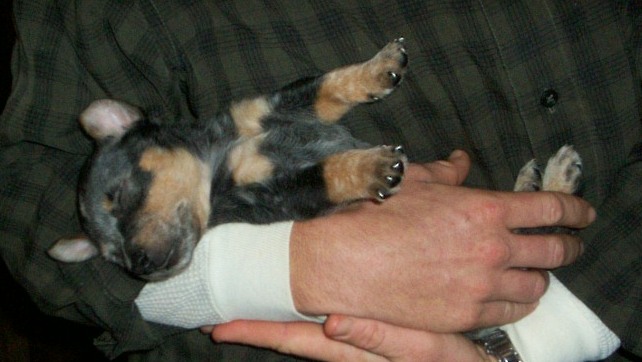 This cute girl is a 6 week old Mini Heeler! Yes, she is 100% Heeler.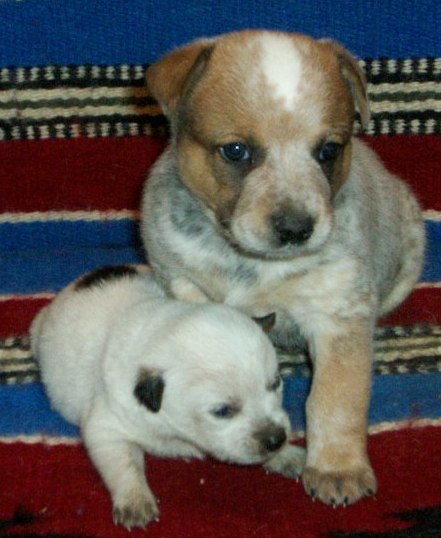 There is only 6 days difference in age between Cherry Pie's standard size puppy and Penny's little mini puppy.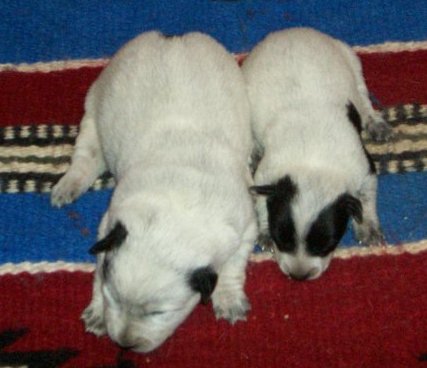 Sally's mini puppy on the right is actually one day older than Lucky's standard size bigger puppy on the left.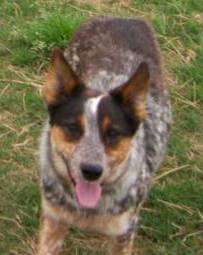 Lefty is SO pretty!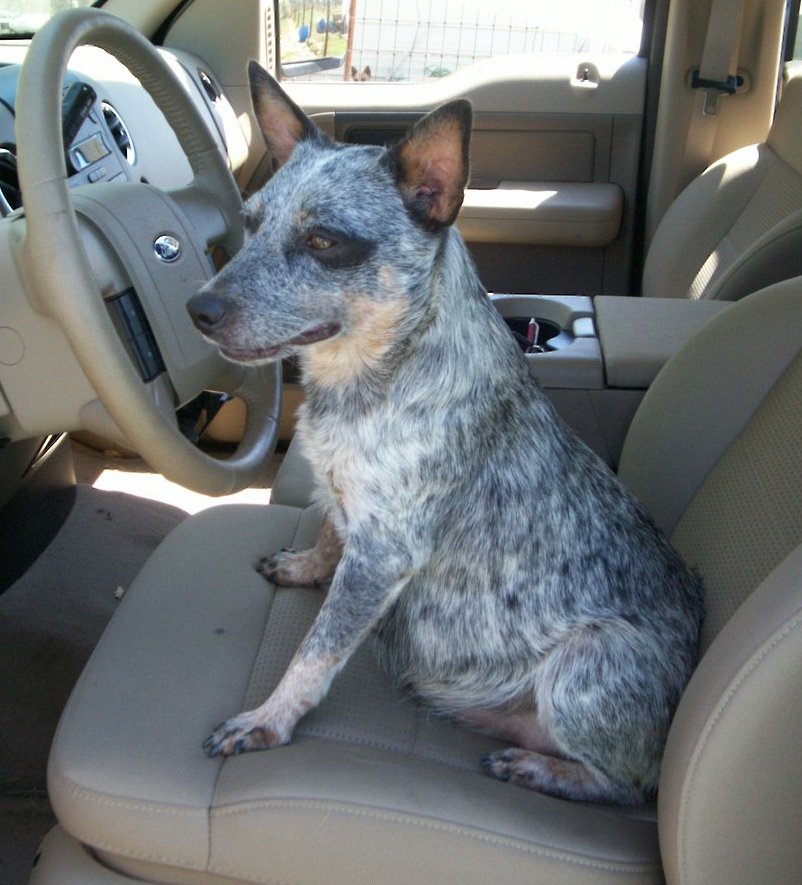 Jenny, our smallest mature mini mom.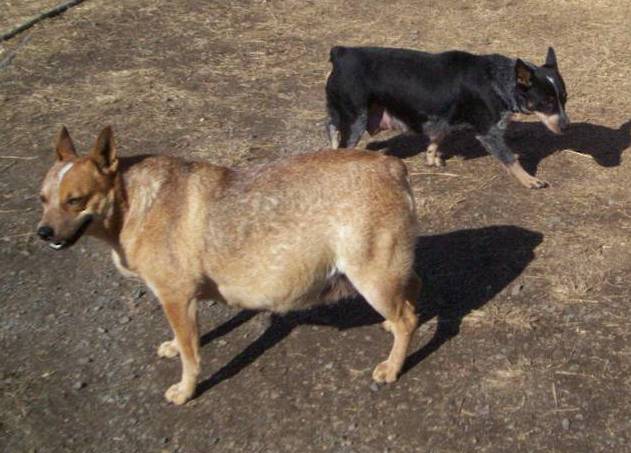 Cherry Pie and Katie (standard and mini comparison)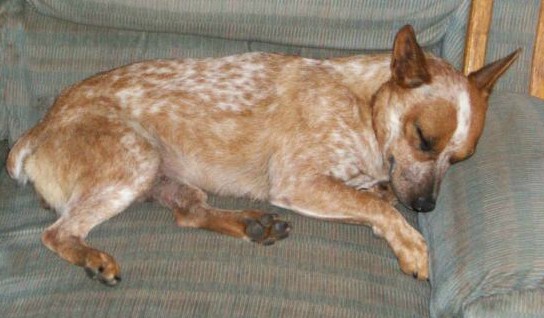 Shhhhh.... Cinnamon is asleep....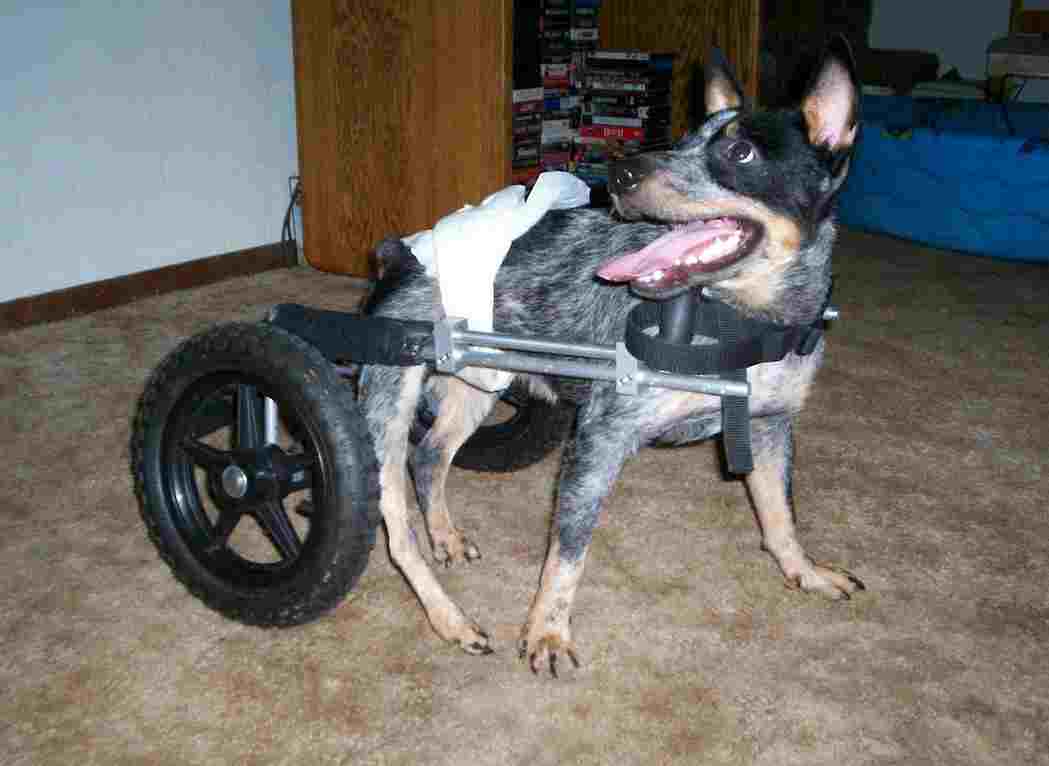 Poncho is the king of our castle!!!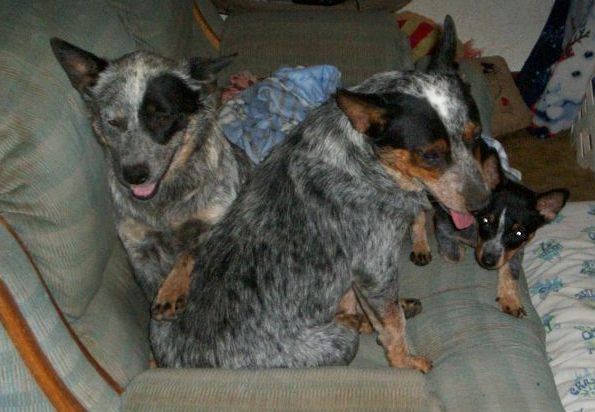 Bonnie, Wyatt and Josie...... couch potatoes.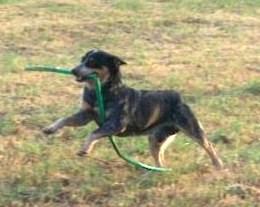 Max the play monster!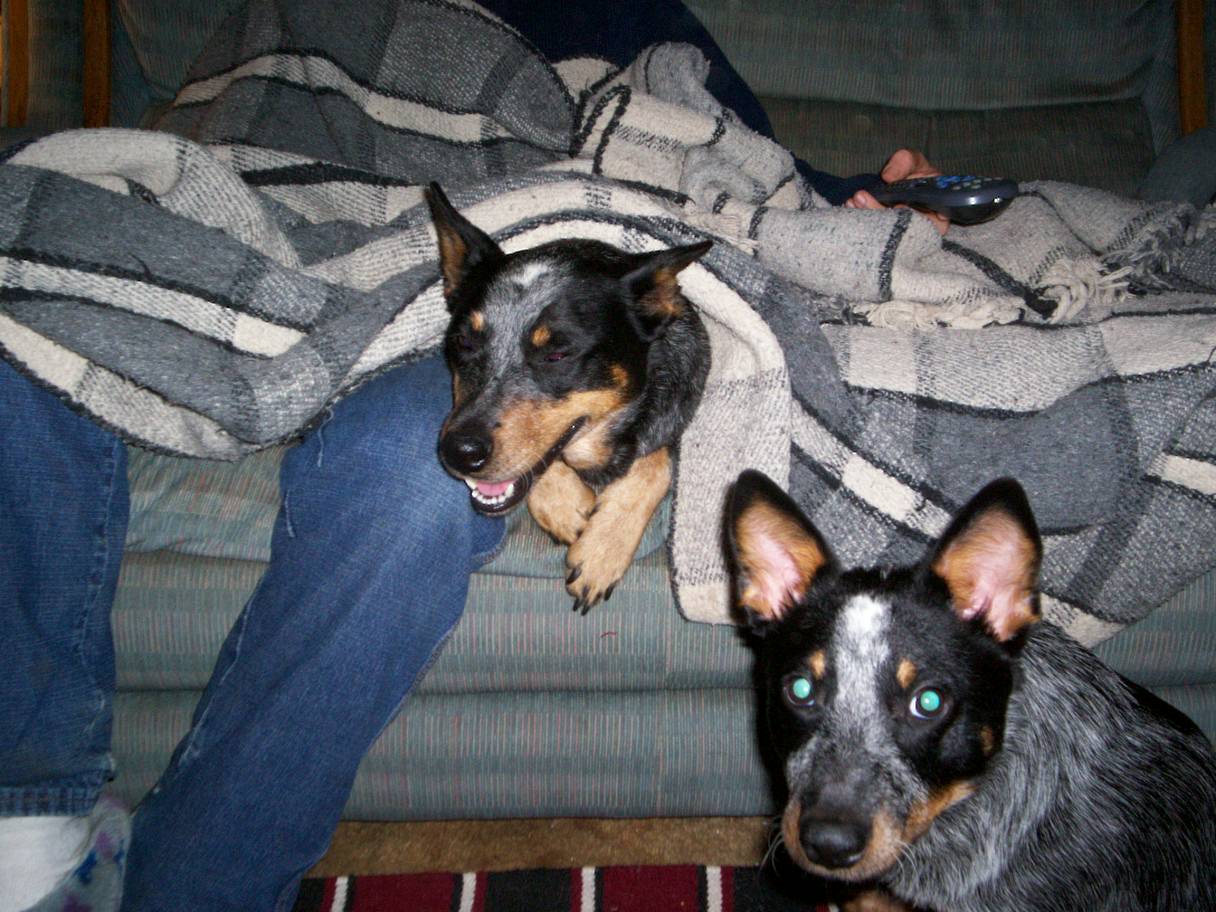 Sassy, Poncho and Jessi watching TV.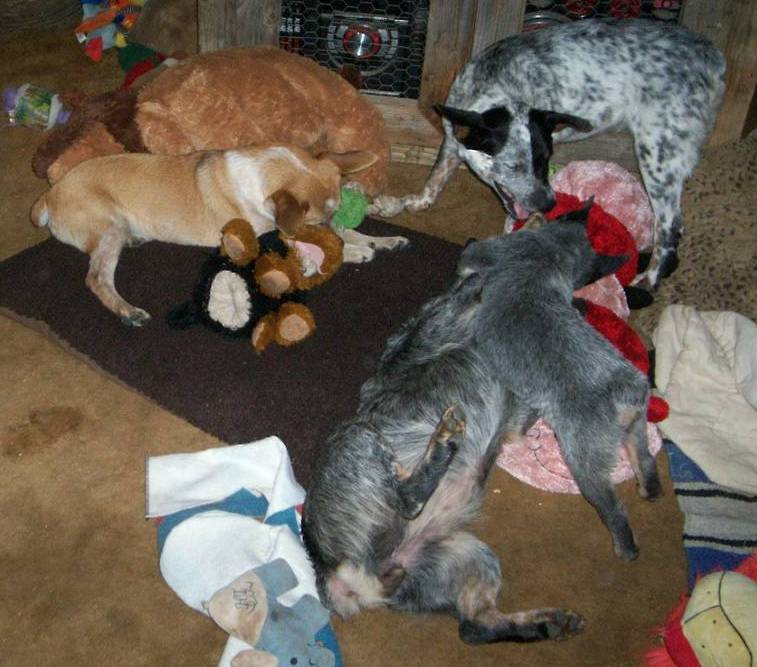 How many puppies do you see in this photo?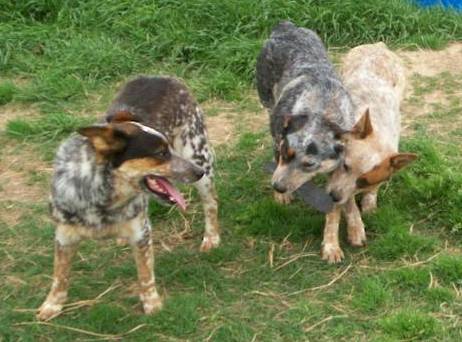 Lefty, Shelby and Penny..... best friends!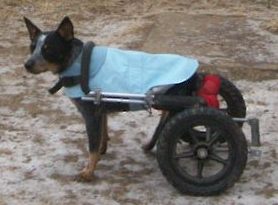 Poncho - The Rough, Tough Cow Dog!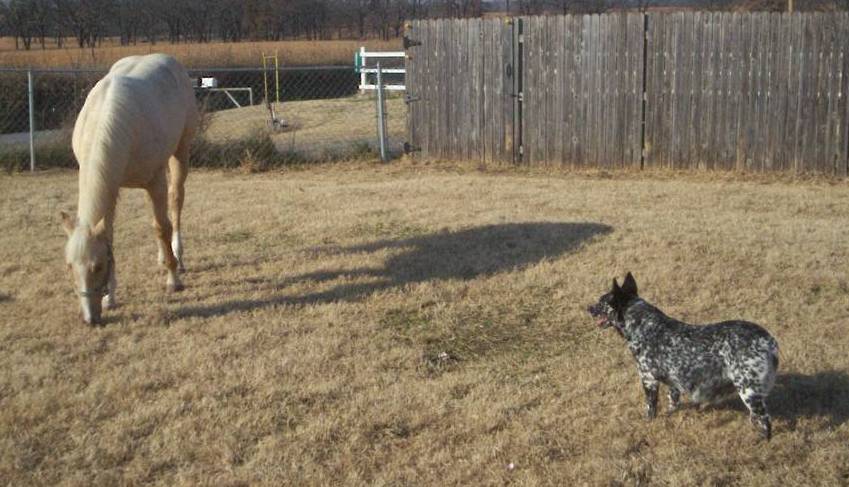 Blue... the "horse dog"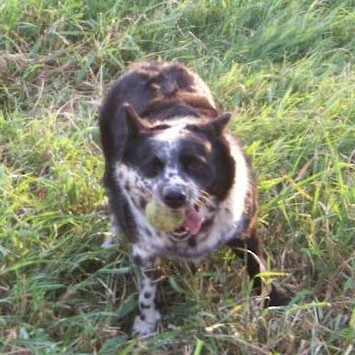 Zack plays catch with a ball.....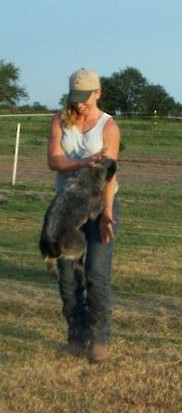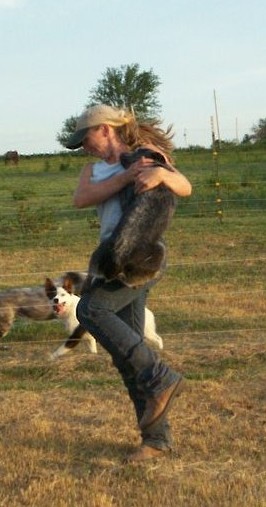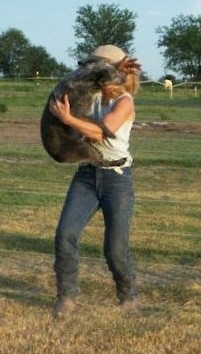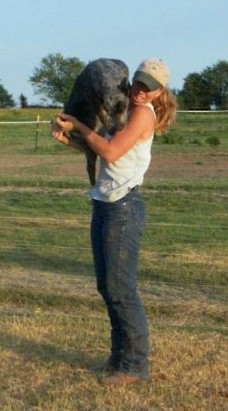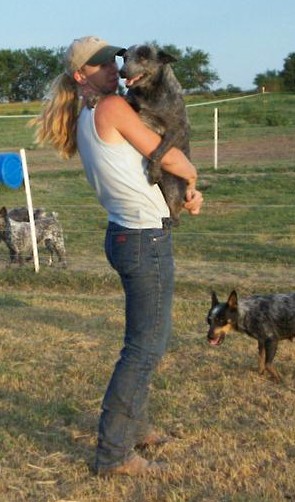 Daisy plays catch with her body!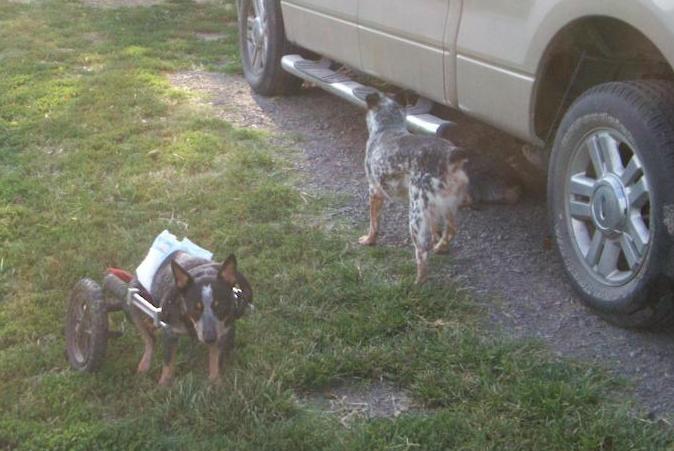 Poncho & Lefty..... true story....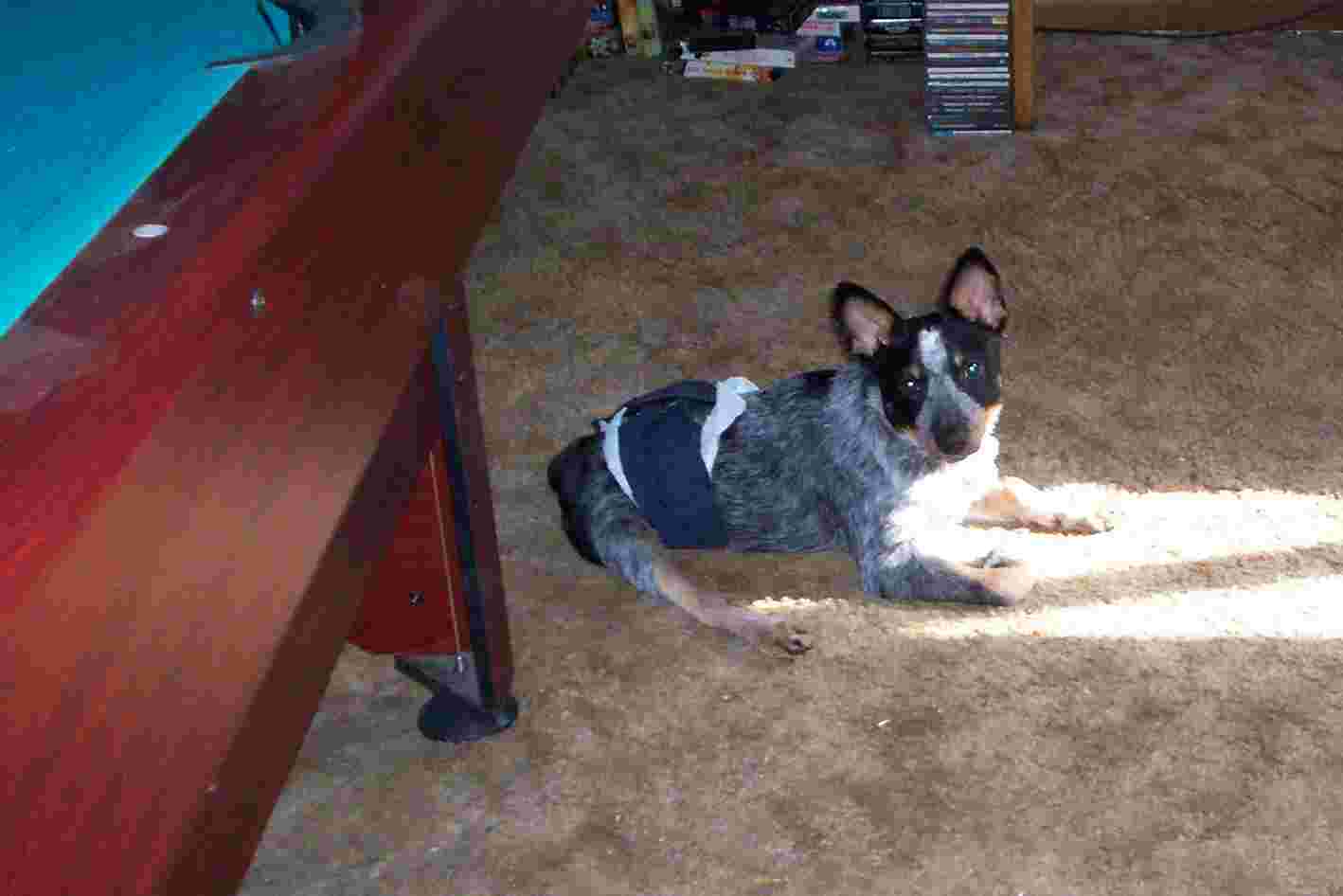 Poncho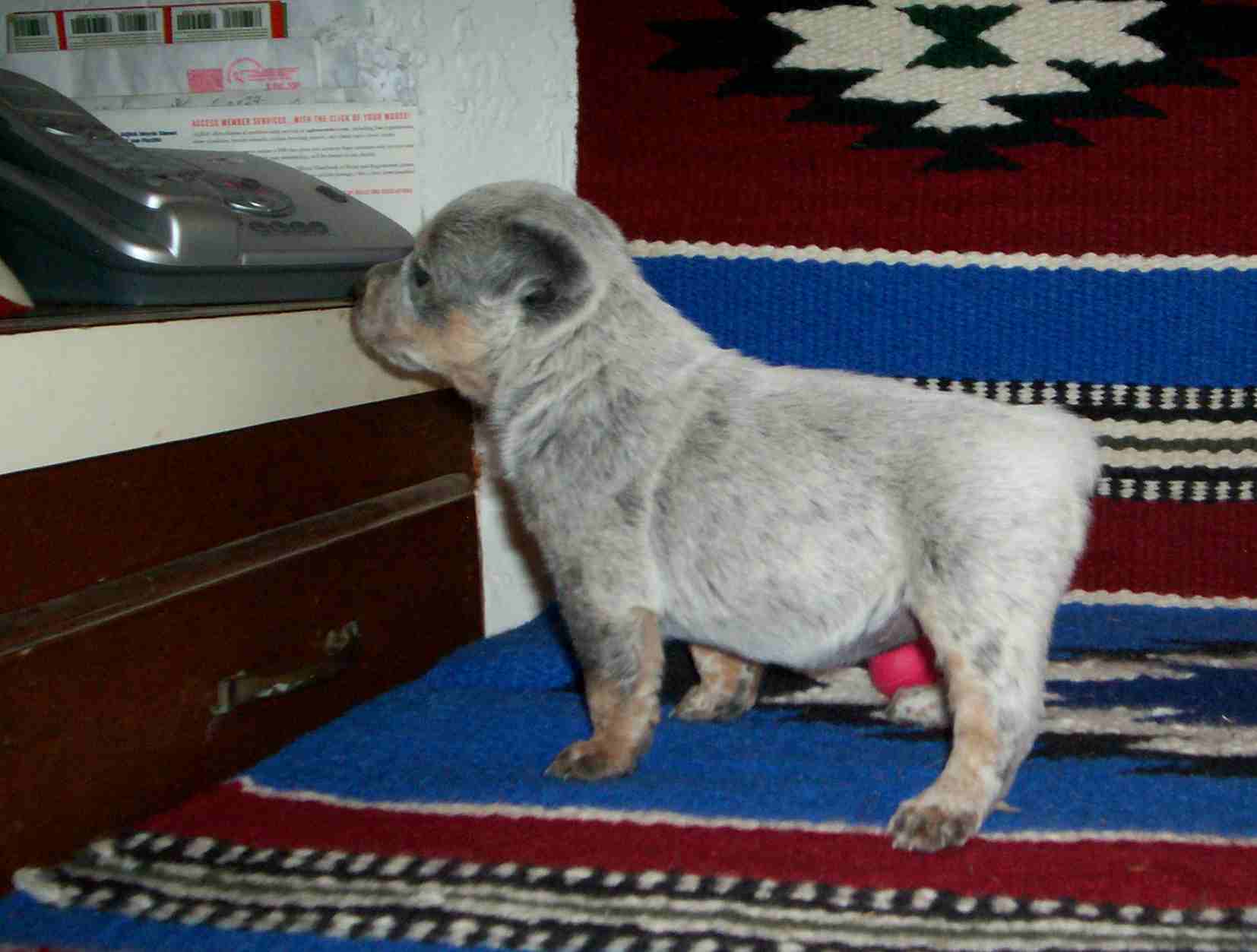 Baby Angie answering the phone!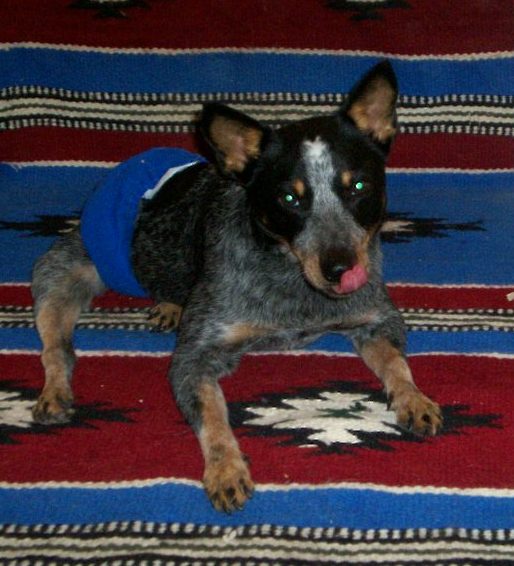 Poncho
Queen of the hay bale!
Jessi and I invite you to browse through each page of our website. You will find photographs of all our adult and juvenile dogs. You will see who each female is bred to as well as their expected due dates. Our "Puppies For Sale" and our "Cattle Dog Puppies" page will show you every puppy that is available for a new family home. All puppies are sold current on shots and worming with most of their tails docked. If you would like your Cattle Dog puppy to have a natural tail we are happy to accommodate you. You will simply reserve first, second or third pick of any litter. You must make your pick by three days old. All puppies go with a small bag of their food, shot and worming records, breeding records and a registration application for each. To register the puppy you will take three pictures, fill out the owner and the witness sections of the application. This form is also available as a downloadable file from CKC's website. If you see a puppy that you like or would like to be on a waiting list for one of our bred females, feel free to contact us for more information.
We accept Visa, Master Card, debit, and cash for your convenience. Shipping is available. Most people chose to pay for their puppy when they pick it out and then the shipping when their puppy is ready to ship. Shipping is $275 to any domestic destination and in most cases 2 puppies can be put in one crate and shipped for $375 if you decide on two puppies. Deposits and purchase payments on the puppies are non-refundable. We do offer a health guarantee, if the puppy is found to have a life threatening/terminal genetic disorder this guarantee is for equal credit towards any other puppy that we have or for a pick from any up coming litter.
All deposits and payments that are made on the puppies are non-refundable. If you decide that you do not want a puppy after you have put a deposit on it you have credit towards any other puppy we have at anytime in the future. We don't sell puppies to children and we expect adults to make adult decisions.
We reserve the right to refuse the sale of any puppy to any individual for any reason. These decisions are final and are not negotiable or debatable.
If you are coming to our home to pick up your puppy and you still owe a balance on the puppy, we will no longer accept any payment other than cash for any unpaid balance on your puppy at the time that you are picking it up. We still accept credit and debit cards over the phone for any puppies that are being shipped or paid for in full at the time that you pick it out. We will ONLY accept cash transactions at our home.
Our MINI Heelers/Cattle Dogs are 100% PUREBRED HEELERS. It has taken us years and years to breed the size down in our dogs while keeping the great Heeler personality, beautiful Heeler look and a healthy puppy that we are proud to give you a 1 Year Health Guarantee on. There is a breeder in Oregon that crosses Chihuahuas with Australian Cattle Dogs/Blue Heelers and are advertising them them as "Purebred Toy and Mini Heelers". They have recently composed a neat story saying that they have been raising Heelers for 25-30 years and have imported their dogs. All of which is a lie. The owner of the kennel contacted me personally a couple of years ago (this is 2010) all excited because they had JUST started raising "mini and toy" Heelers and using Chihuahuas to get them little...... came right from his mouth to me. We have people contact us every week with sad stories about the health problems they are having with their Chihuahua Heeler cross puppies that they have bought from these breeders. We don't care what anyone else does with their breeding program, breed all of the "exotic" or "hybrid" breeds that you want to, just be honest about it. Don't call them a purebred if they are not. I'm sure there are many people that would be happy to buy the "exotic" cross. Calling them purebreds when they are not is not fair to the buyers that are being misled and it is very unfair to the puppies who have done nothing wrong but are not what they are being sold as. Our puppies are 100% Heelers. Their parents aren't crossed with any toy or mini breeds to make them small. It has taken us years and years of hard work and a lot of planning to be able to produce a beautiful healthy Heeler puppy that will mature 12-14 inches tall and 15-30 lbs. If that sounds big to you remember a standard Heeler is 16 inches or better with many over 20 inches tall and 45-65 lbs as an average. We hear from people all of the time that has a mature male Heeler that has topped 80 lbs.