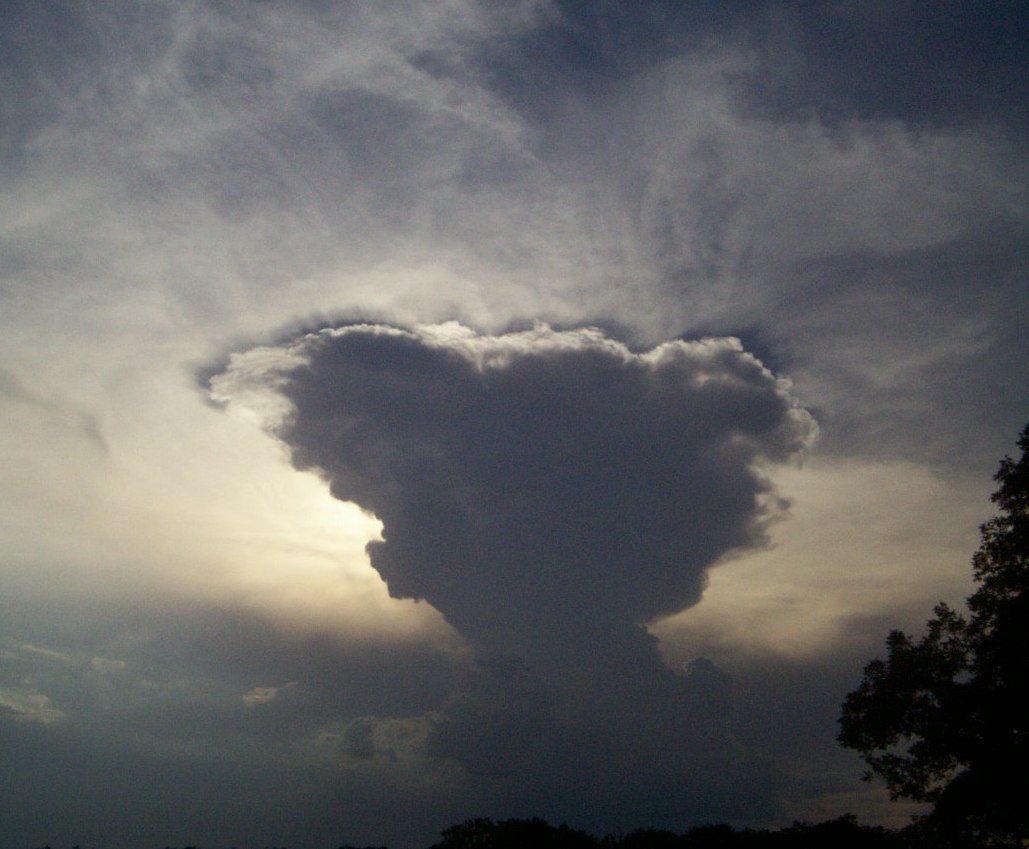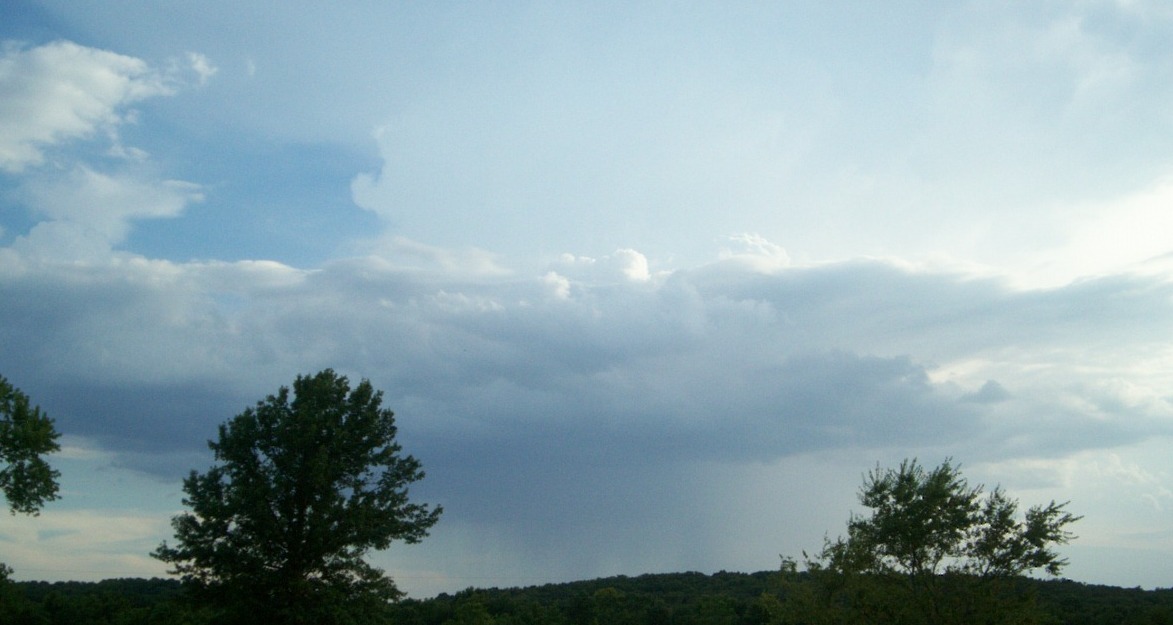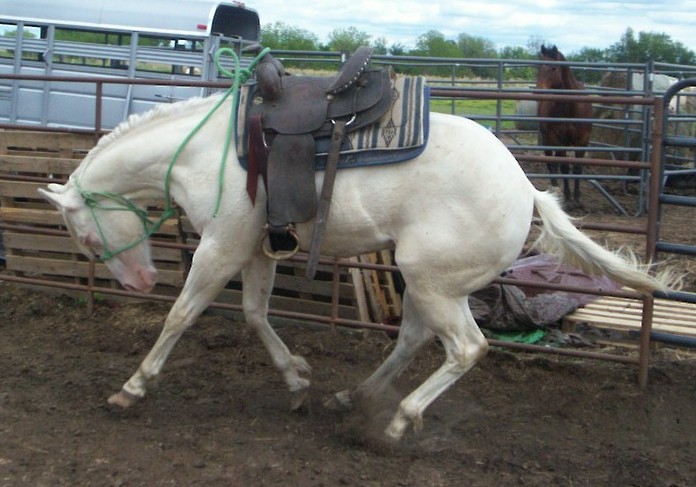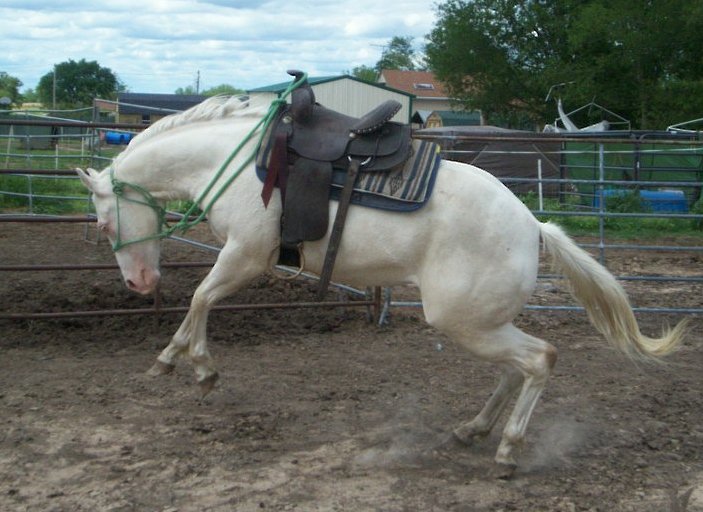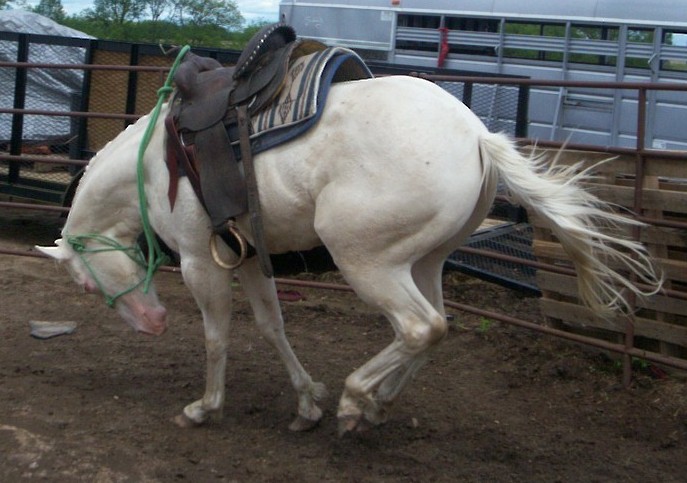 Duckie first saddling
I got this email the other day and found it so profound that I had to share it.....
I am passing this on to you because it definitely works and we could all use a little more calmness in our lives. By following simple advice I heard on the Dr. Phil show, you too can find inner peace. Dr. Phil proclaimed "The way to achieve inner peace is to finish all the things you have started and never finished." So, I looked around my house to see all the things I started and hadn't finished, and before leaving the house this morning, I finished off 8 cans of Miller Lite, a bottle of Absolut, a package of Oreos, the remainder of my old Prozac prescription, the rest of the cheesecake, some Doritos and a box of chocolates. You have no idea how freaking good I feel. Please pass this on to those you feel might be in need of inner peace.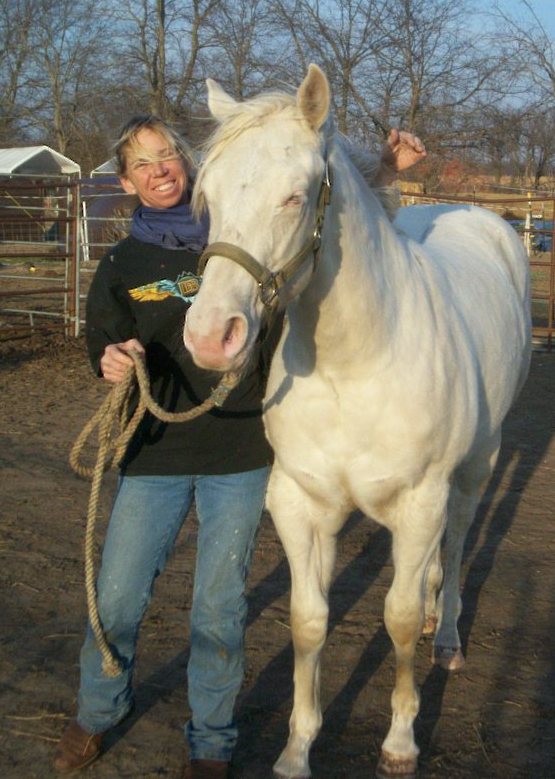 Glenda and Duckie 12-30-2010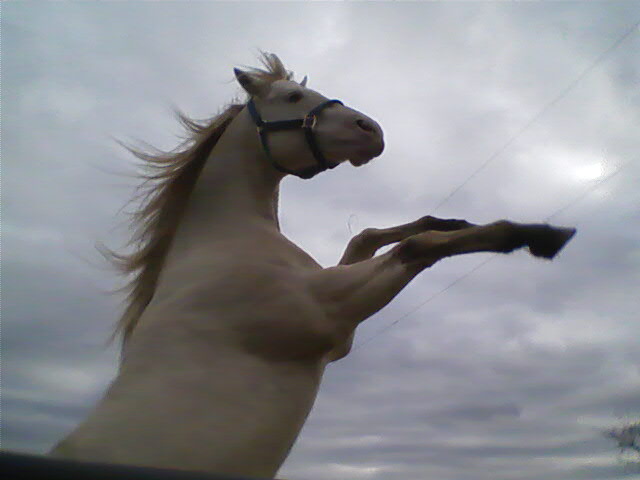 Kid - over a 6 foot panel.... goof ball!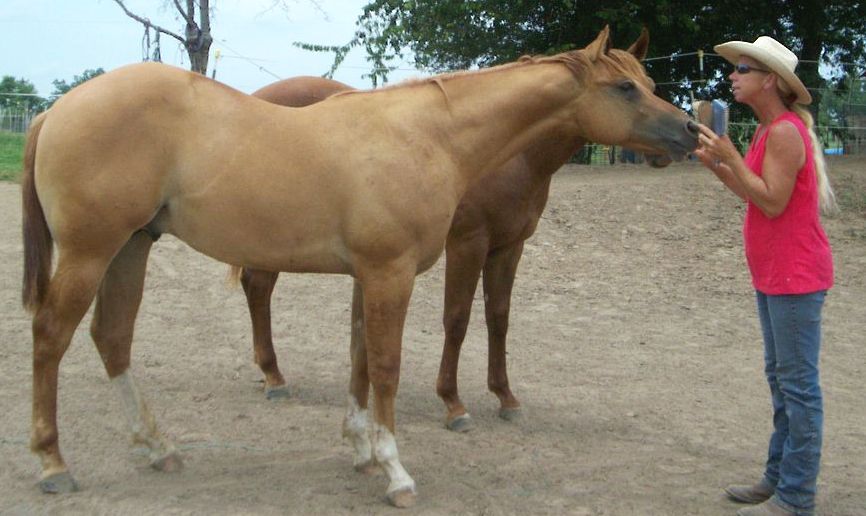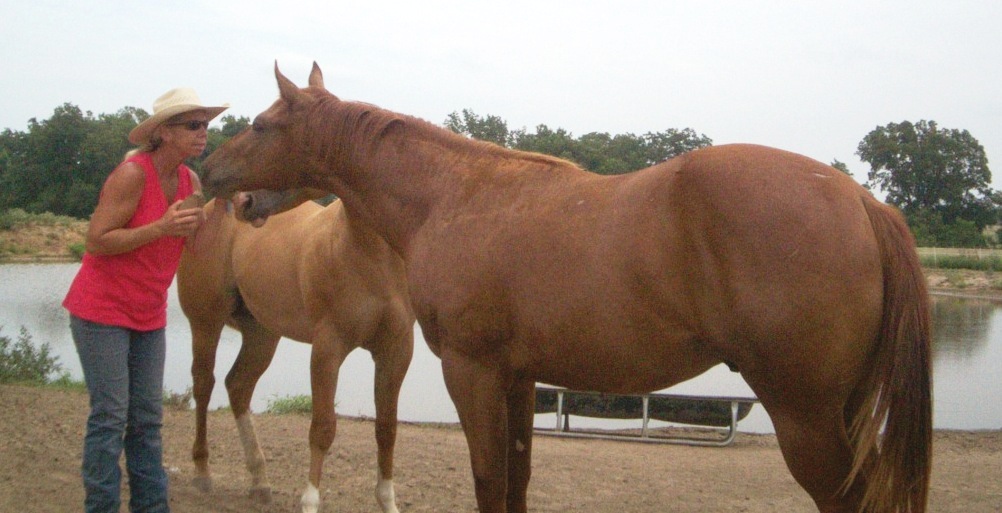 Glenda and the boys (Packin and McGee, yearling colts) WOW, I hate that shirt. 8-7-2010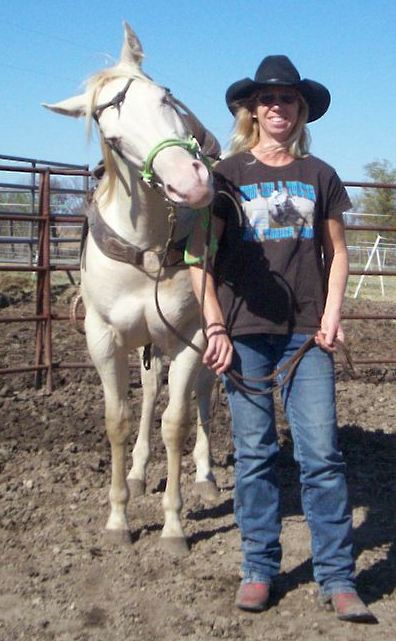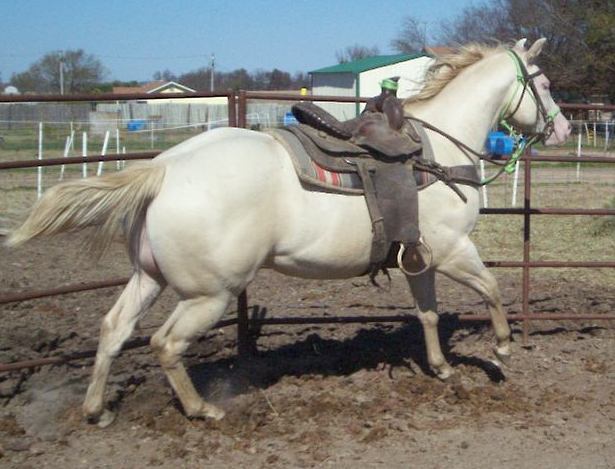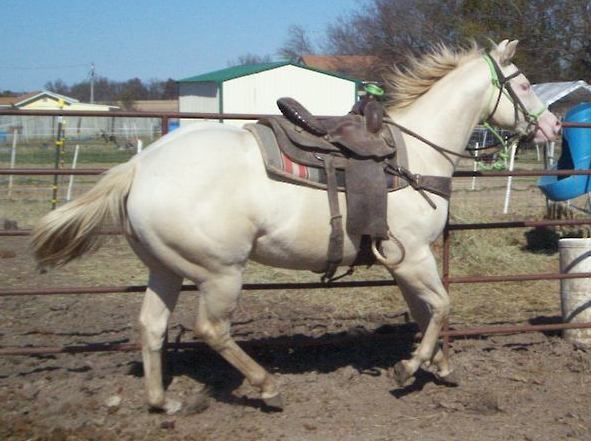 Jasper November 09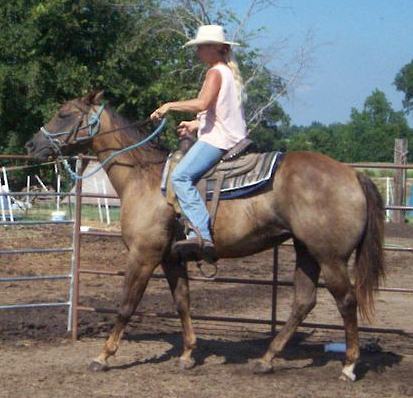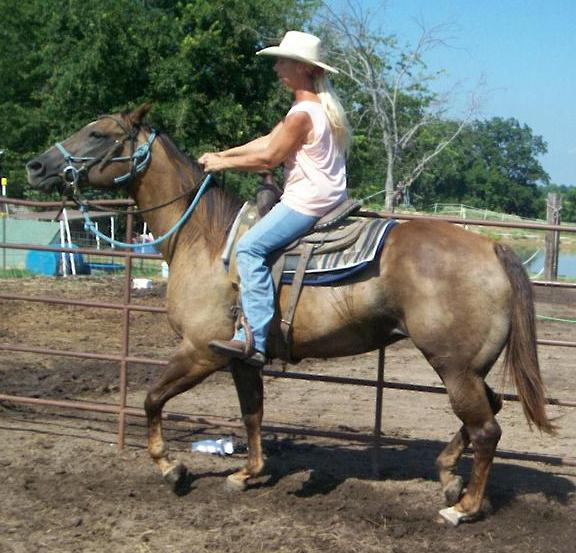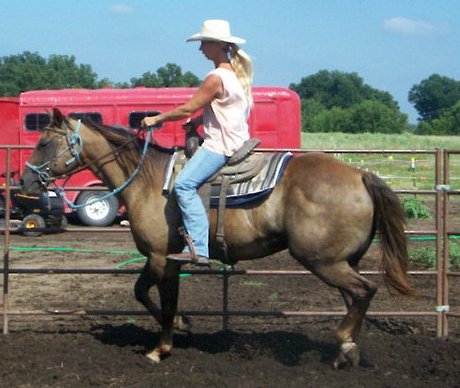 Emmy and Glenda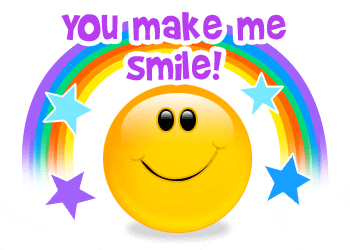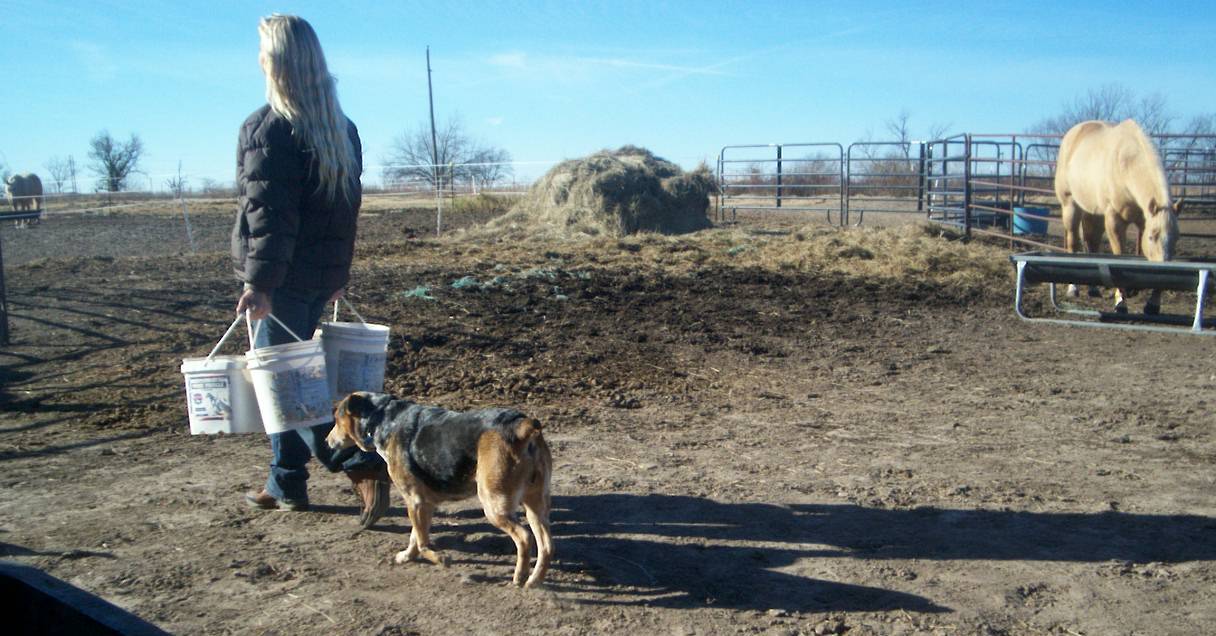 Glenda and Pokey feeding the horses.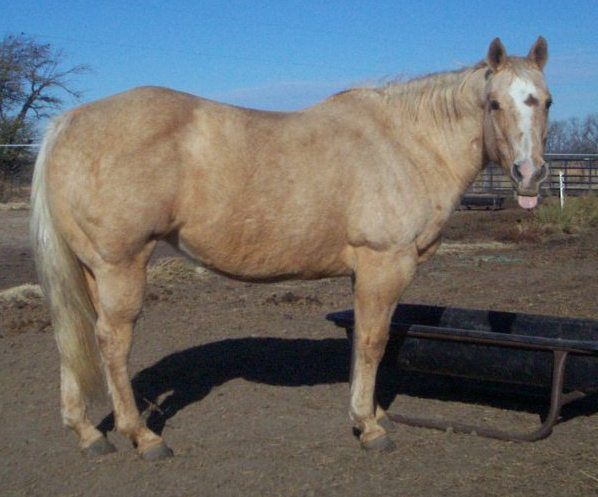 Silly Punkin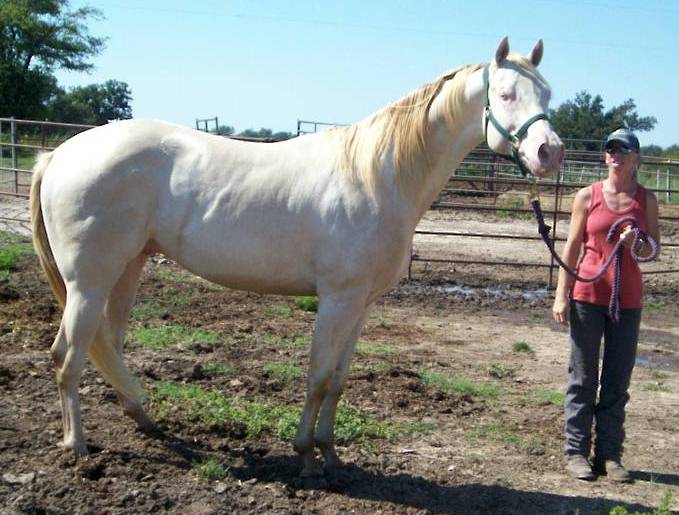 Kid, the Jolly Perlino Giant!!! 9-27-09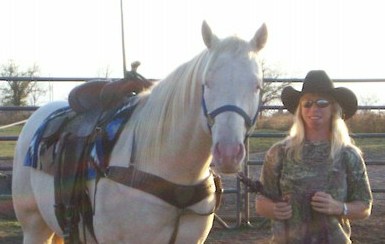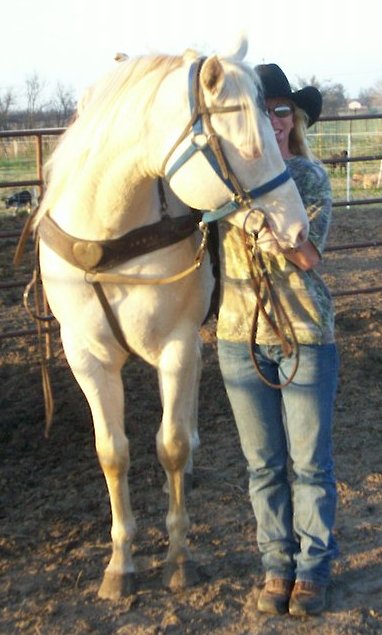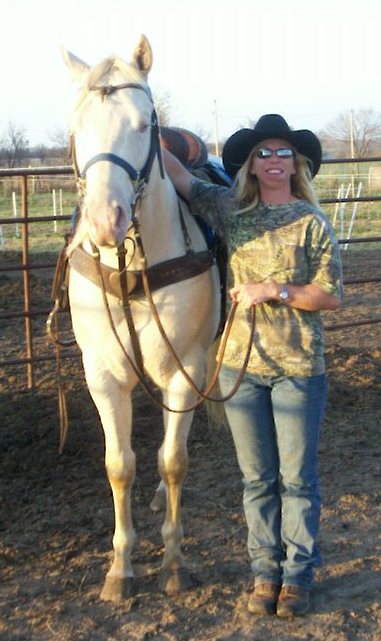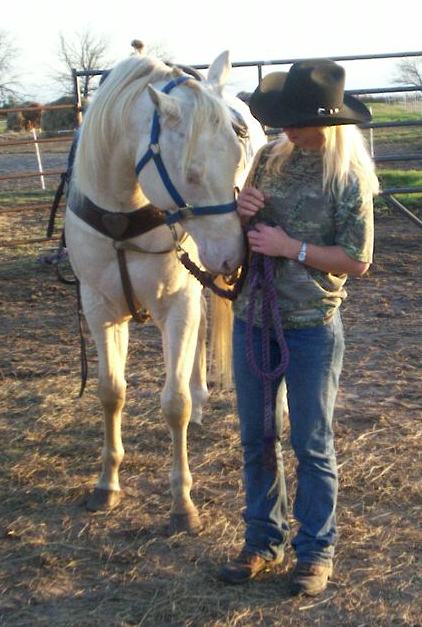 Jessi and Kid, right after Kid's first ride! 11-19-09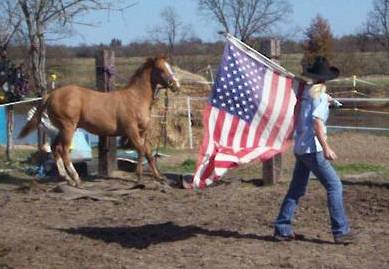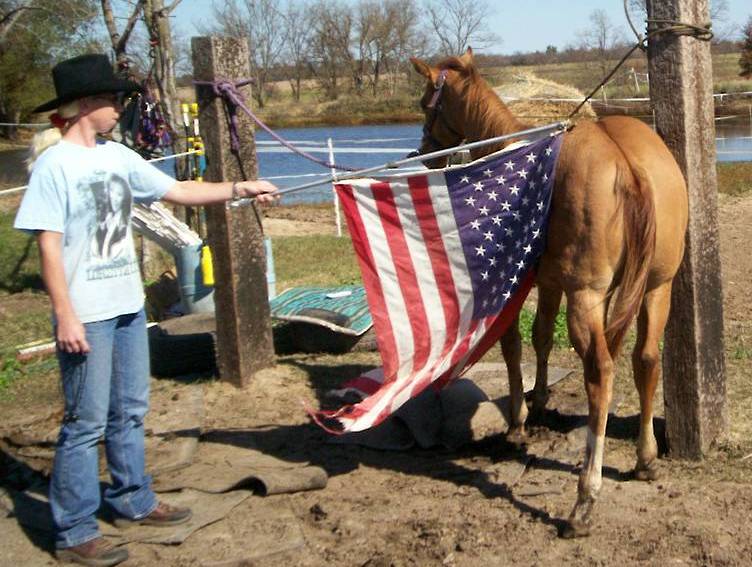 Jessi is getting DiNozzo flag broke. He has a big'ol butt!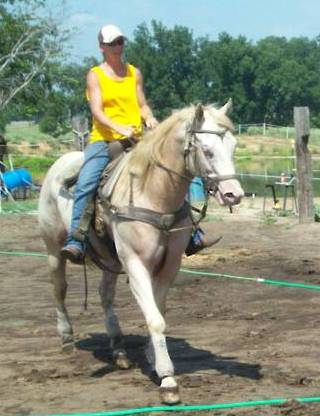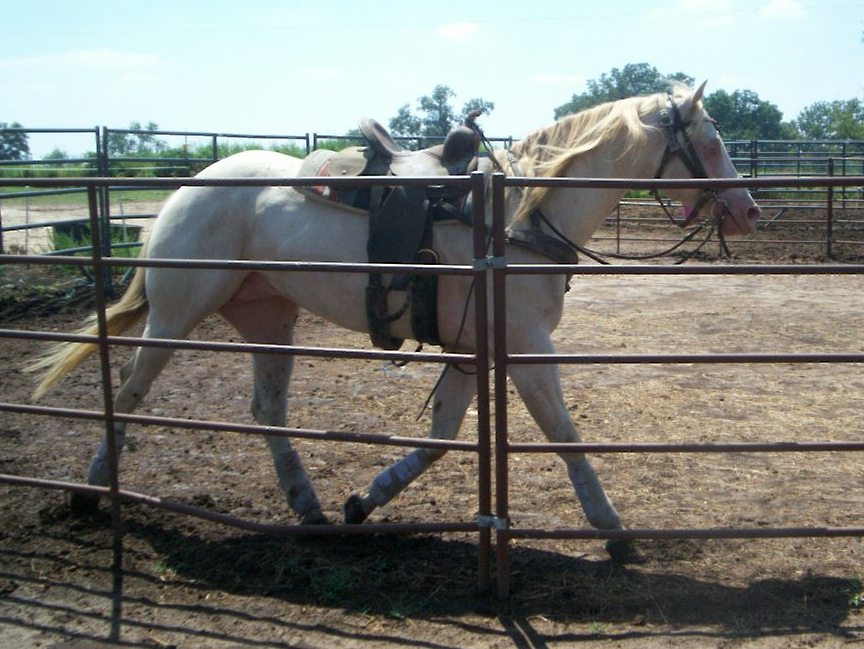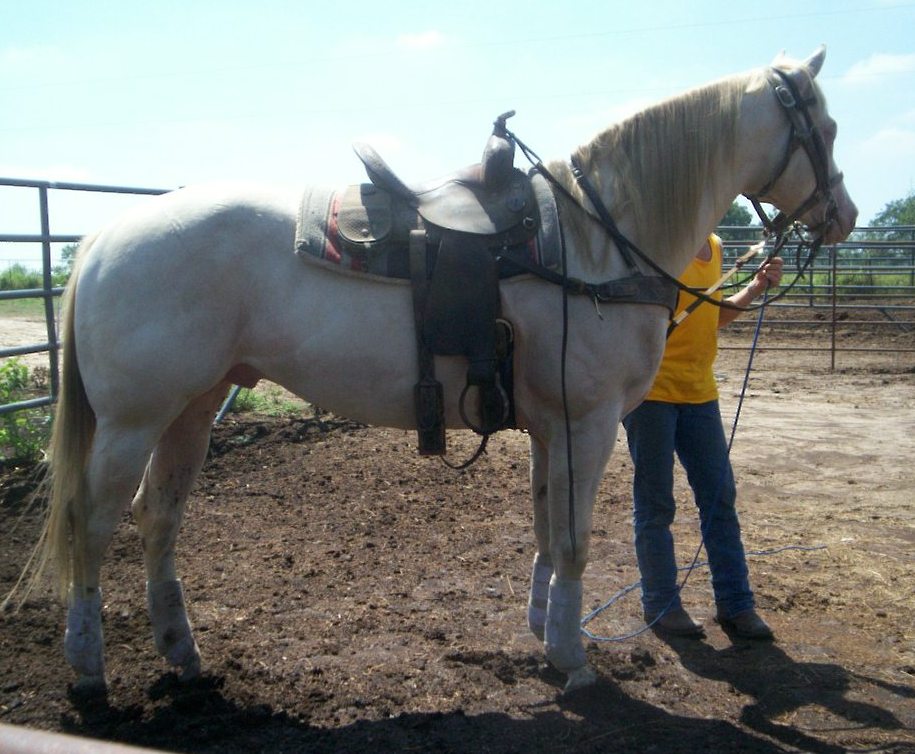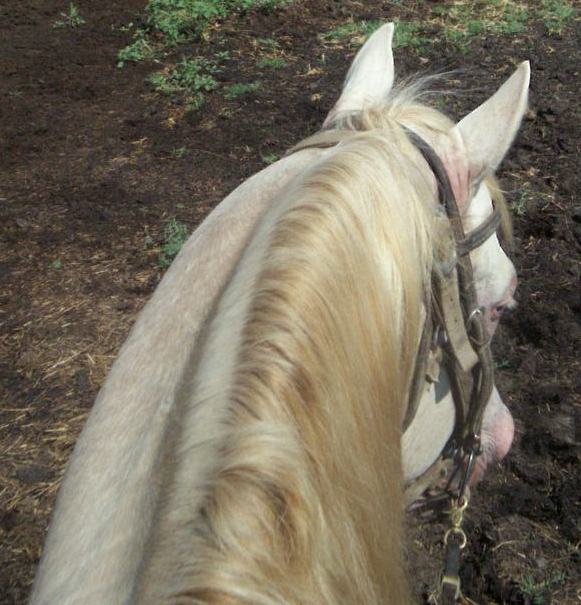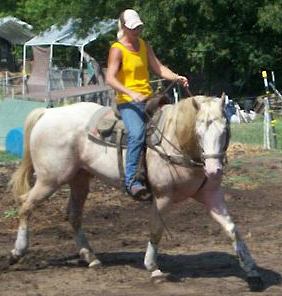 Kid and Jessi 8-18-2010
My goal in life is to be as good of a person my dog already thinks I am.
-unknown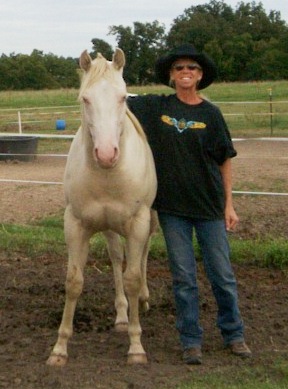 Jasper and his proud mom. (Glenda)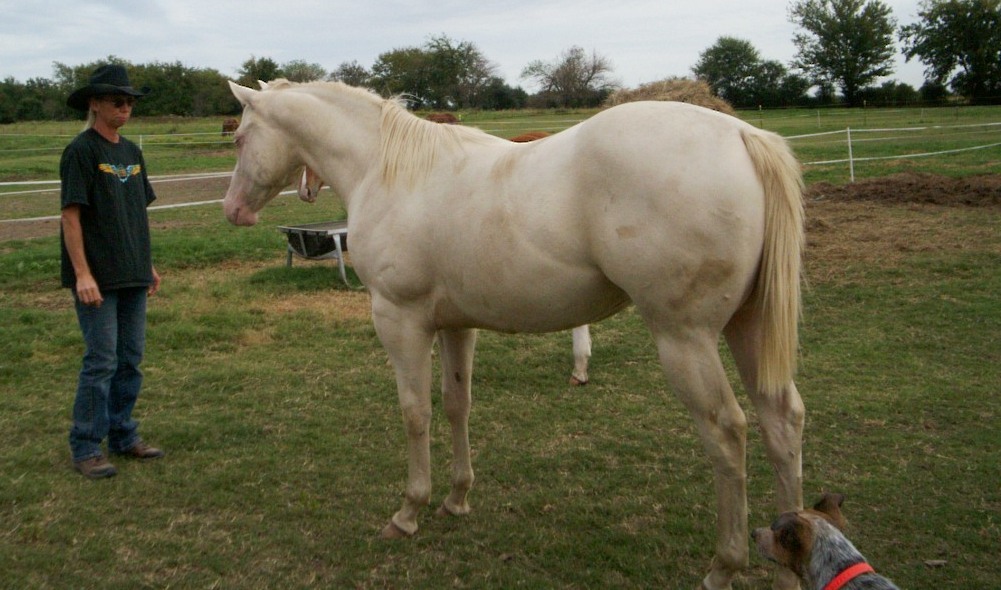 LOVE LOVE LOVE my fat, dirty baby boy!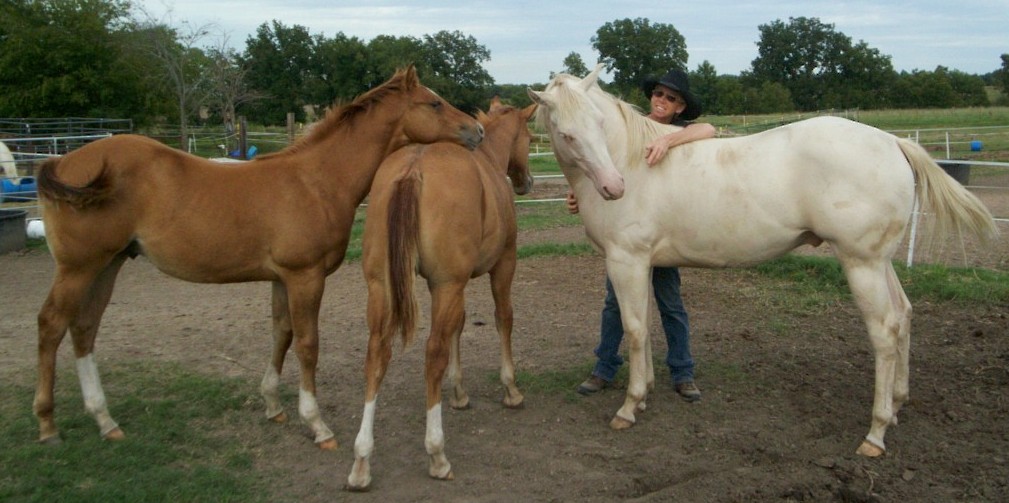 "Look at Jessi Jasper so she can take our picture!" Can you see Jasper is looking at my finger?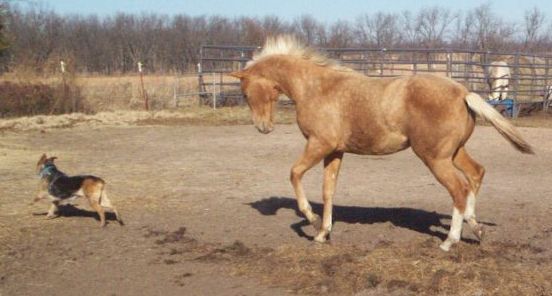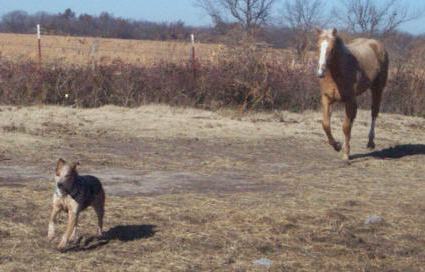 Run Pokey Run!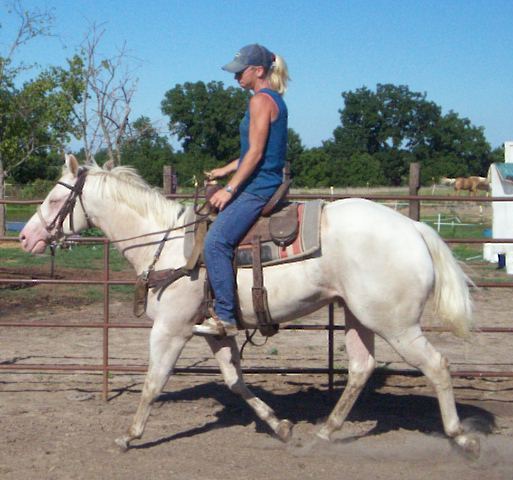 Tulsa and Jessi
Do Not Go Where The Path May Lead ~ Go Instead Where There Is No Path And Leave A Trail.
Emerson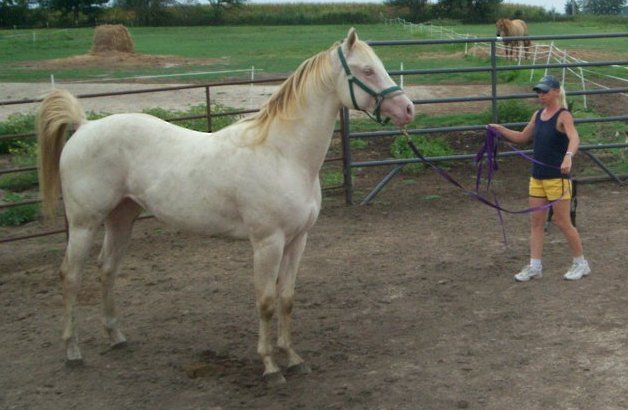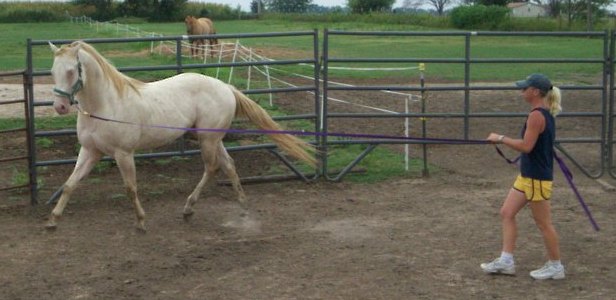 Jessi and Kid, he is really going to make a big horse! (Kid was a 2 year old in this photo)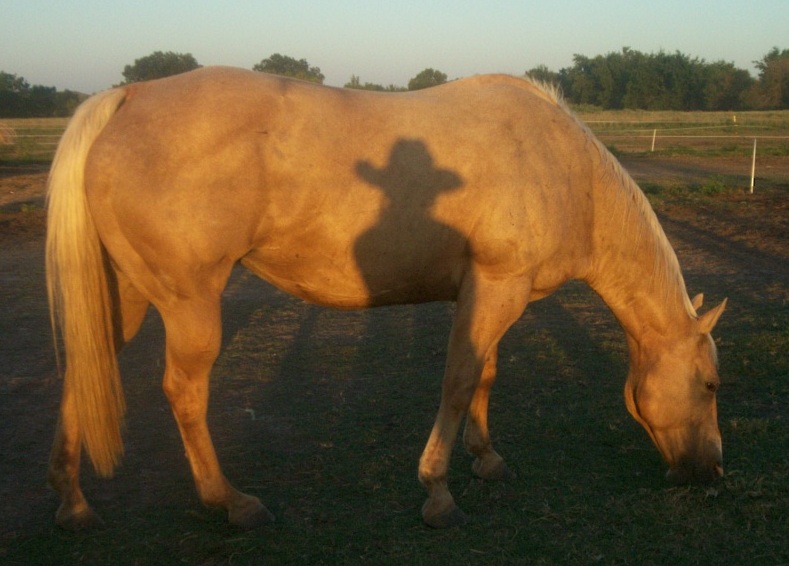 Sizzle (Punkin) and Glenda
god bless America and God Bless You all!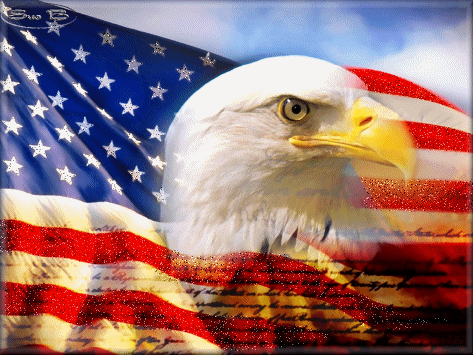 I PLEDGE ALLEGIANCE TO THE FLAG, OF THE UNITED STATES OF AMERICA, AND TO THE REPUBLIC FOR WHICH IT STANDS, ONE NATION UNDER GOD, INDIVISIBLE, WITH LIBERTY AND JUSTICE FOR ALL.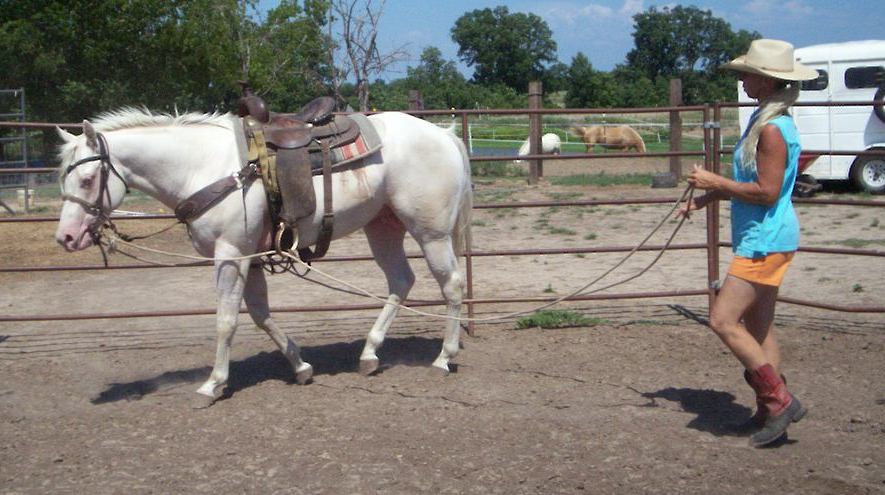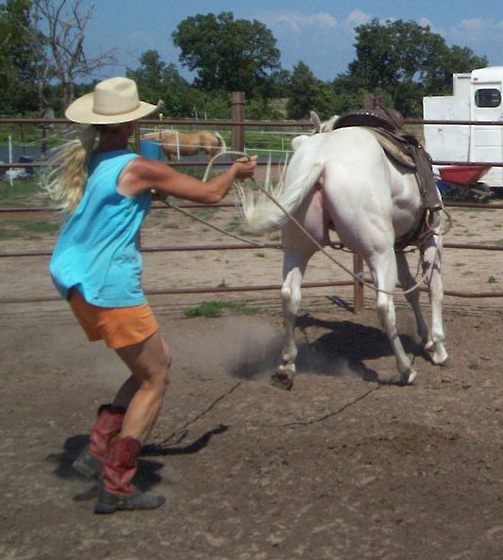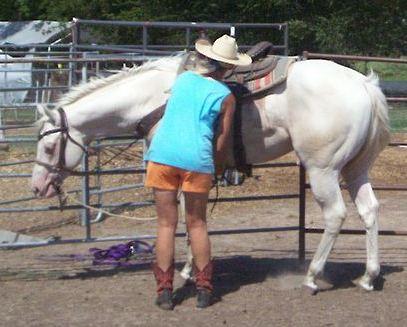 Glenda and Tulsa - okay, Tulsa looks GREAT... I, on the other hand left my fashion sense in the drawer this morning!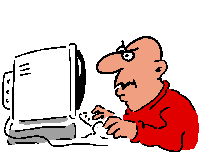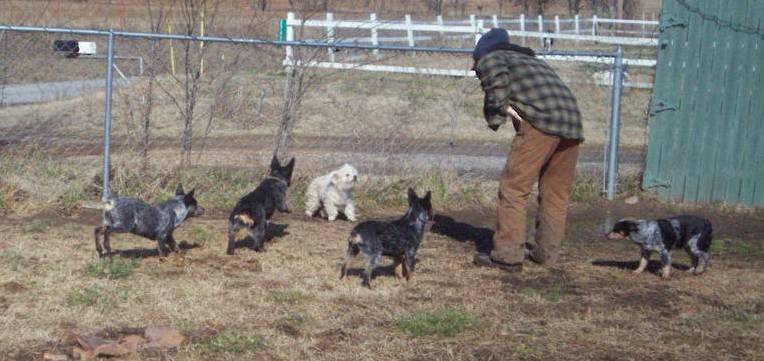 Ever have one of those days when it feels like everyone is after you?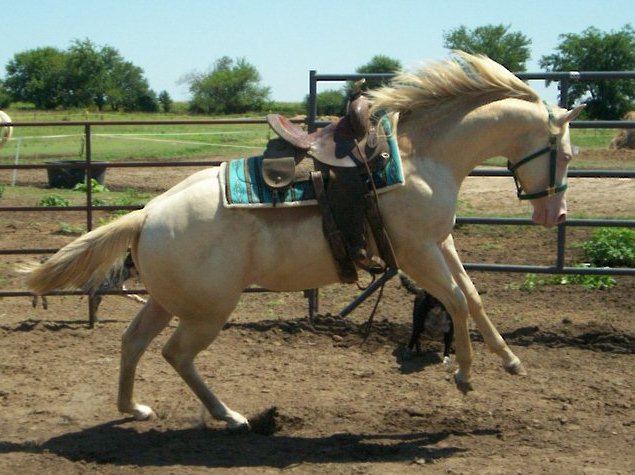 Jasper in the pen @ 13 1/2 months, first saddling.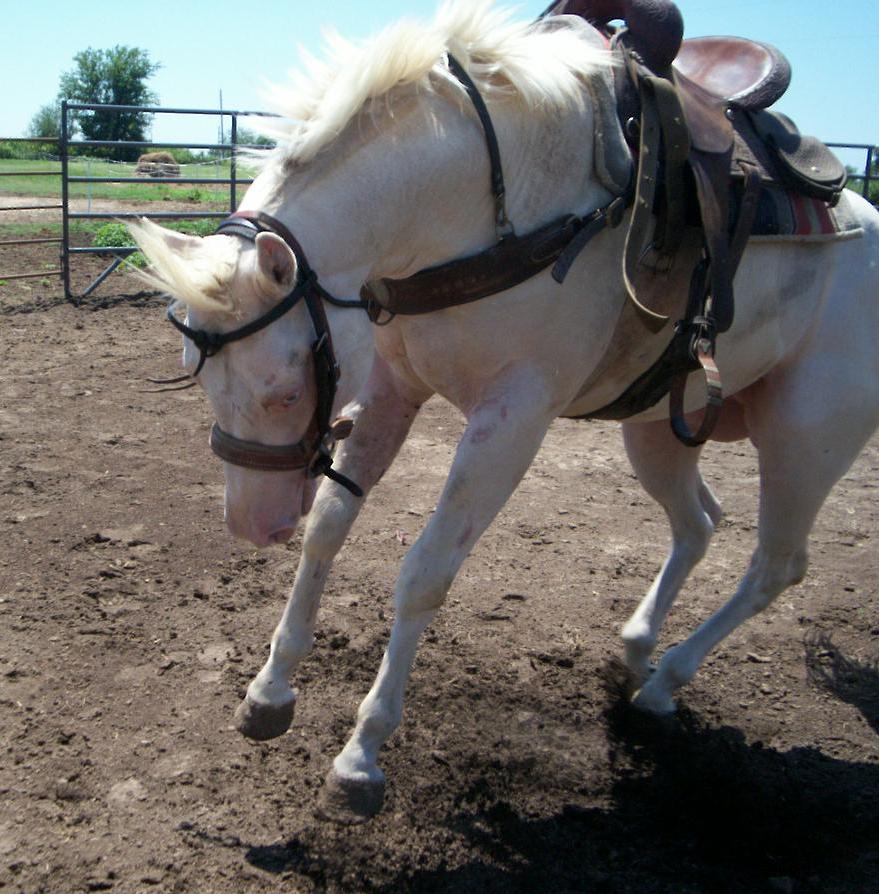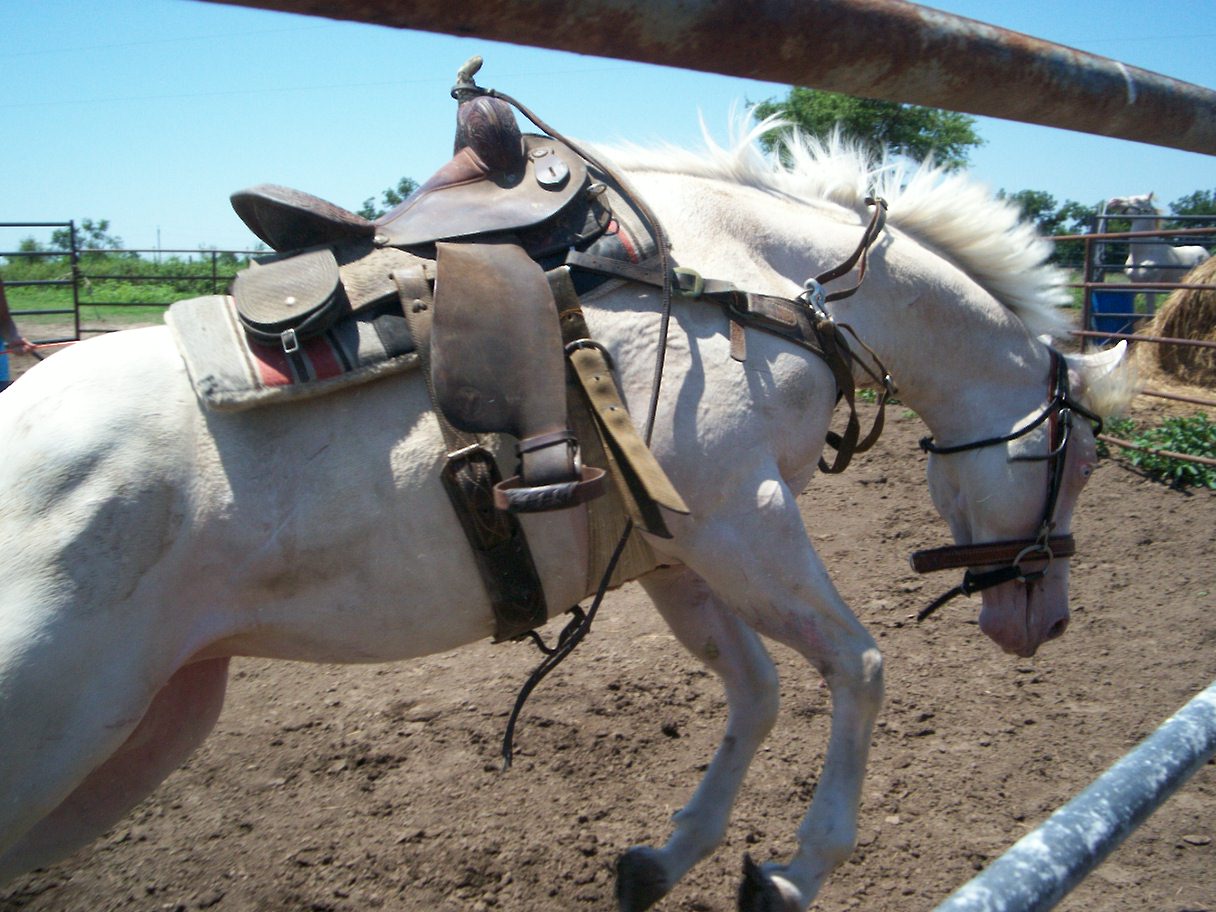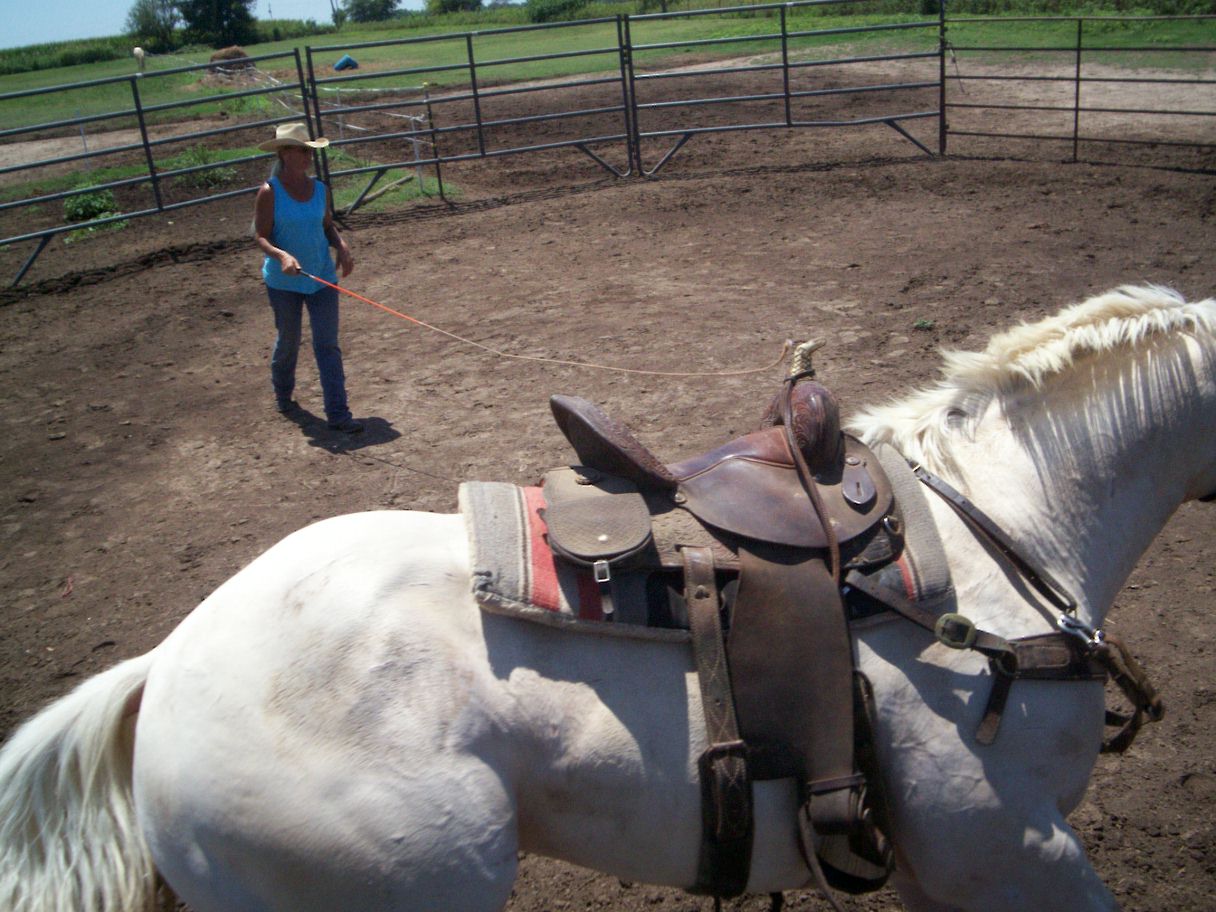 Tulsa in the pen with Glenda (Jessi sure got some good photos!)
Anyone that says sunshine brings happiness has never danced in a storm...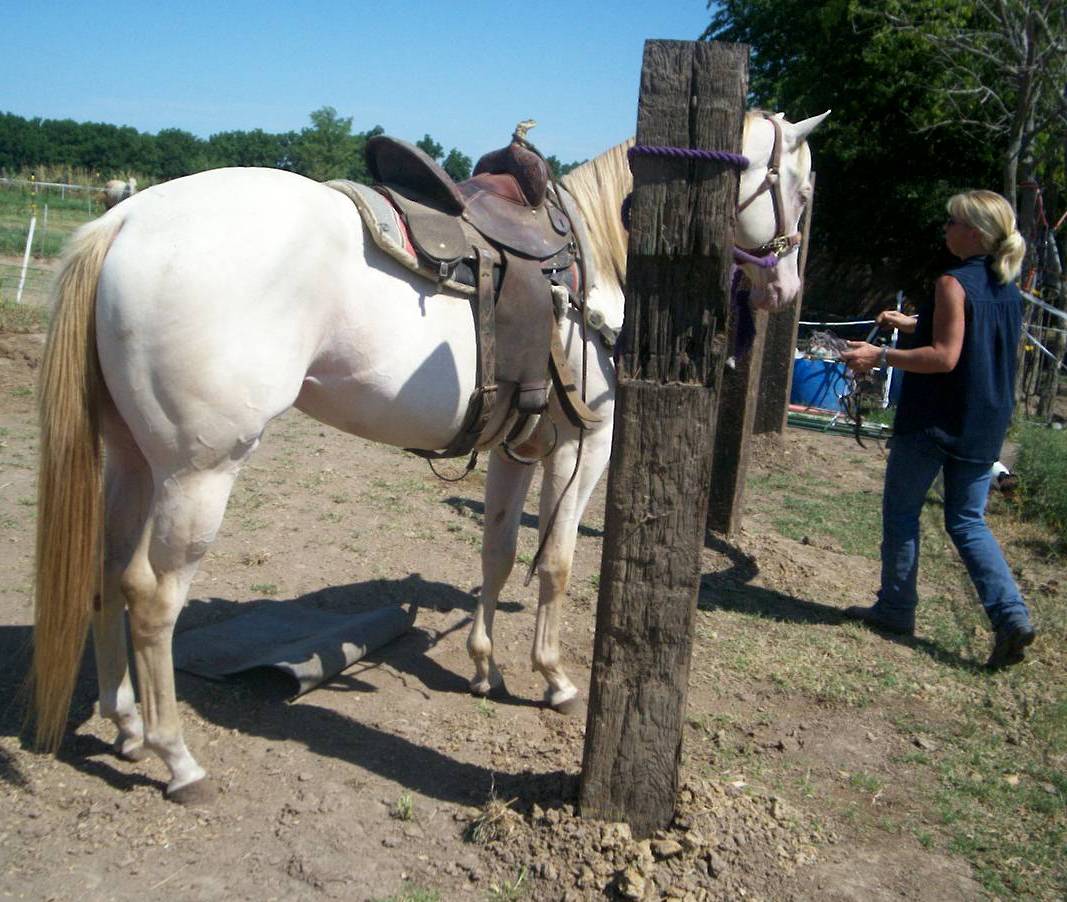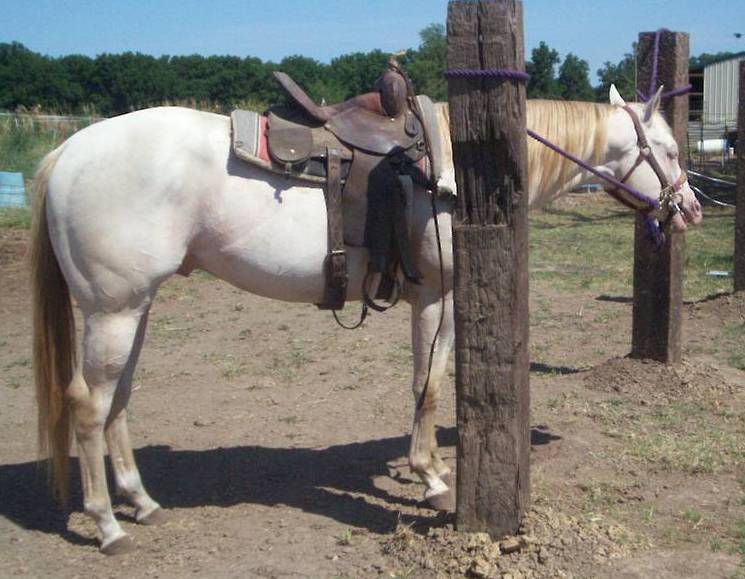 Kid's first saddling.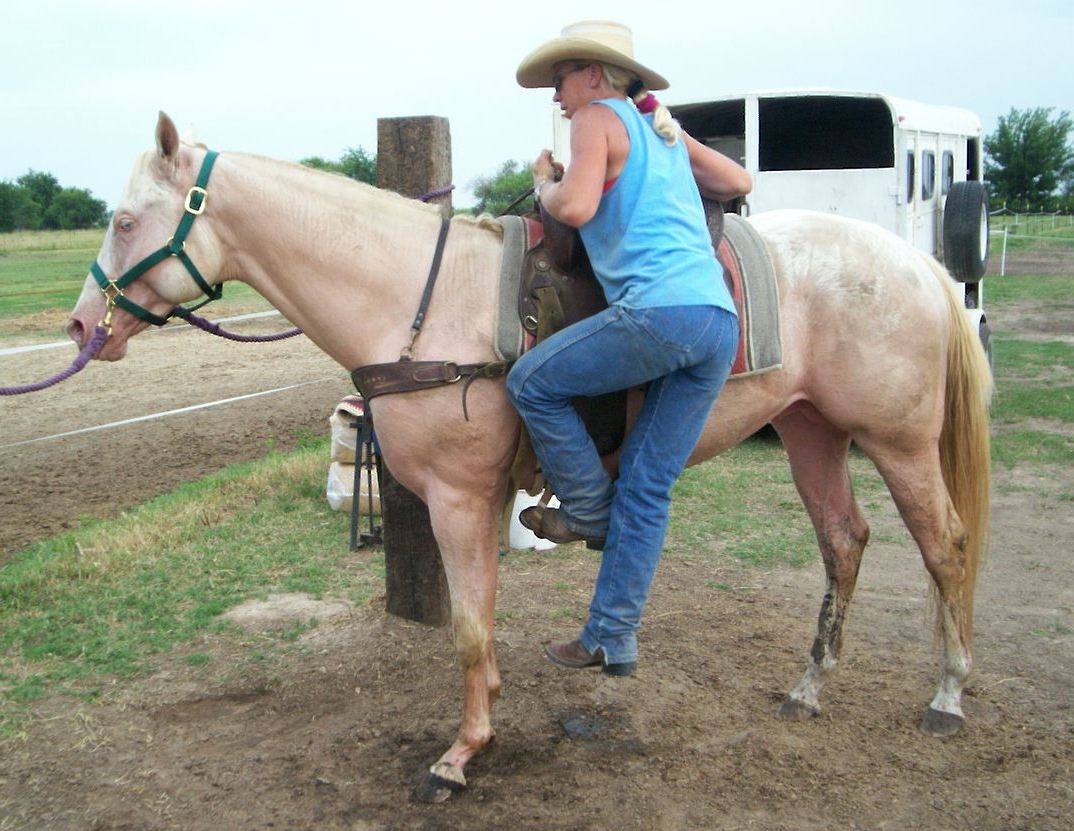 Jessi and Kid, Kid's third saddling and the first time that Jessi got on him.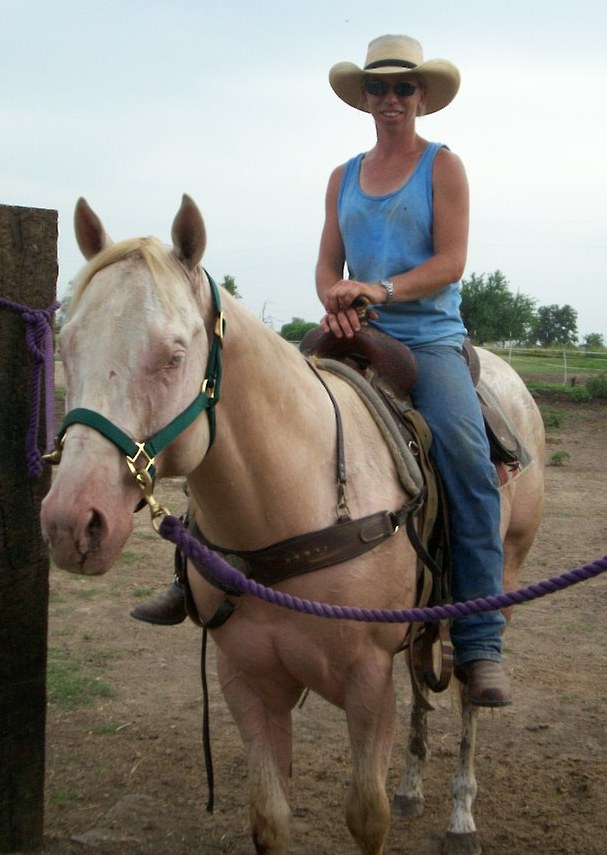 Kid is totally at ease..... what a good boy!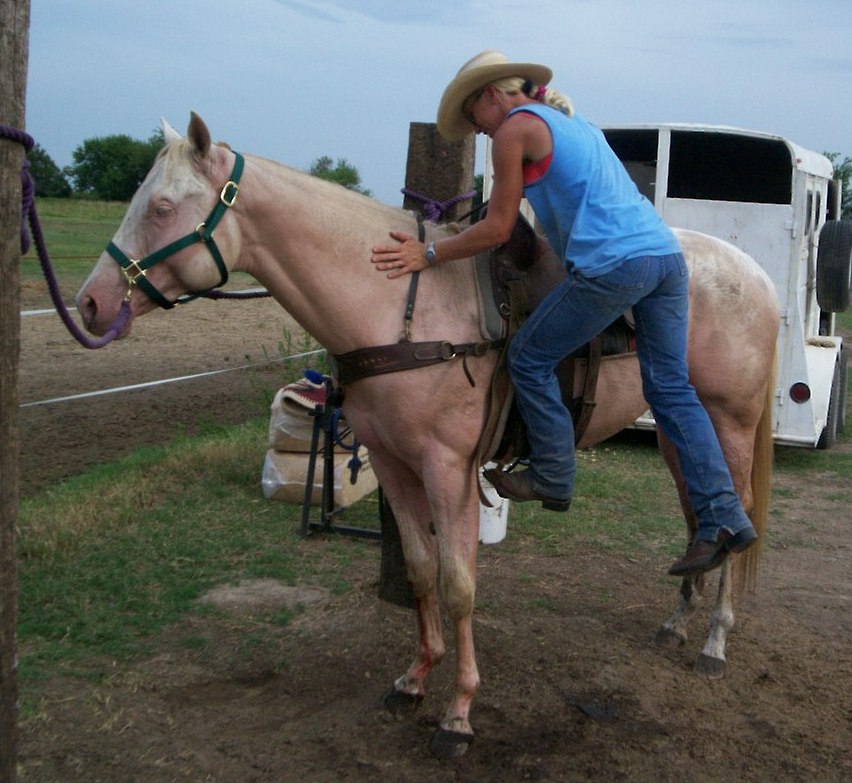 Jessi on her way down, Kid was calm and relaxed the whole time... we are very proud of him.
"There are no answers.... only the search". Grandma Ivy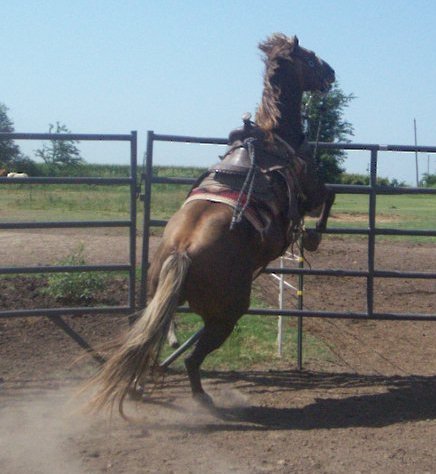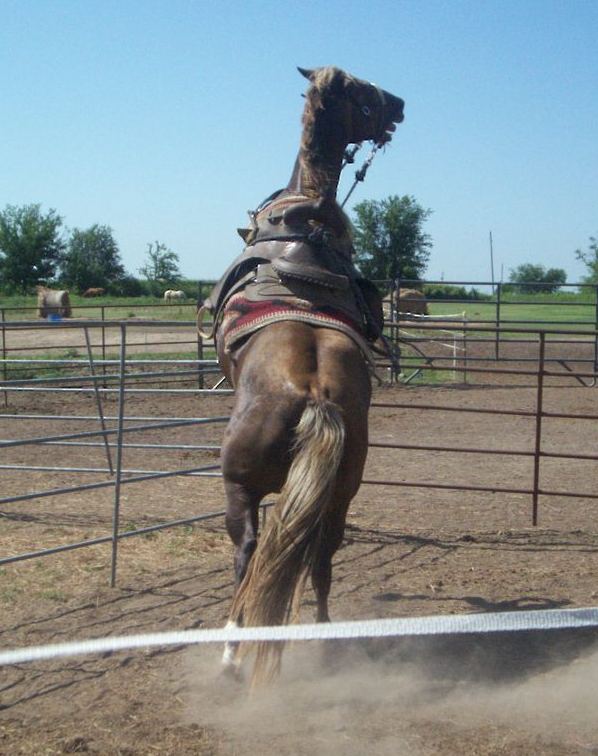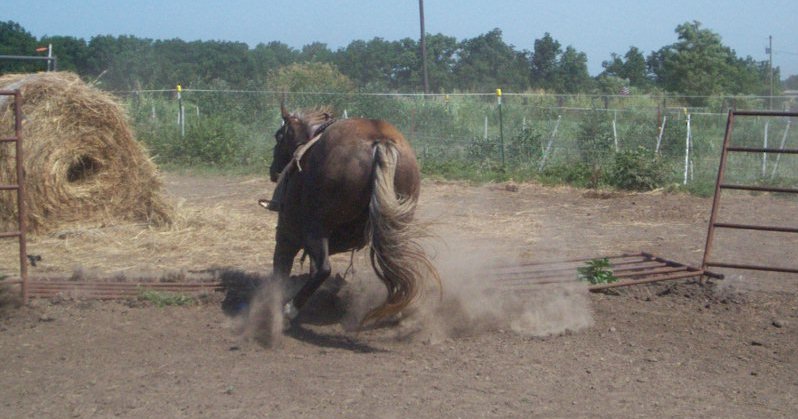 Here are some wild photos... This is a mare that we bought to ride... she was sold to us as old lady broke! These photos of this mare were taken right AFTER the first time that we tried to get on our new mare that we bought as "granny broke". The only reason we had the camera outside was to take photos of our neat new mare being rode. Imagine our shock as these were the only photos that we had the opportunity to take. Can anybody say ALPO?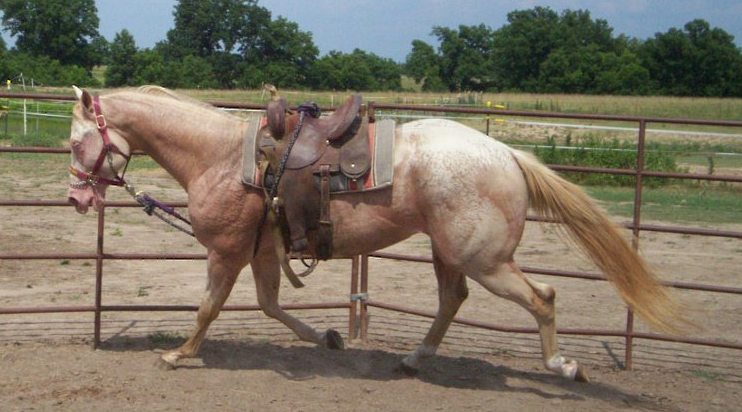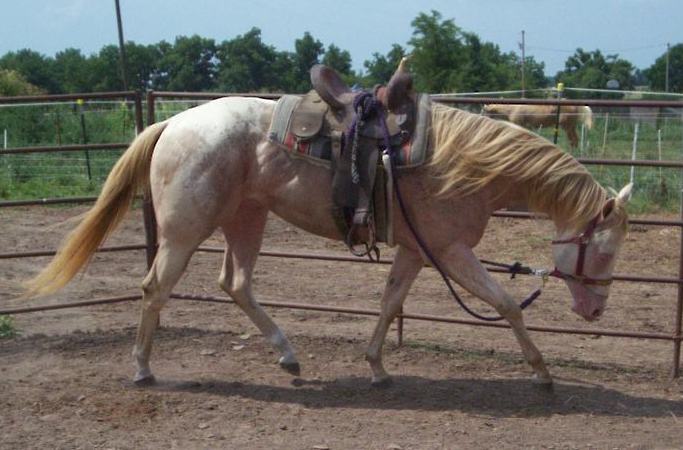 Kid's first saddling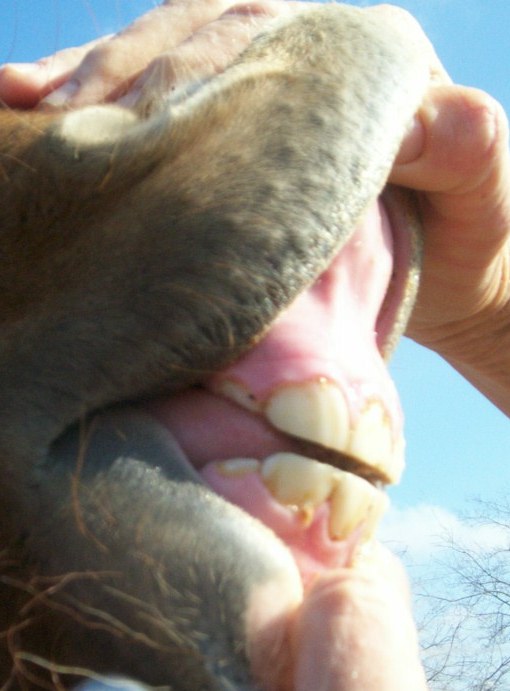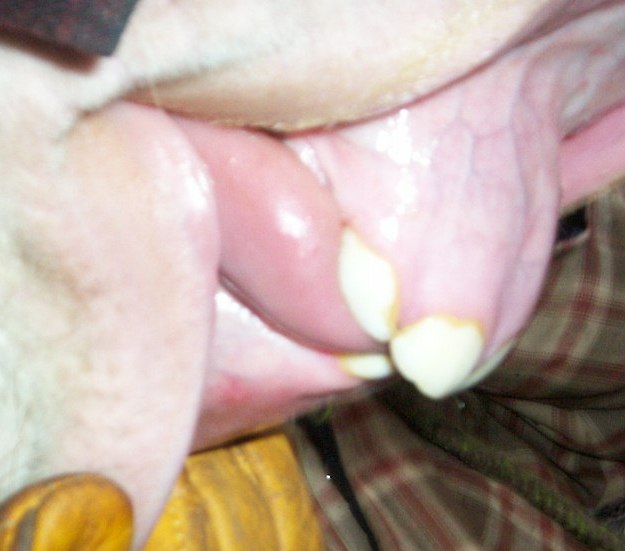 DeNozzo Jasper (by BS Buckley)
Here is a little trivia for you: what you see in the 2 photos above are examples of bites of 2 different colts at about the same age. The first photo is of a dun colt we had named DeNozzo the second is Buckleys White Gold a perlino colt we had. These are photos we took to show potential buyers when we sold both of these colts. As you can see DeNozzo's (brother to our colt McGee) top and bottom teeth match perfectly; he has an "even bite". Jasper's top teeth are not even with his bottom teeth, he is "parrot mouthed" which is a genetic disorder.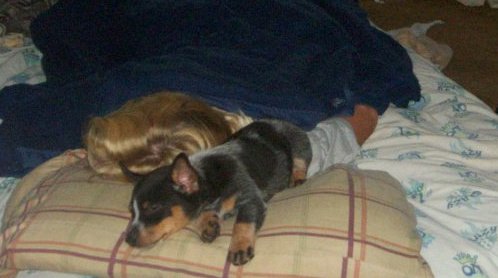 Don't you know, pillows are for puppies!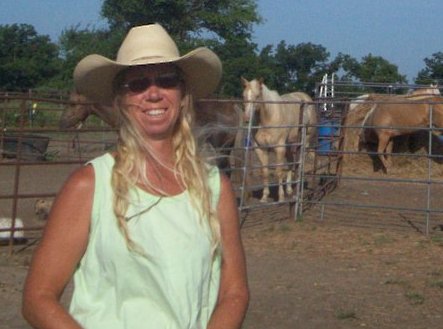 Morning chores, I'm still clean.....forgot to brush my hair.... typical!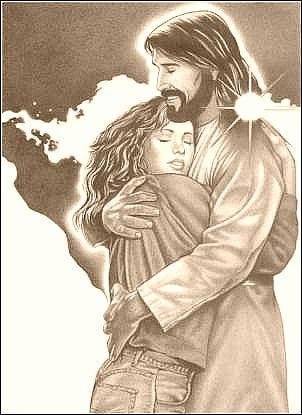 Thank you Jesus, I needed a hug today....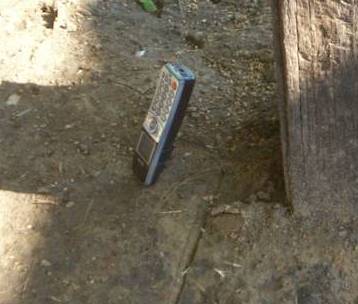 Hey, where's the phone? .......true story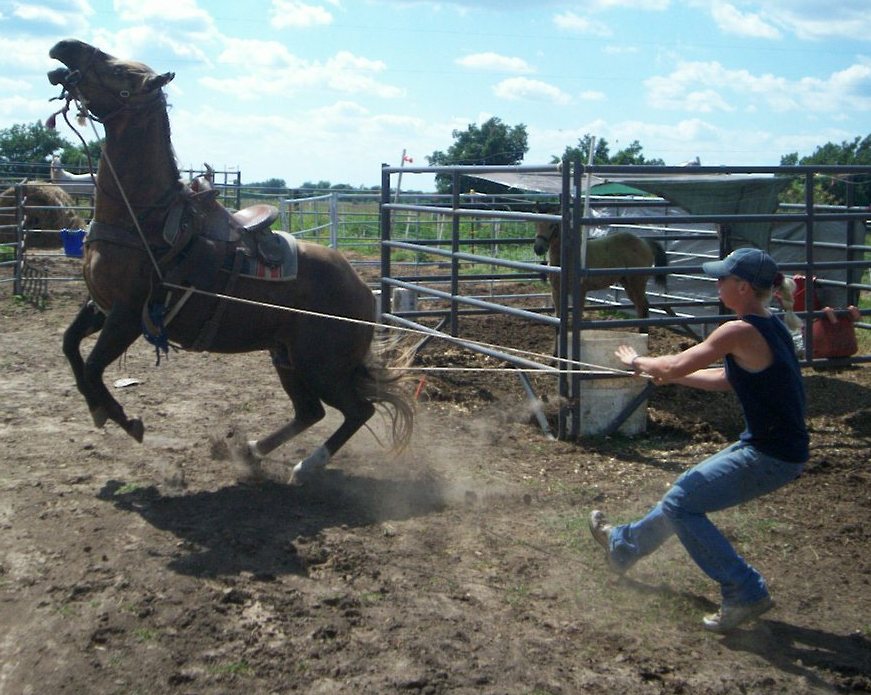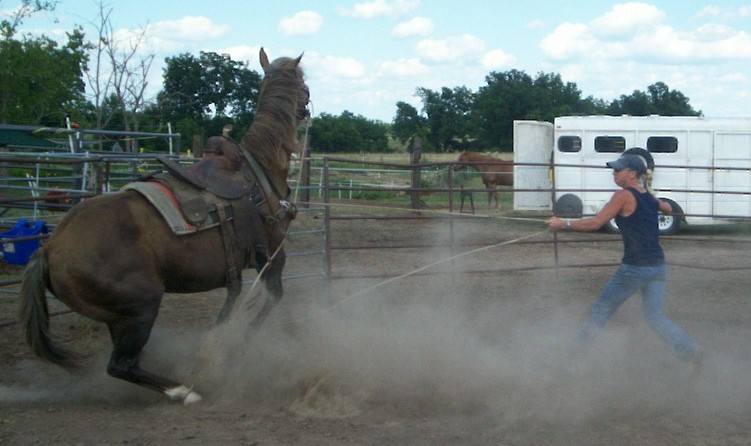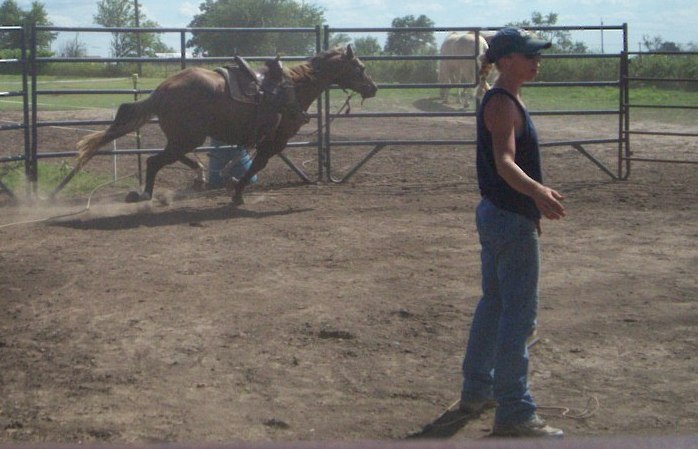 Ever have one of those days? "Where's the whiskey?" 7-22-09 We sold Donna right after this to be used as a broodmare ONLY... YIKES!!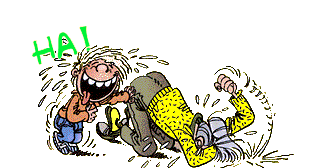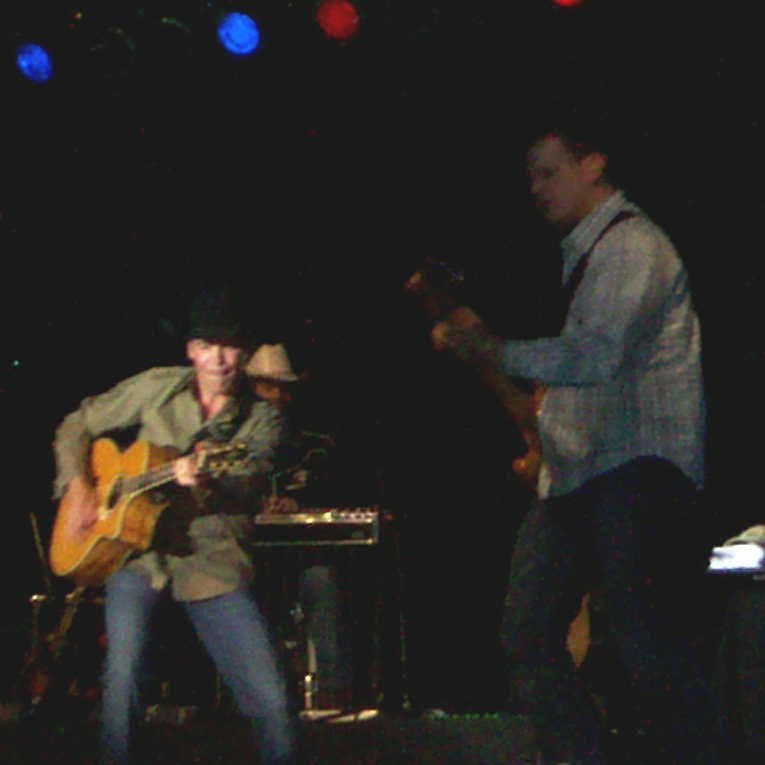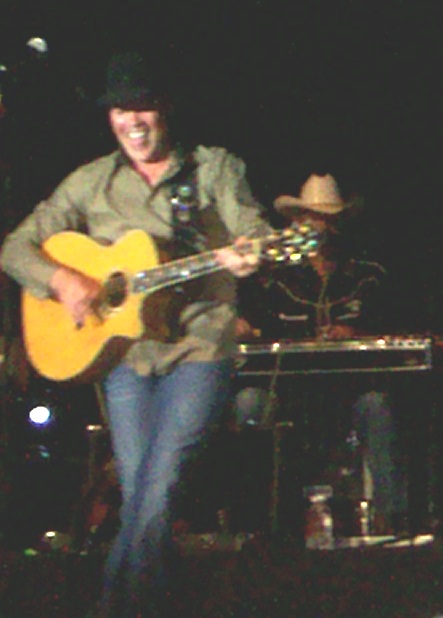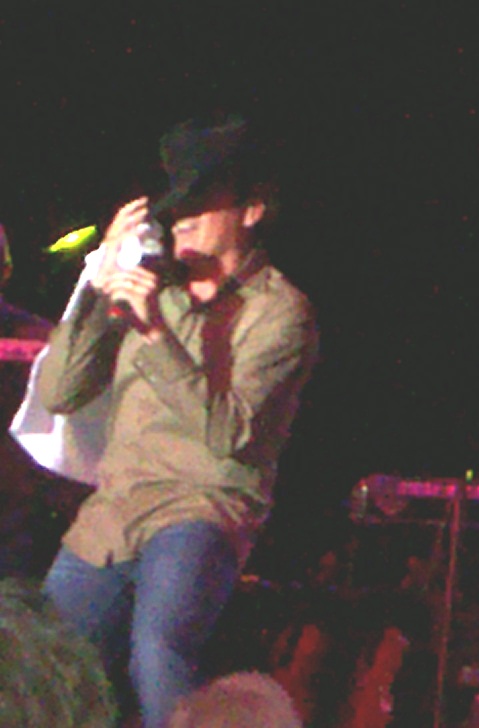 Clay Walker... what a GREAT concert!! We had TOO much fun!
"Work like you don't need the money, love like you've never been hurt and dance like you do when nobody's watching"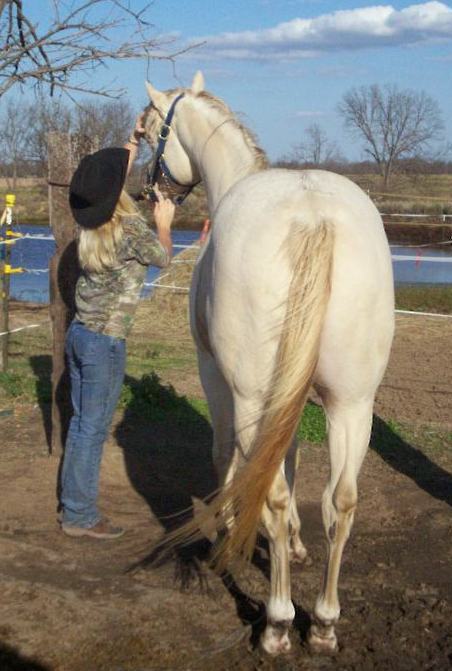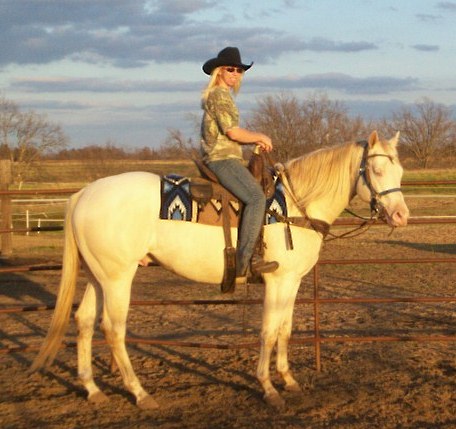 We have never measured Kid but Jessi is 5'6" tall.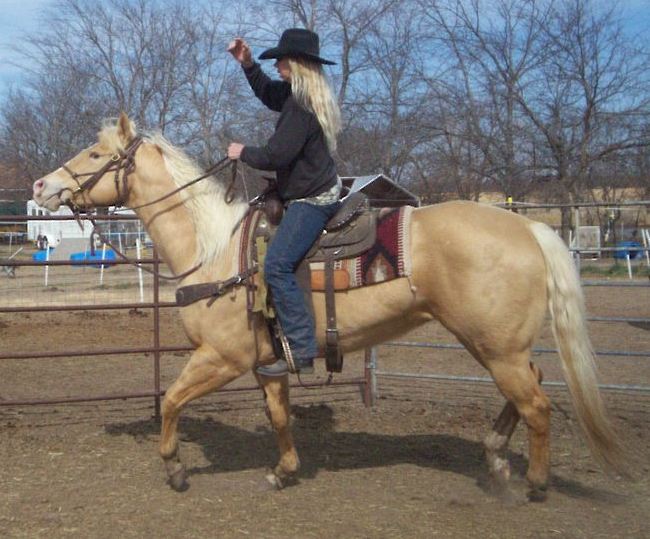 Amber wasn't real sure that she wanted to be my riding horse!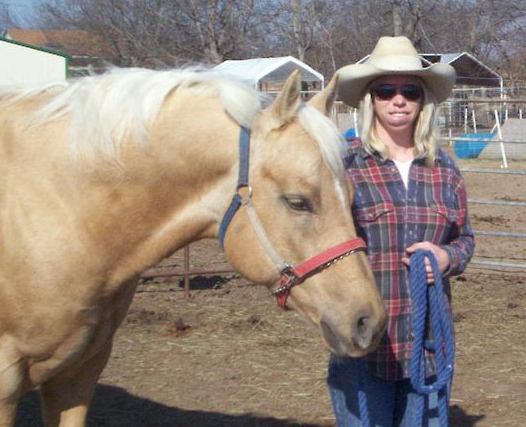 Jessi and Pete
"Go ahead, skin that Smoke Wagon and see what happens" Wyatt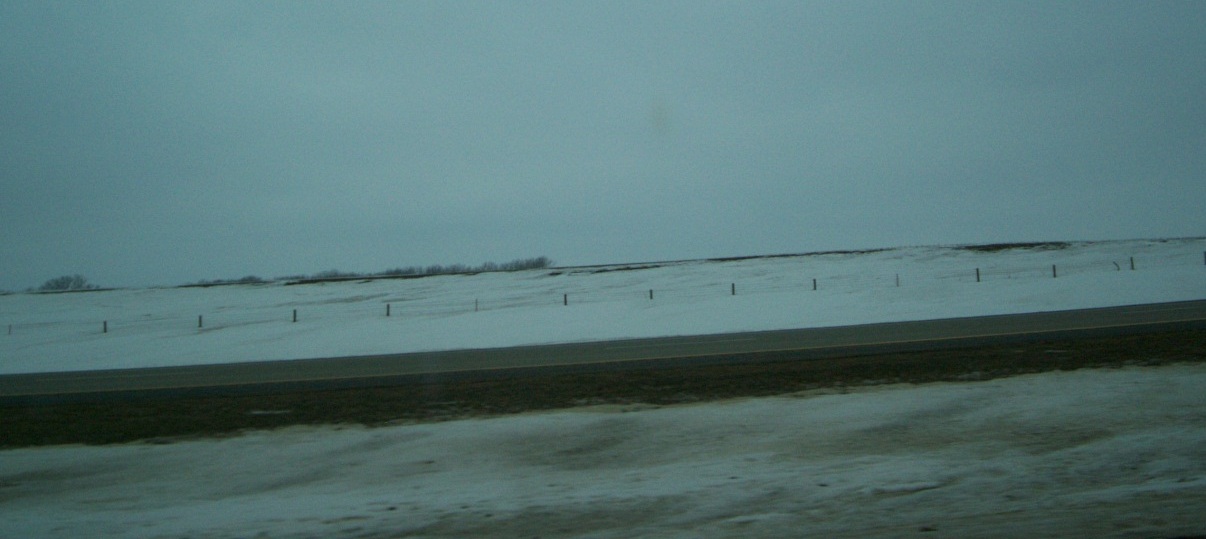 Jessi took this while she was driving through North Dakota to pick up my new mare Amber, notice the snow is almost over the fence posts... Burr...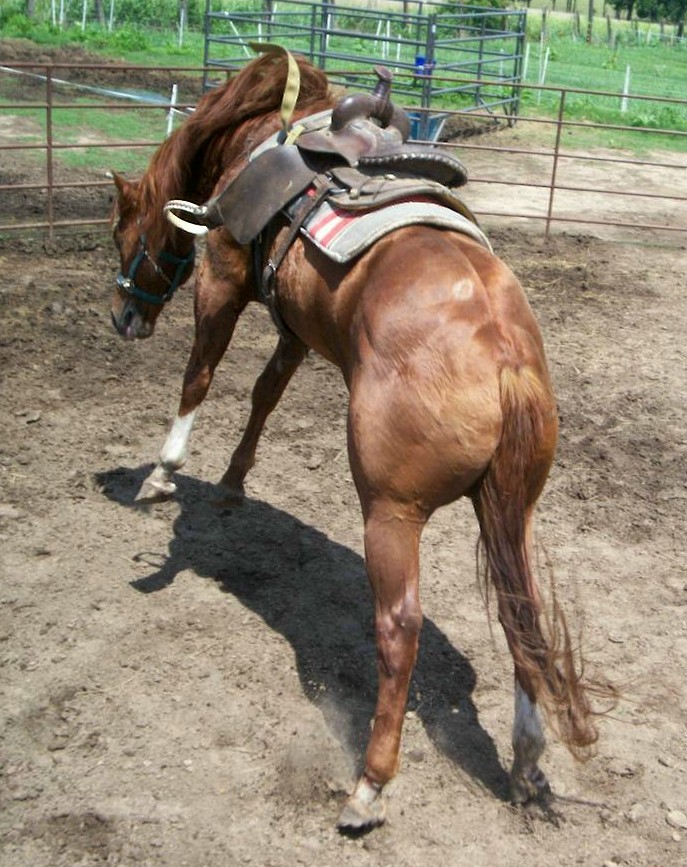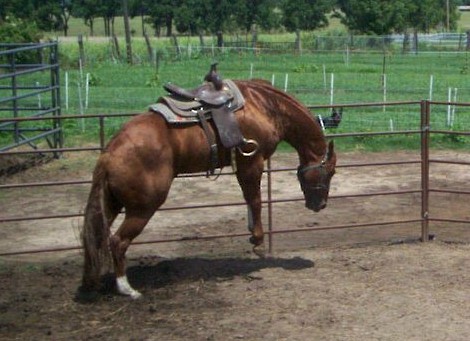 Titan's first saddling... yee haw!! (15 year old stallion)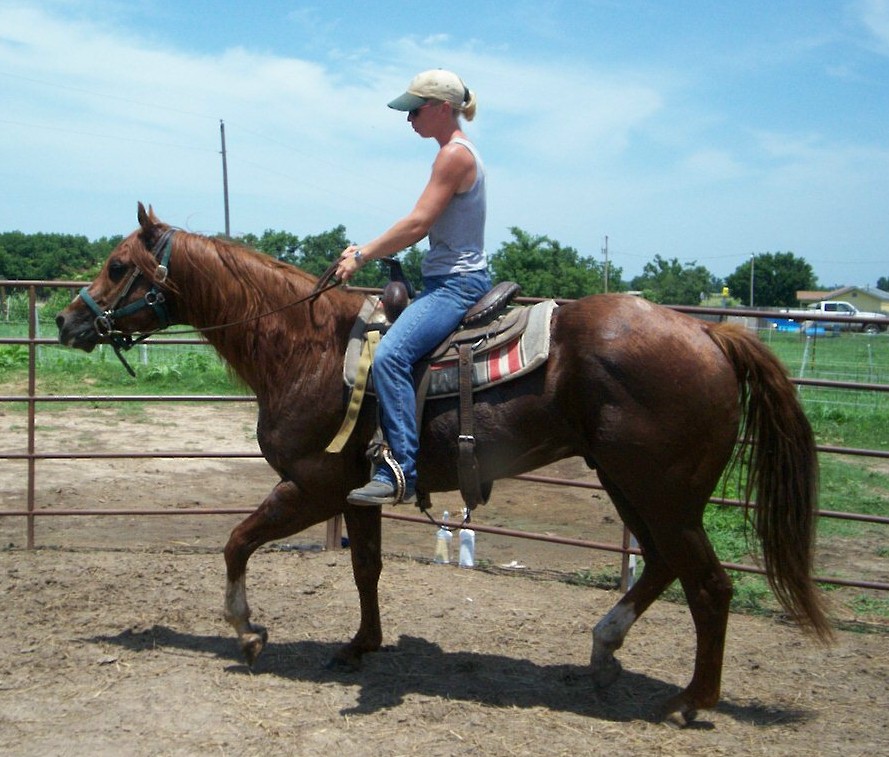 Jessi and Titan, within 30 minutes of his first saddling.
"Where are you Big Chief?" Thelma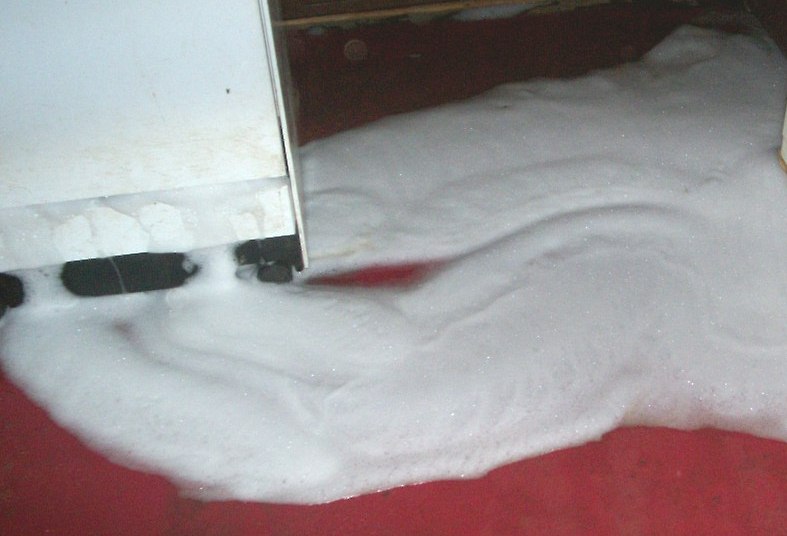 So you mean your REALLY not supposed to use laundry soap in the dishwasher? What's up with that?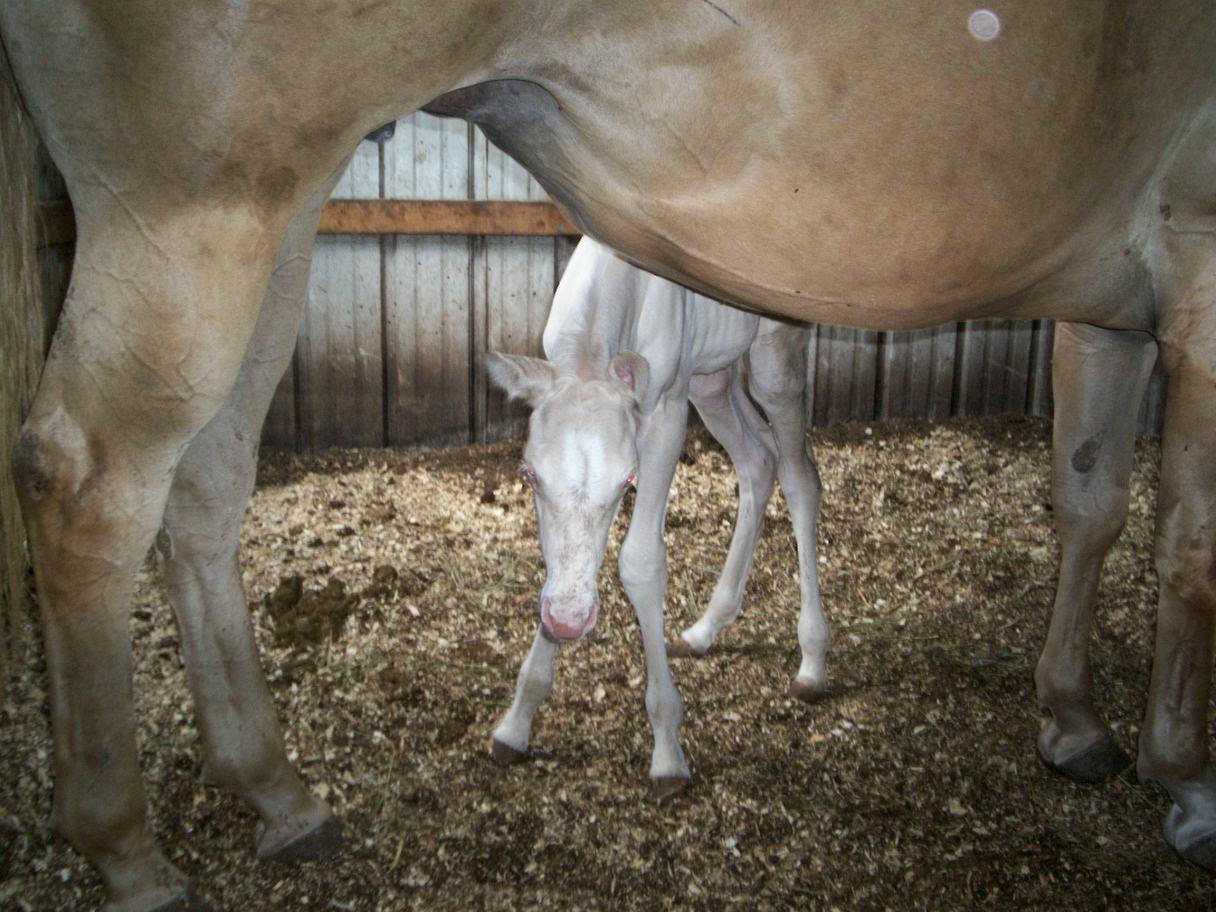 Duckie is peaking under Goldie... TOO CUTE!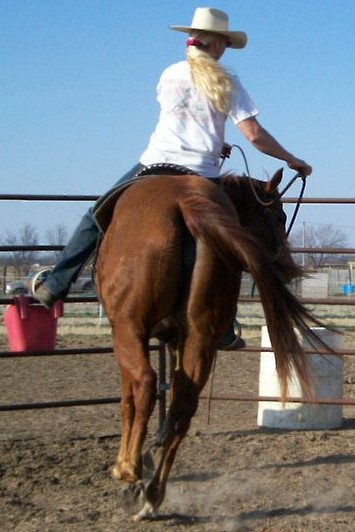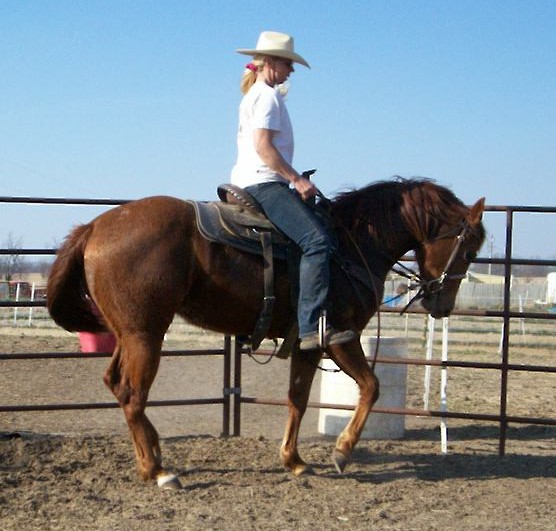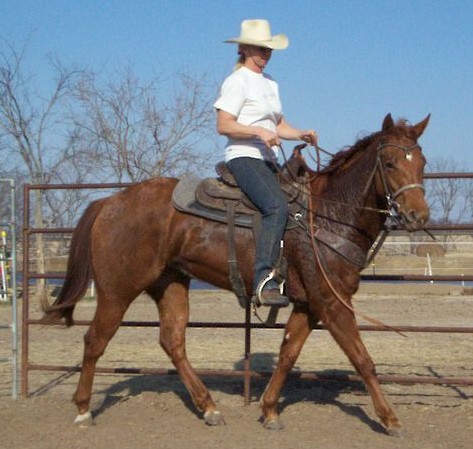 Miss Kiddy during one of her first rides (with Glenda).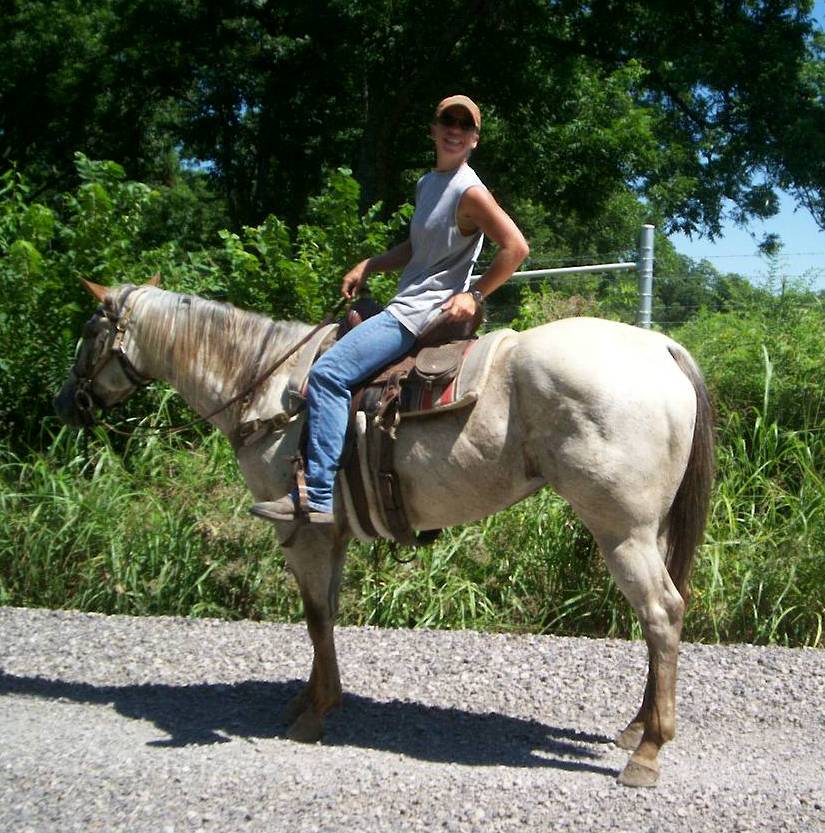 Jessi and Miss Appy
"Some people are like a slinky
they have no apparent purpose
but they still bring a smile to your face
when you push them down the stairs"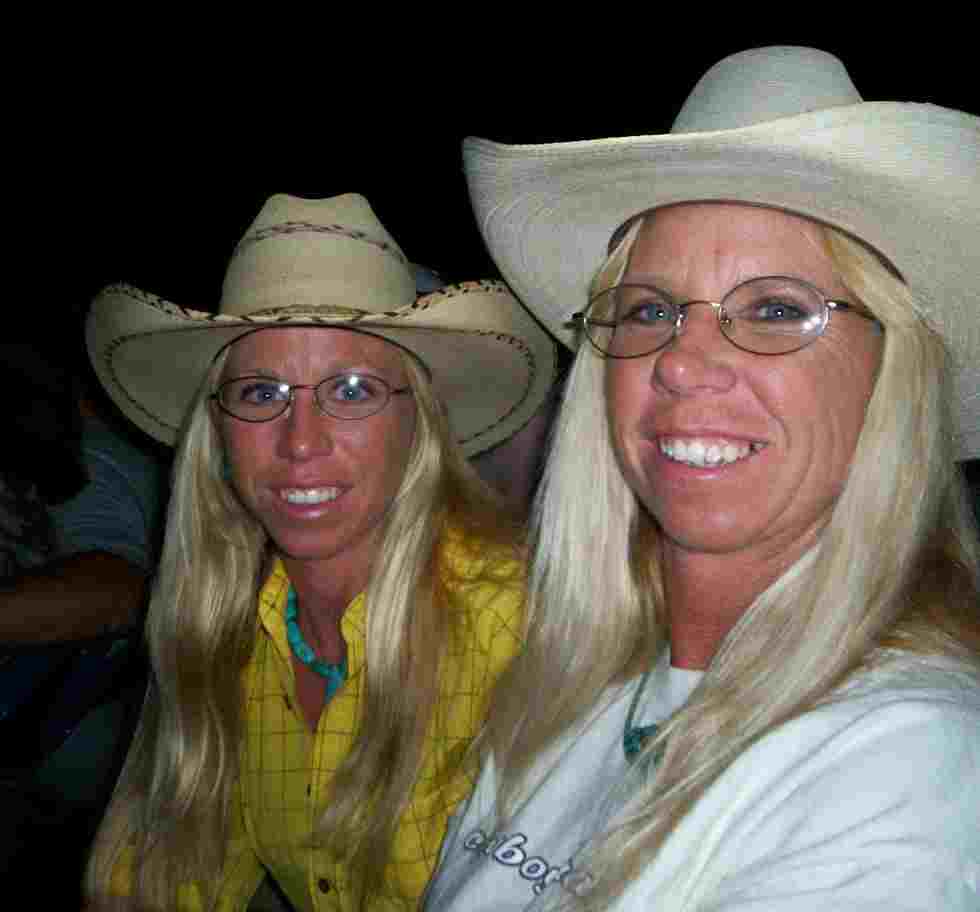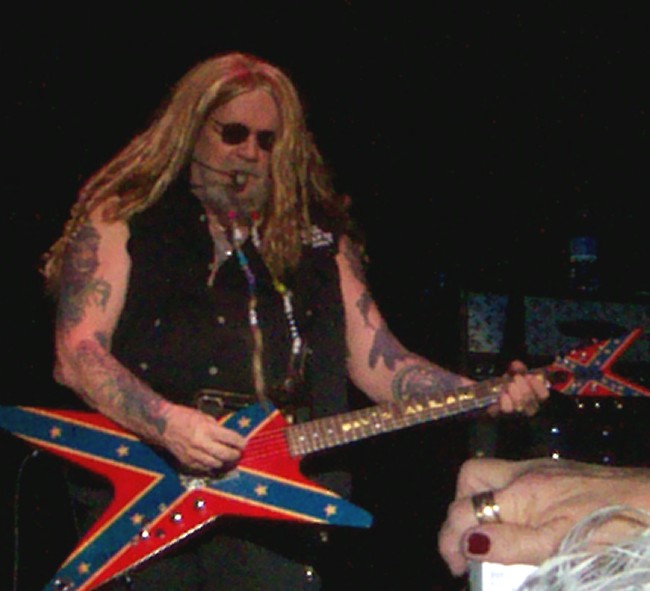 Here we are at the David Alan Coe concert in Tulsa OK.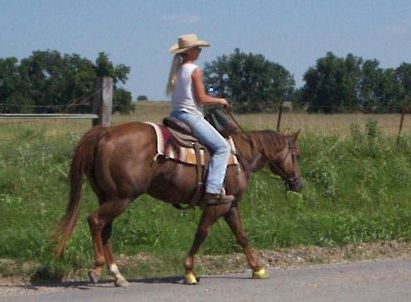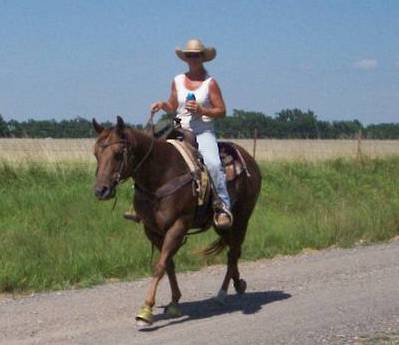 Sadie, my designated driver....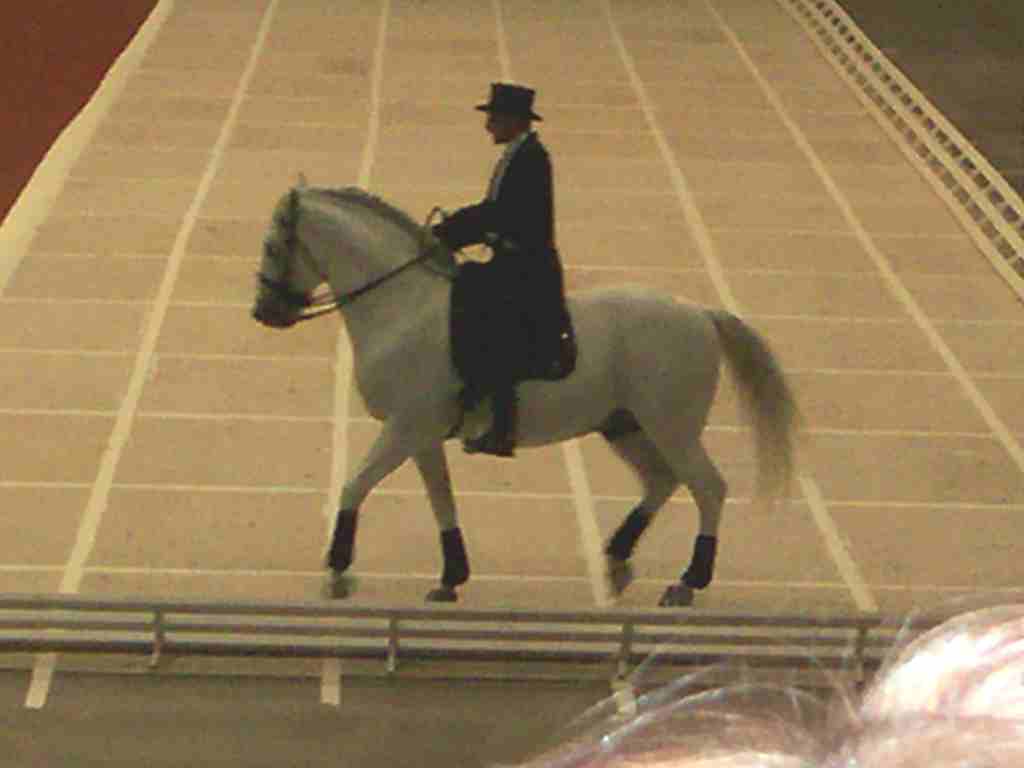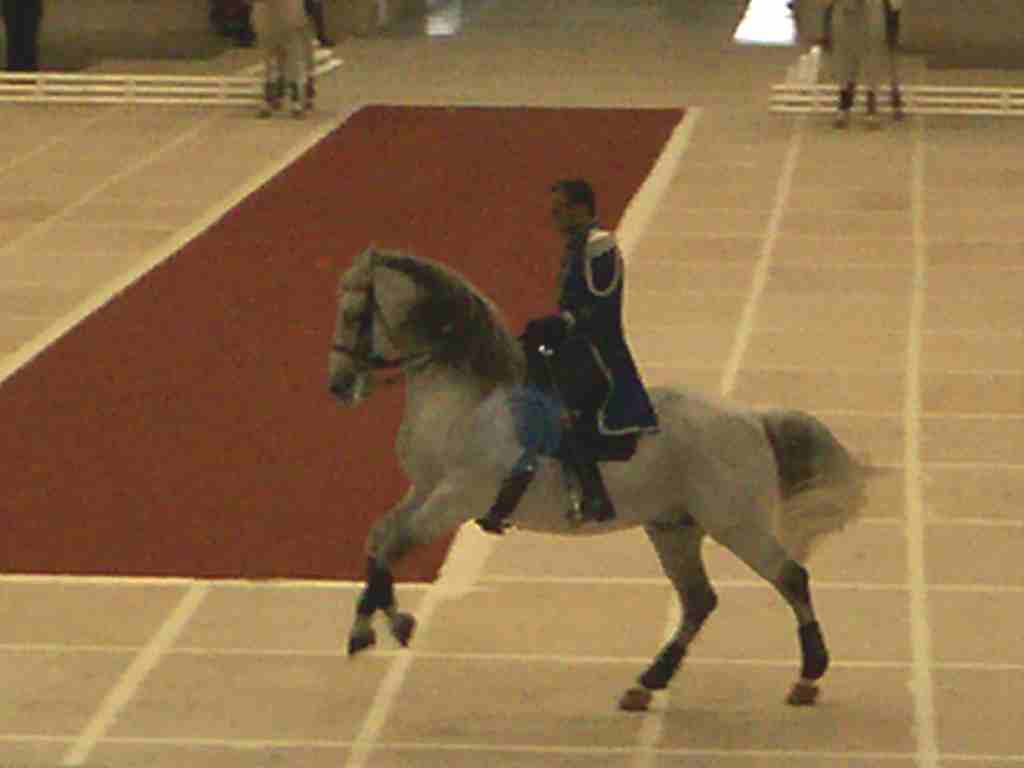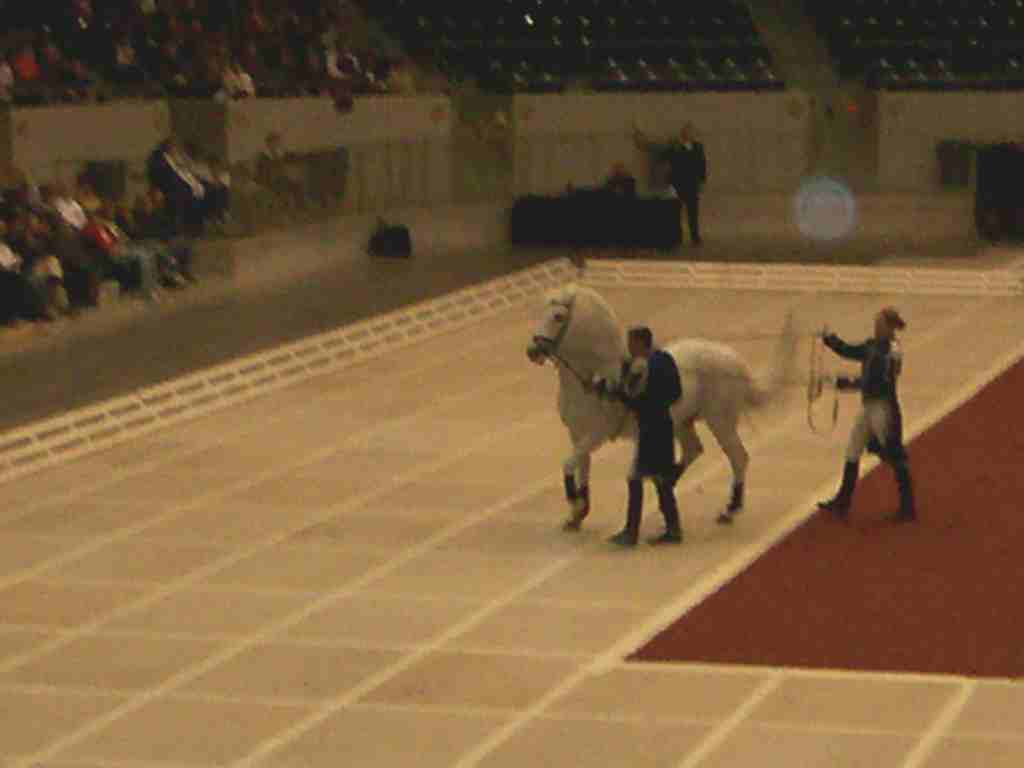 The Royal Lipazaner Show was very cool!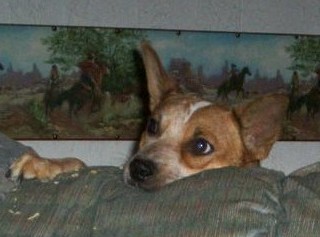 Cherry Pie looking over the back of the couch... how cute is that?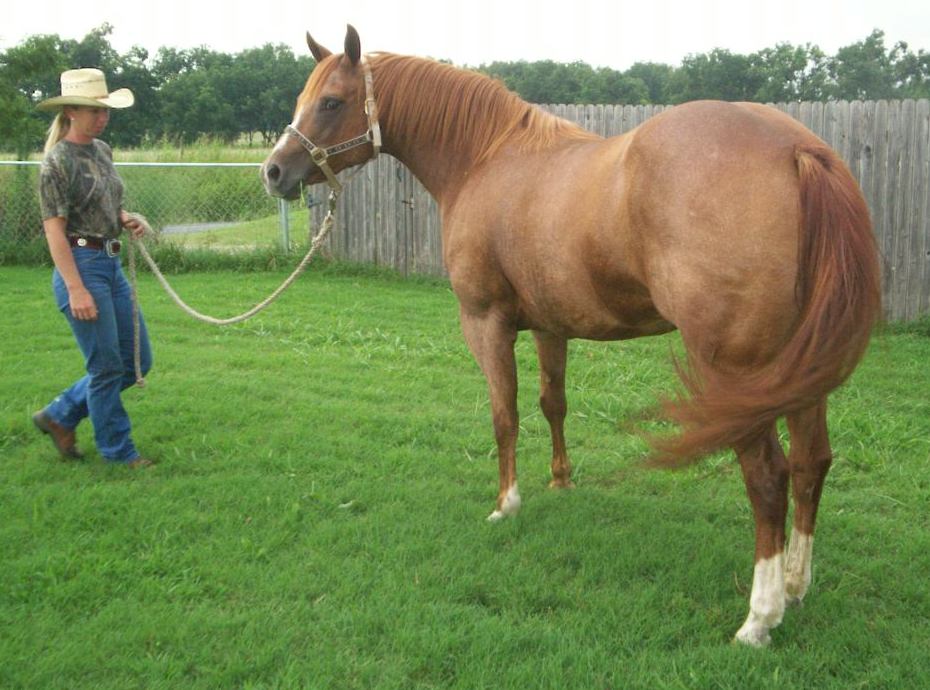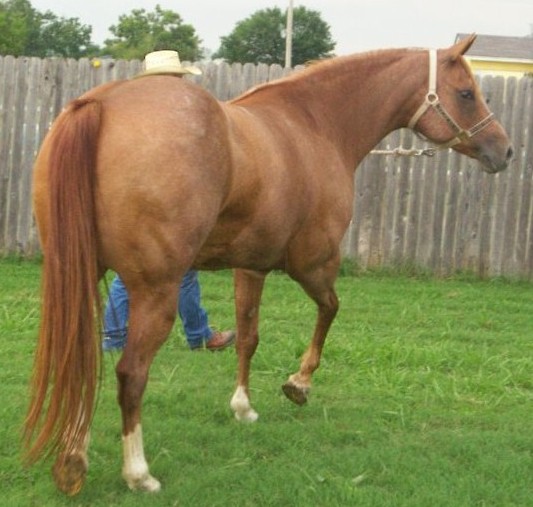 Zip and Jessi, just off of the trailer.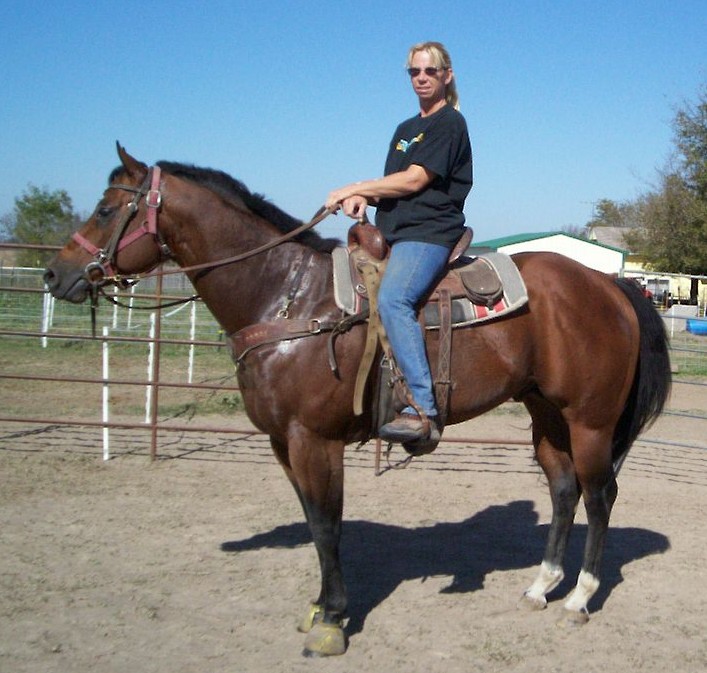 Me (Glenda) and Dandy
One Life One Chance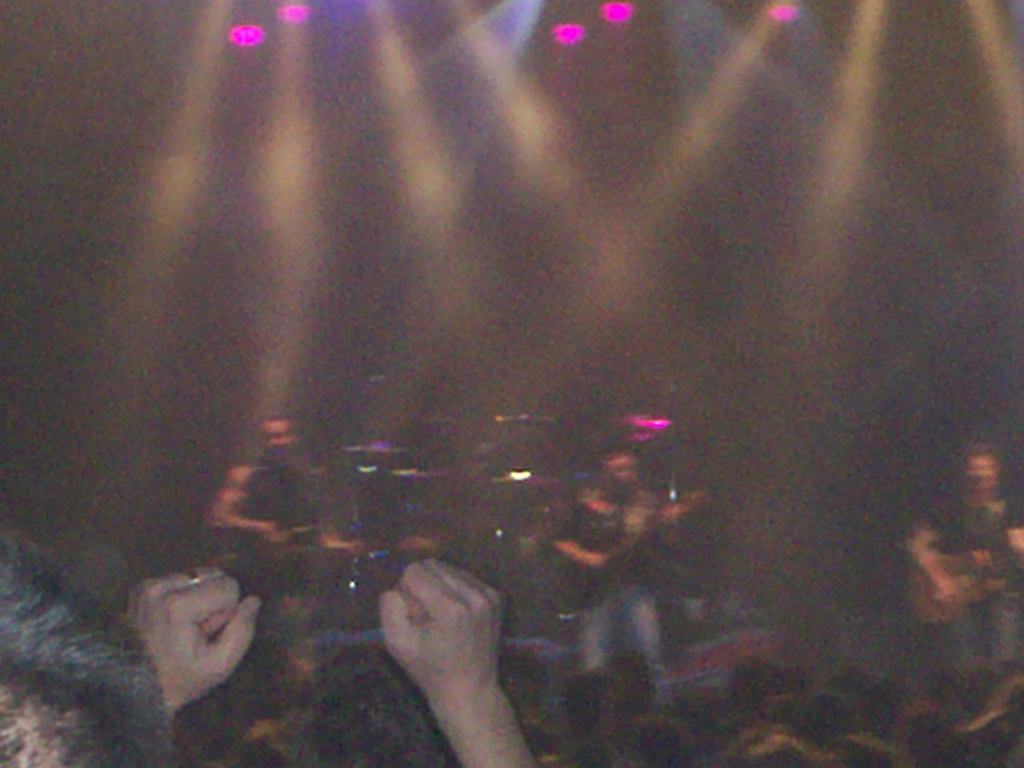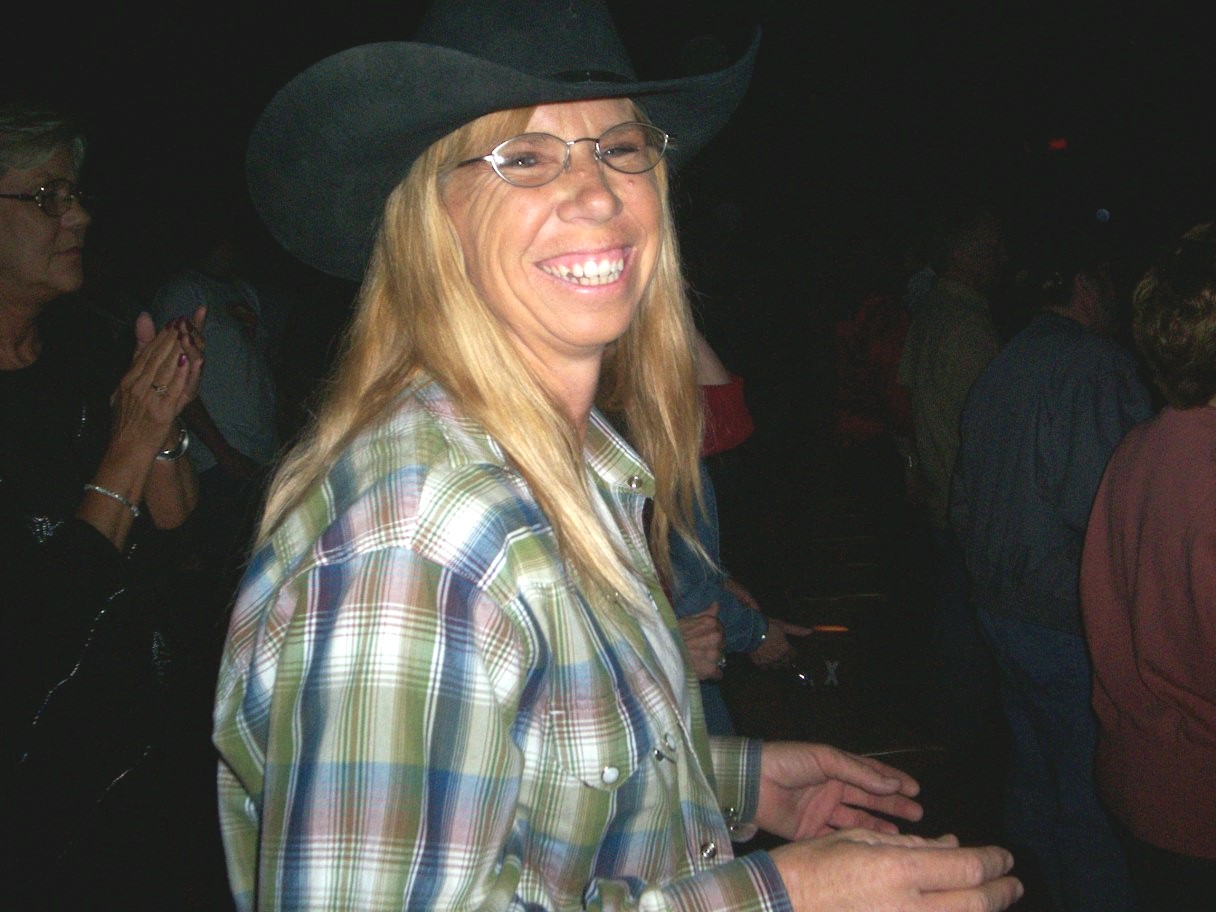 The Doobie Brothers!!!! Jessi took the pictures... I was having way Too Much FUN!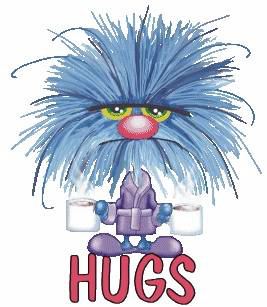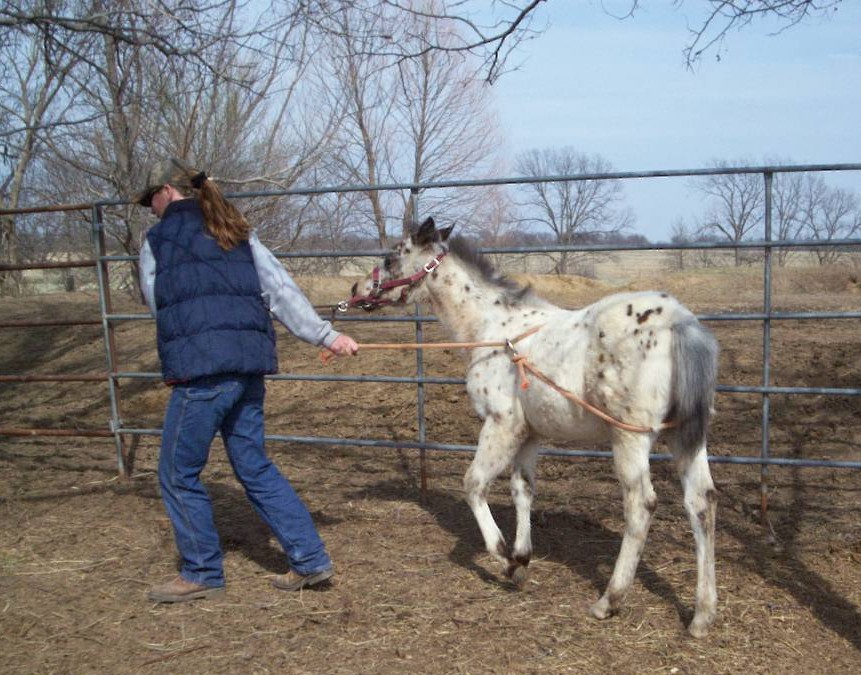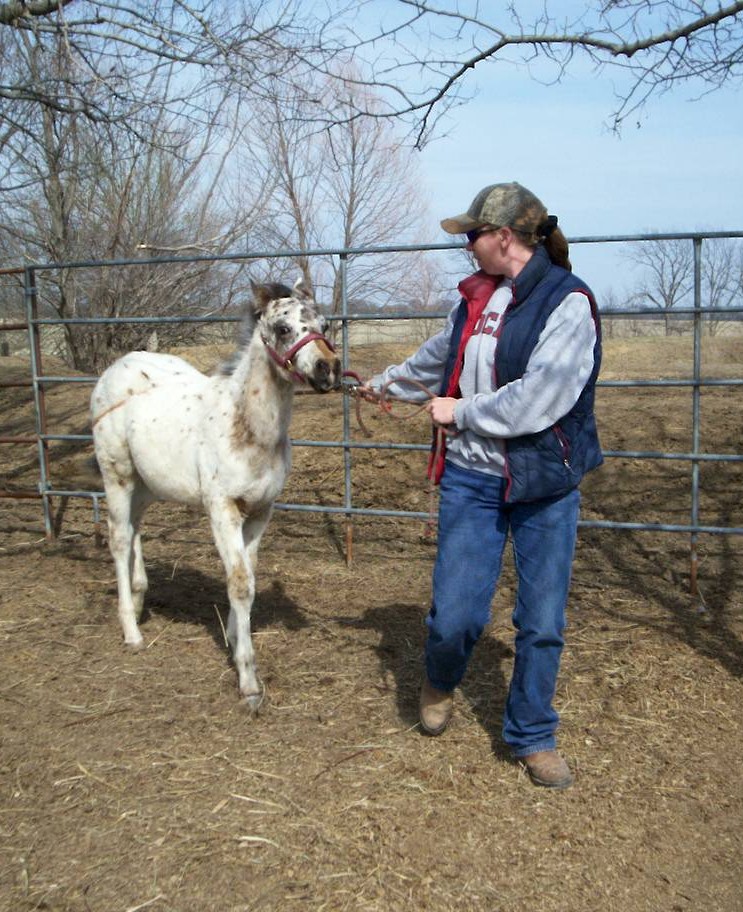 Jessi halter breaking Spotty Butt.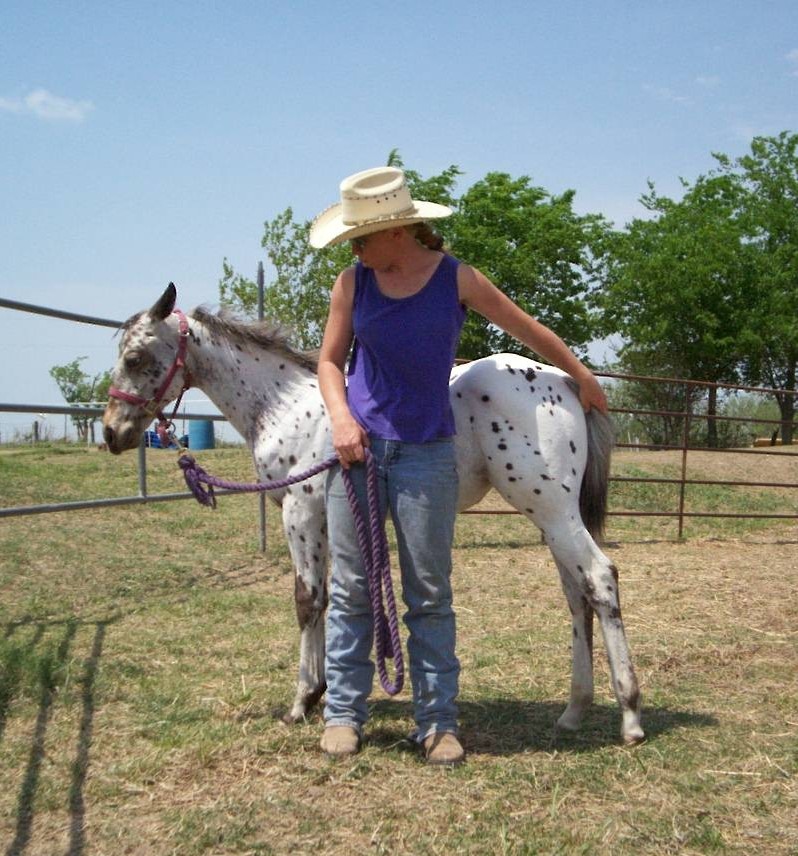 Jessi and Baby Spotty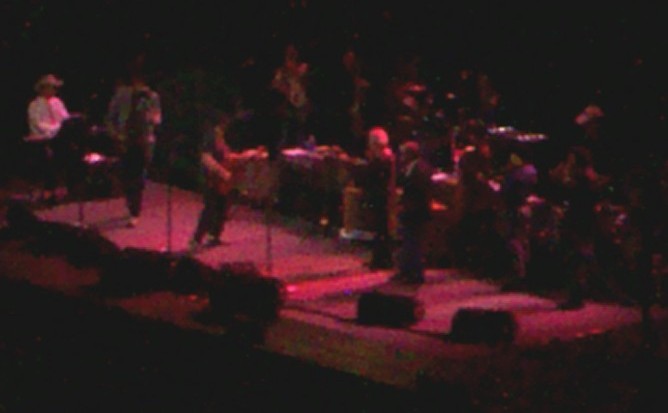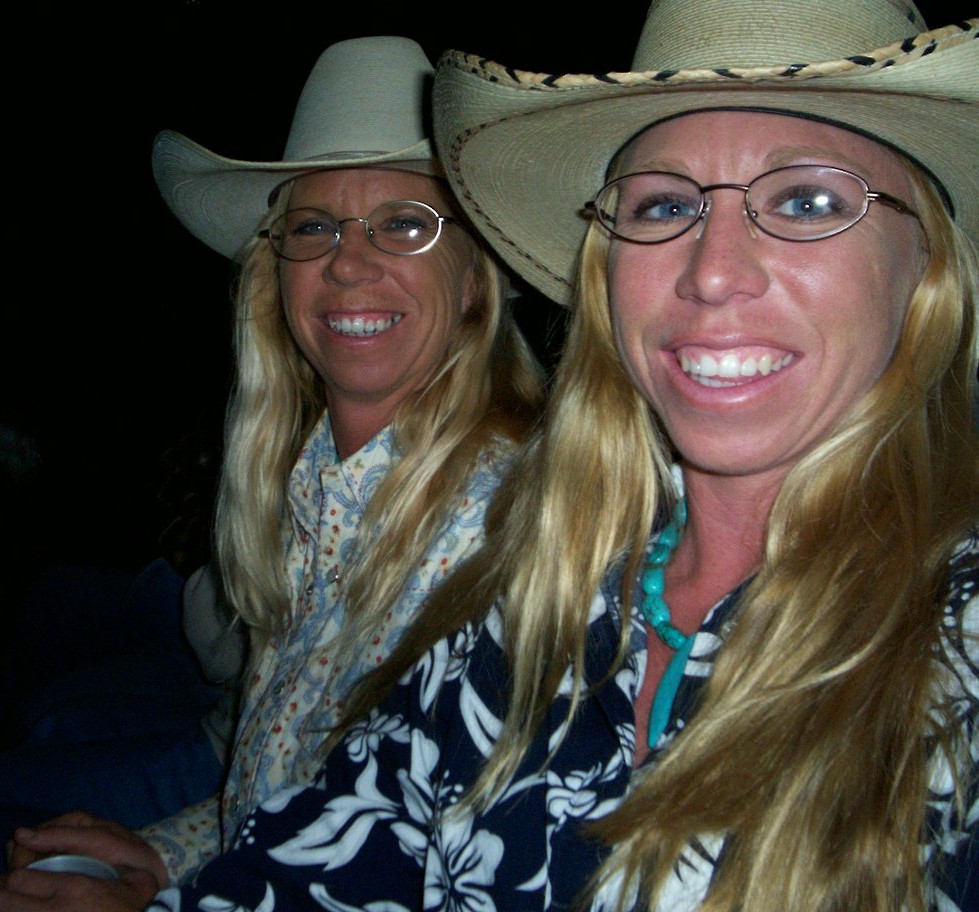 We went to the Willie Nelson concert... that was him way down there...
"There is no substitute for victory" Ronald Regan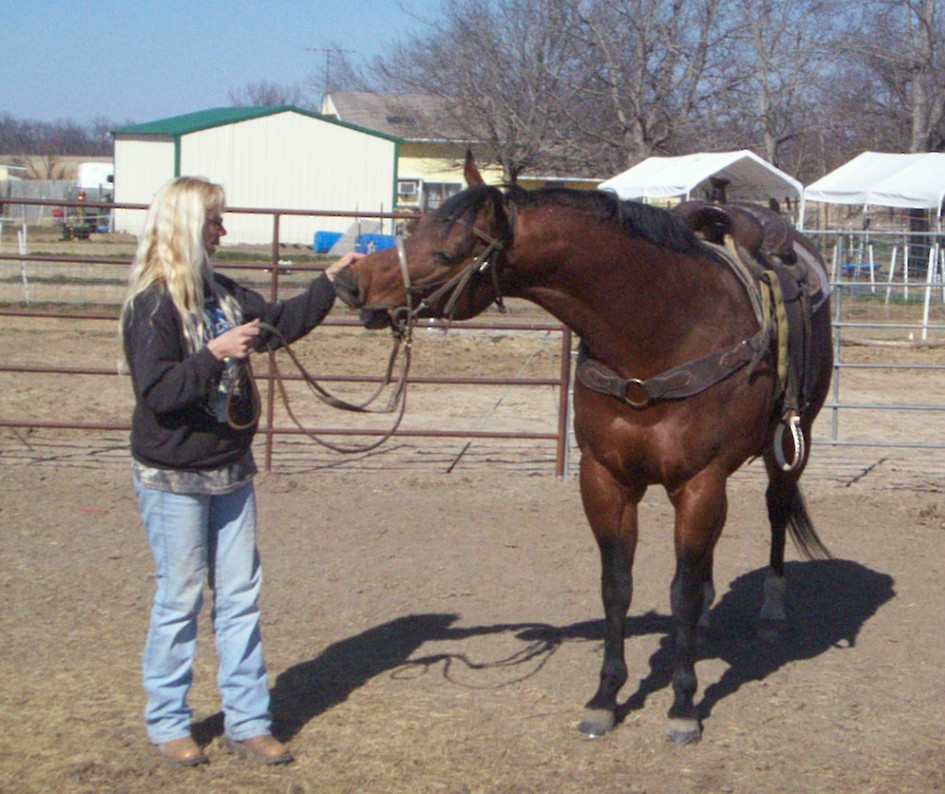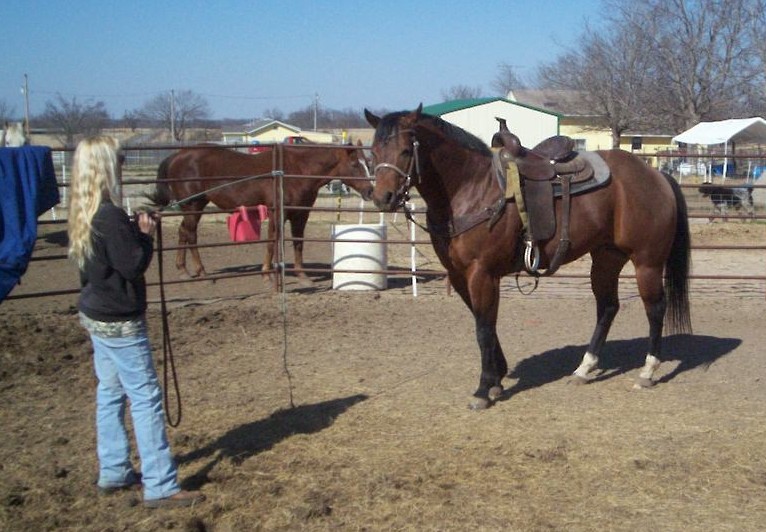 Me and Dandy... I loved this horse!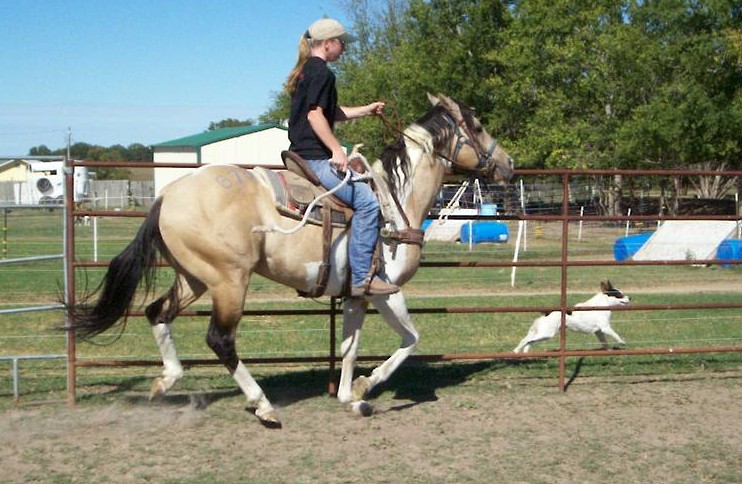 Jessi and Scout ... she can ride anything with hair!
"They who would give up an essential liberty for temporary security, deserve neither liberty or security" Ben Franklin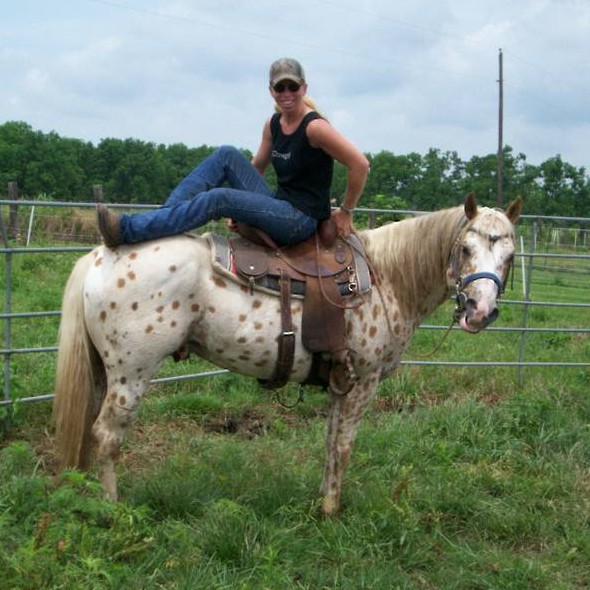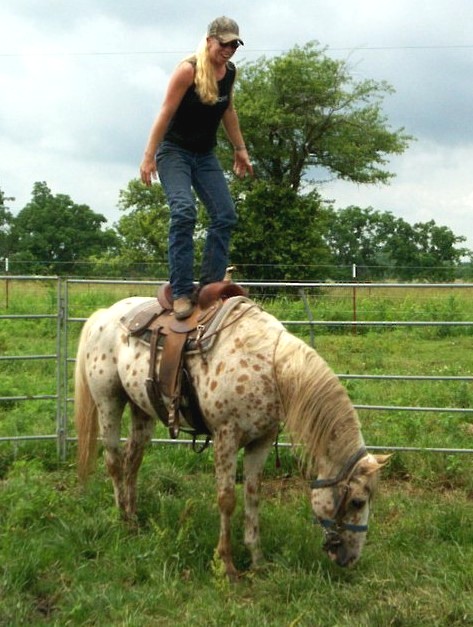 Jessi and Prince
"Courage Is Being Scared To Death-But Saddling Up Anyway" John Wayne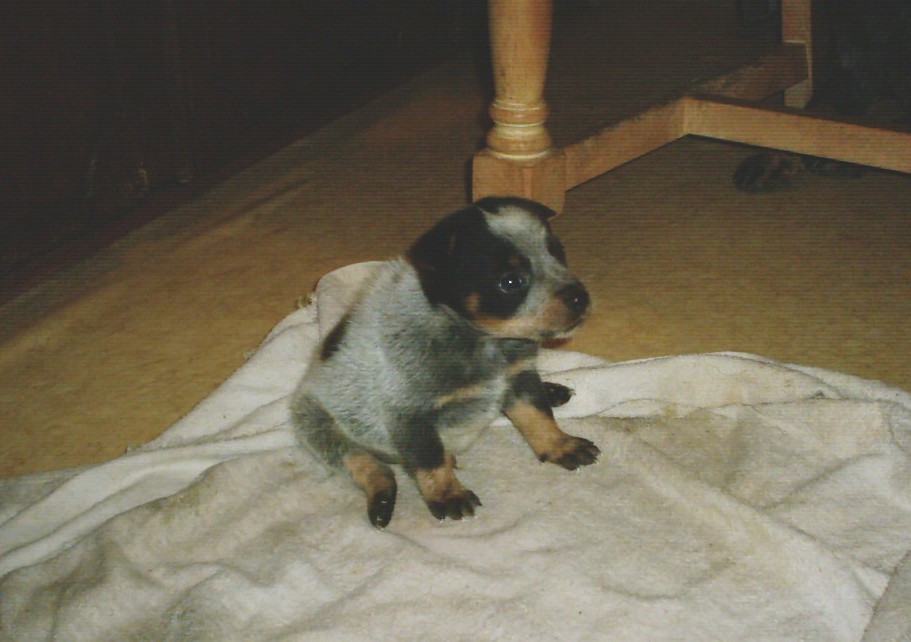 Baby Poncho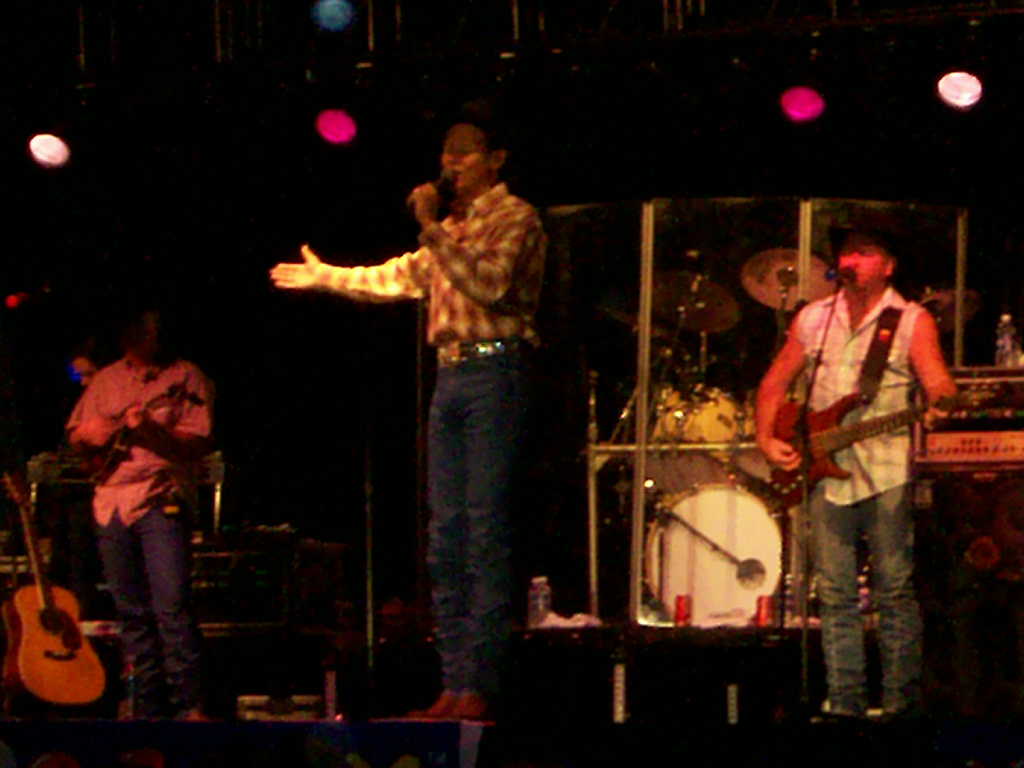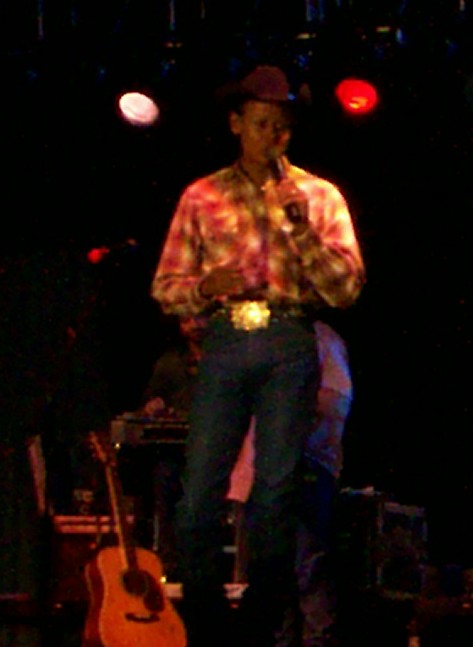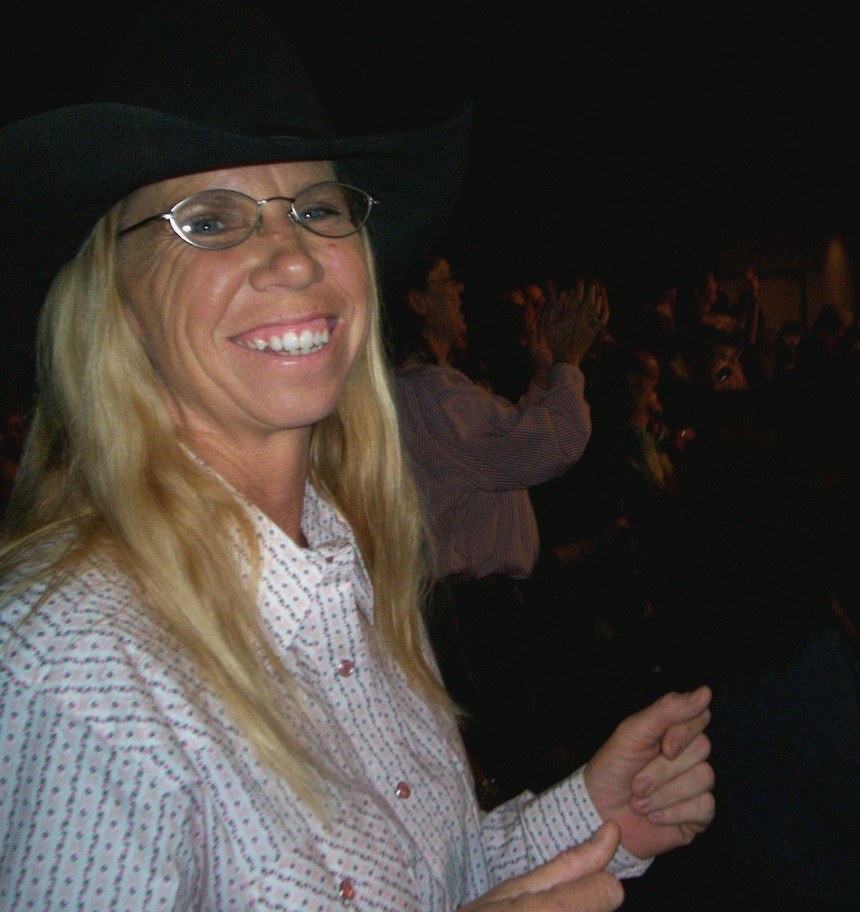 Neal McCoy concert... TOO COOL!.. Yes! I was dancing! And, he is gorgeous!!
The problem with SOCIALISM is, sooner or later you run out of other peoples MONEY!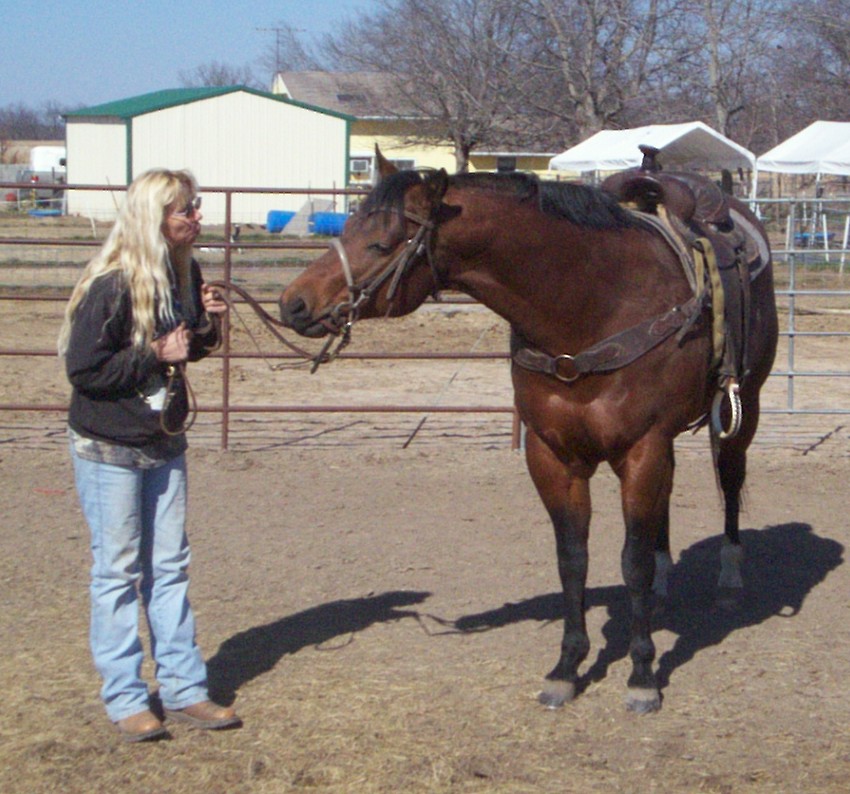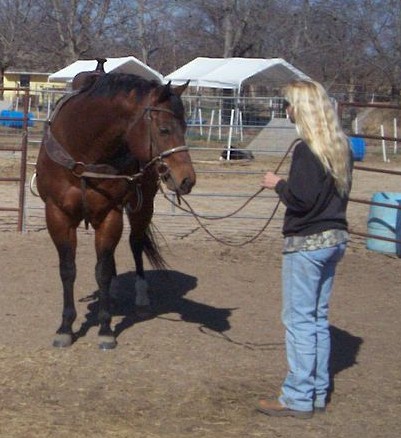 More of me and Dandy... kiss kiss

OK... OK... I promise.. I will not wreck these trucks!
Life is short, Break the rules, Forgive quickly, Laugh uncontrollably, And never regret anything that made you smile..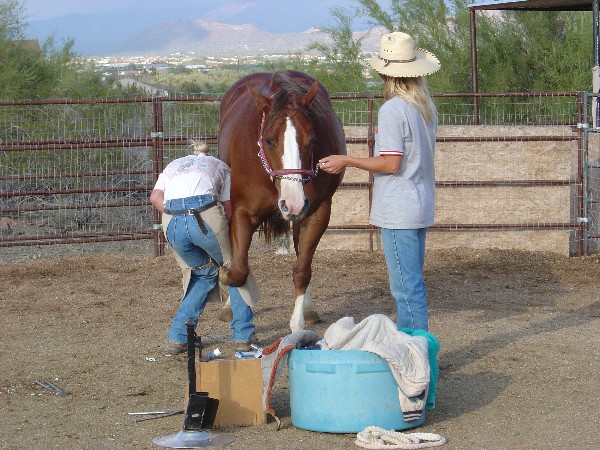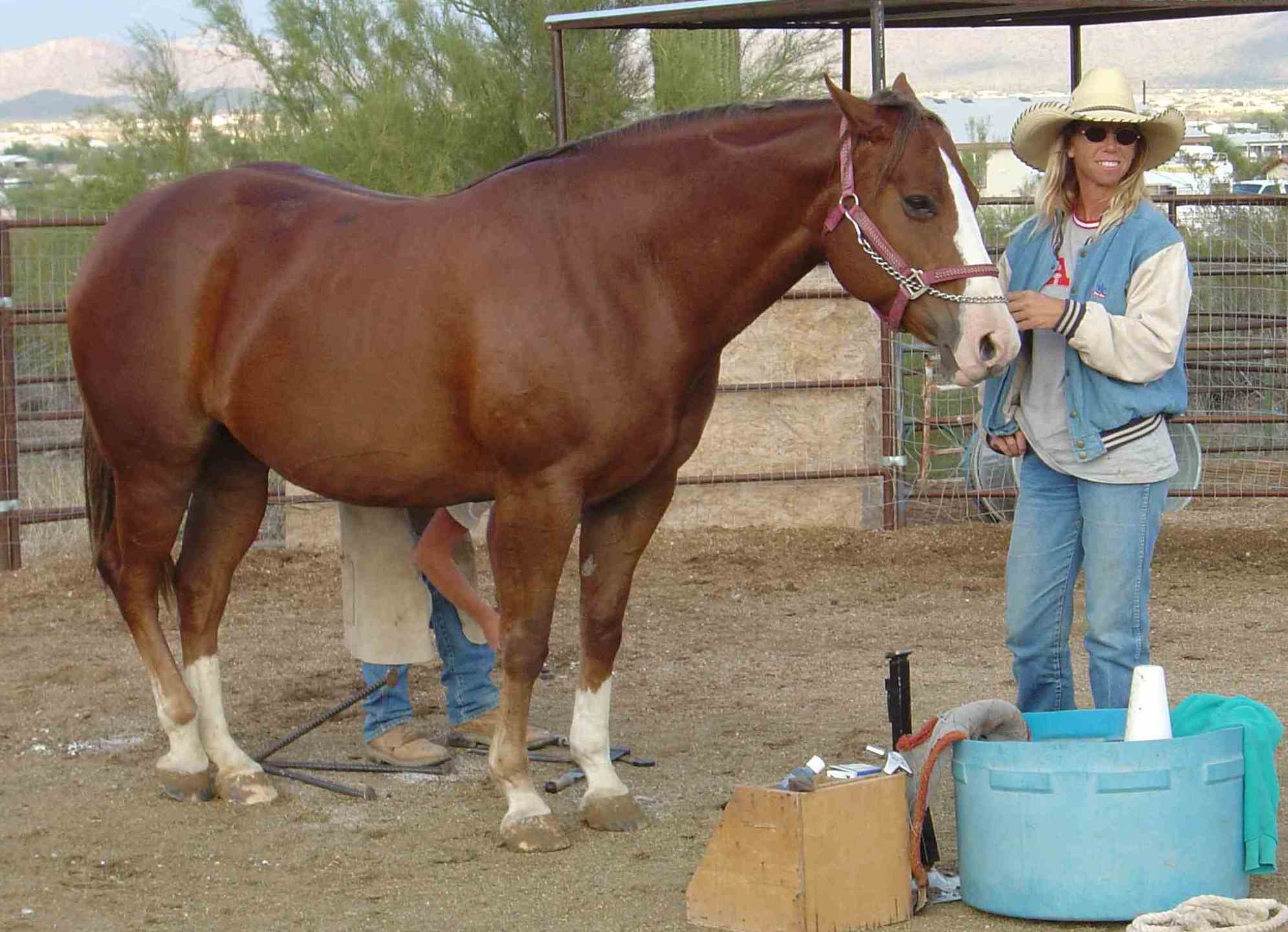 Jessi shoeing in Arizona... I'm holding the horse.... hard work!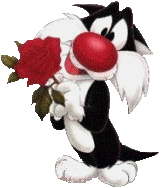 REO Speedwagon! I looked REALLY stupid but they put on such a GREAT concert!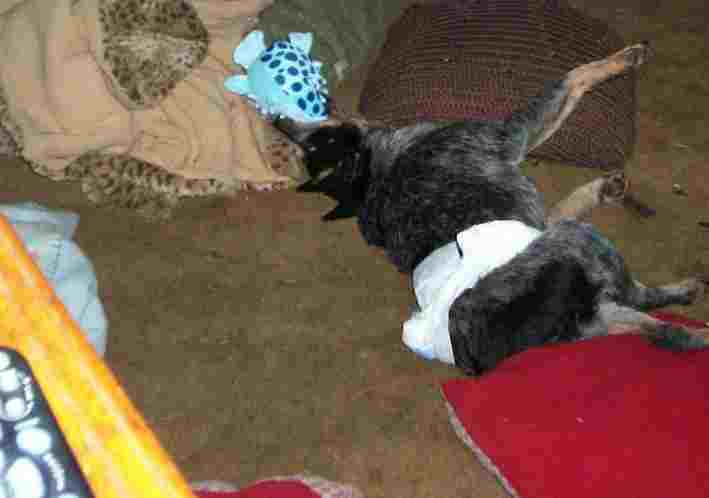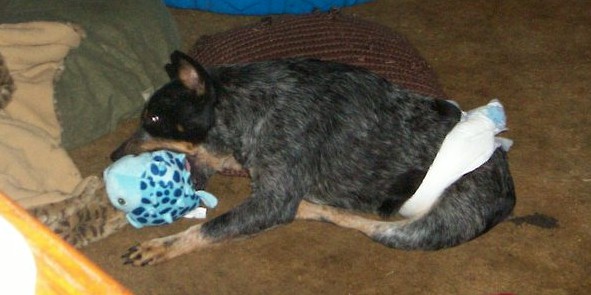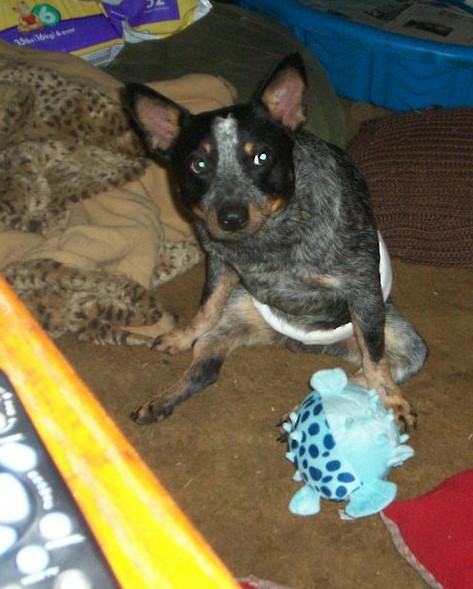 Poncho LOVES his new toy!
"Real Integrity is doing the right thing, knowing that no body's going to know whether you did it or not."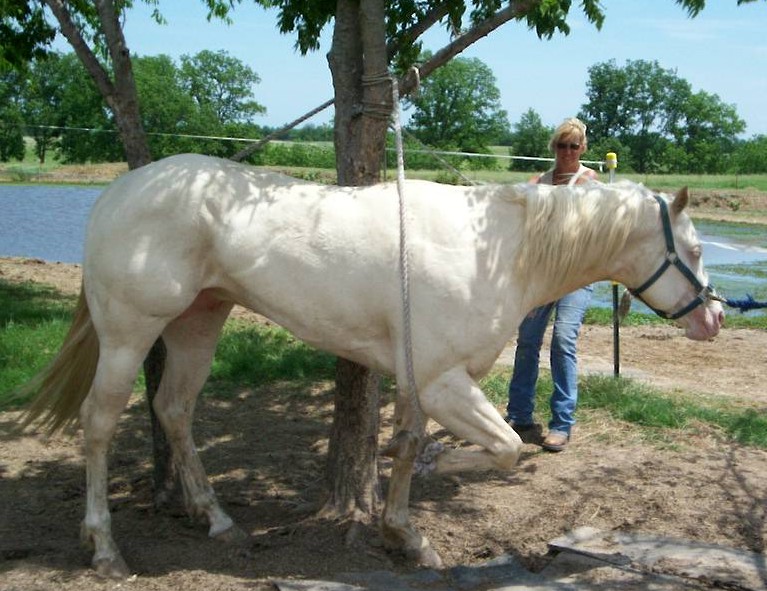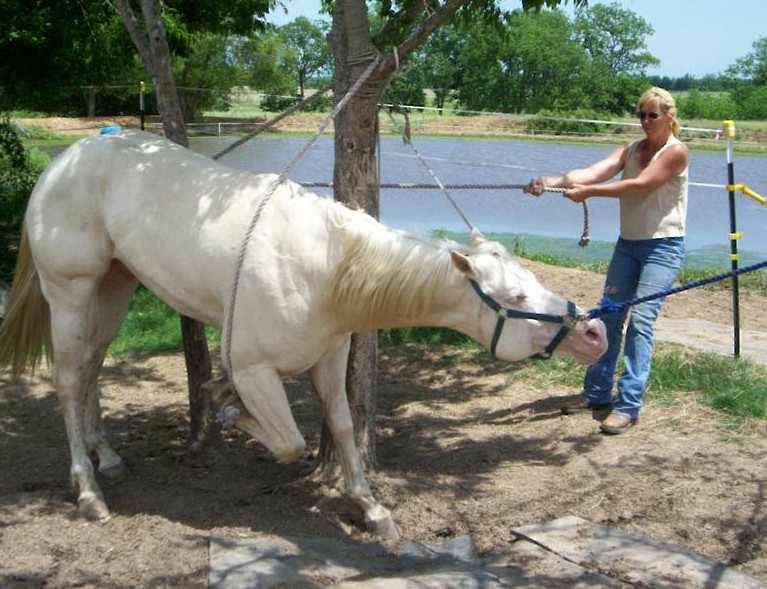 Gus (Smoke Bar Tease) learning that he really can hold his foot up...
first time to have his hooves trimmed ..... at 3 years old...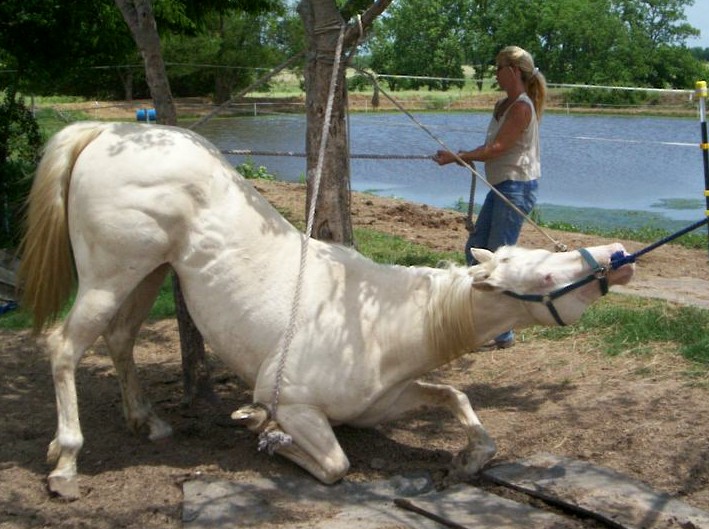 All done and not a scratch on him... pretty boy! He'll be beautiful if we can ever get enough weight on him!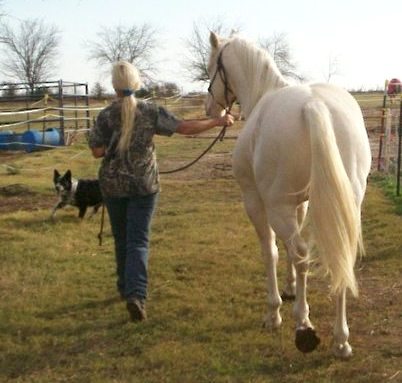 About another 2 steps after this photo was taken he drug me through the pasture... Gus (Smoke Bar Tease) finally learned to lead behind our truck. Although he tried and tried, he never managed to drag the truck away... On a lighter note, the truck did a real good job of dragging him!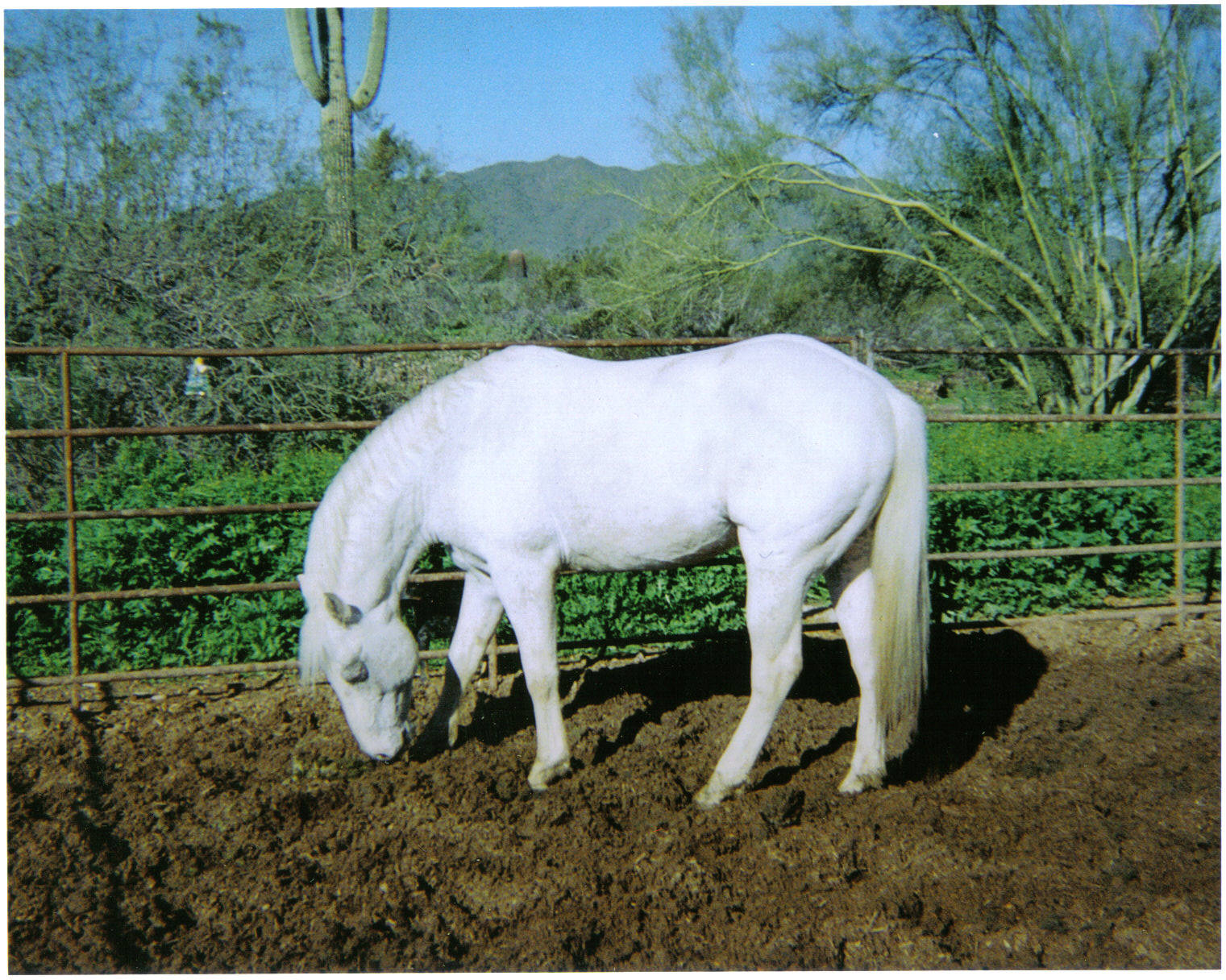 Woody in Arizona
"You can not help men permanently by doing for them what they could and should do for themselves." Abraham Lincoln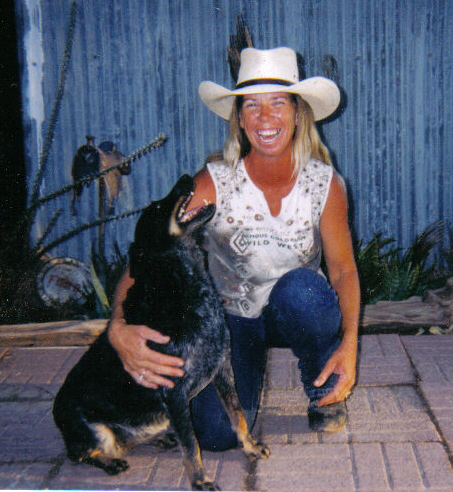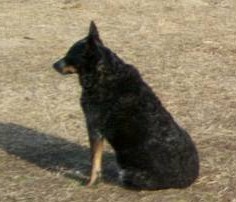 Me and Cassie... we will miss her forever...... cancer took our baby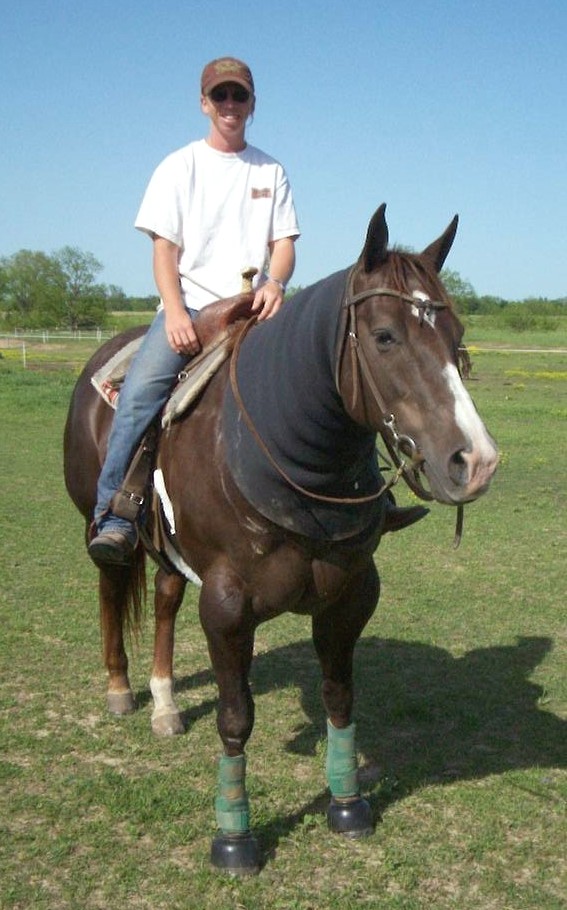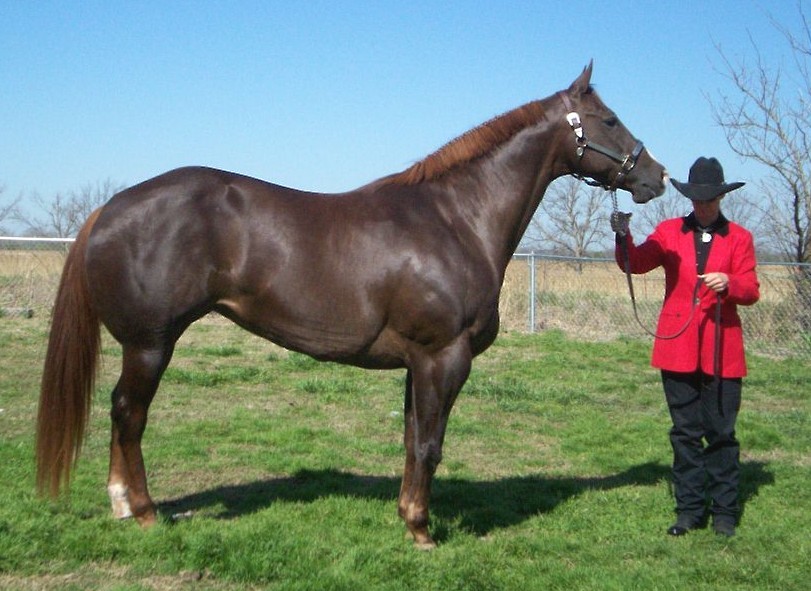 Indy and Jessi Indy and Glenda
If God lets us have our animals in heaven that we lost here on earth, we will have our best friends with us. Indy laid down to roll for the fun of it and displaced her colon. She was in foal to Dandy and her baby filly died with her.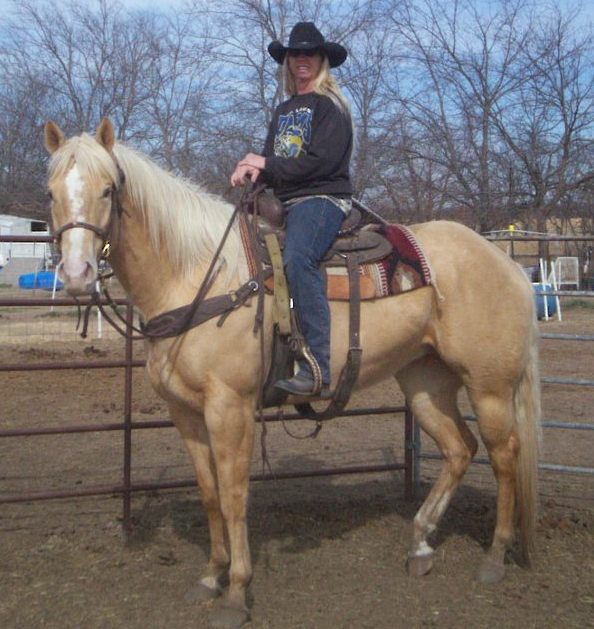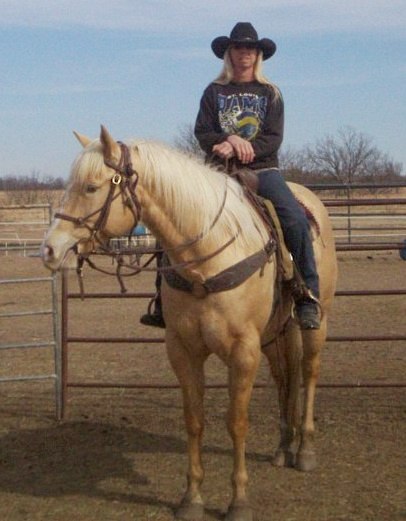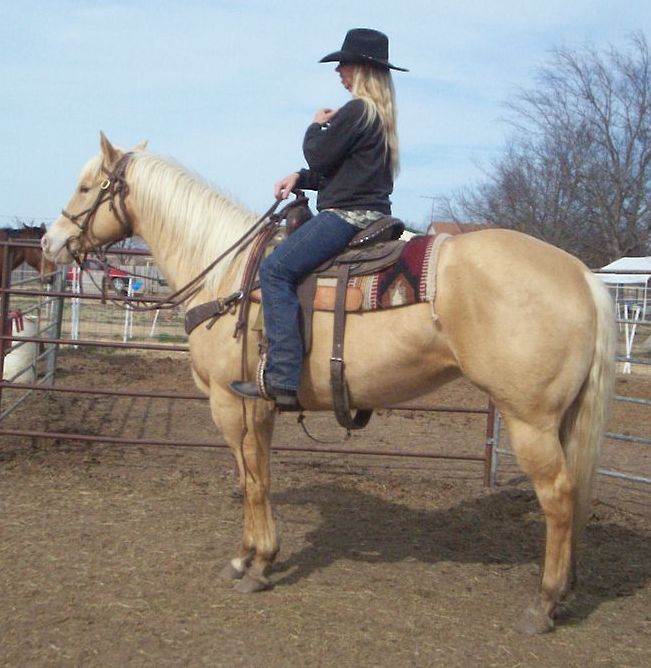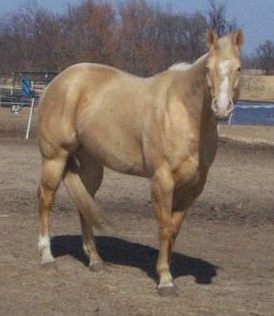 Me (Glenda) & Amber 2-22-09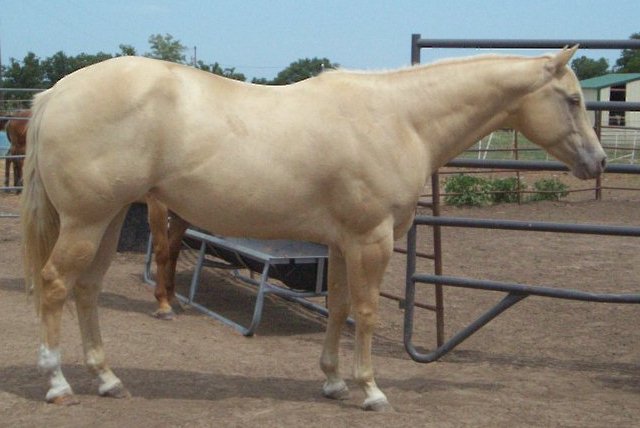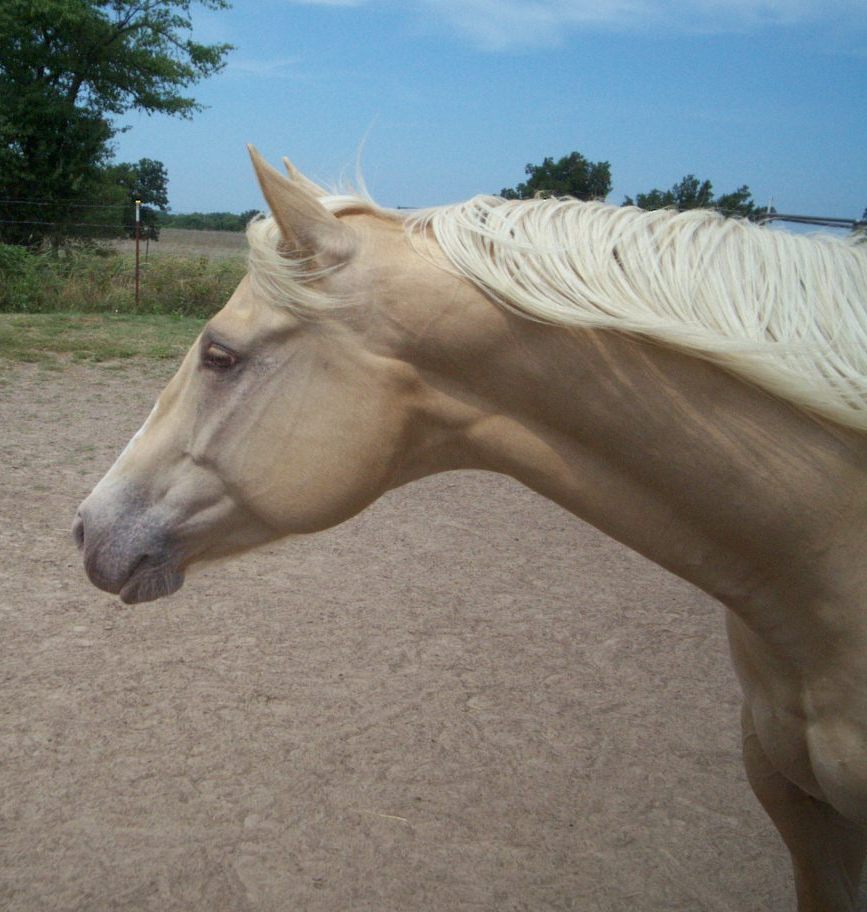 8-9-09
5-30-2010